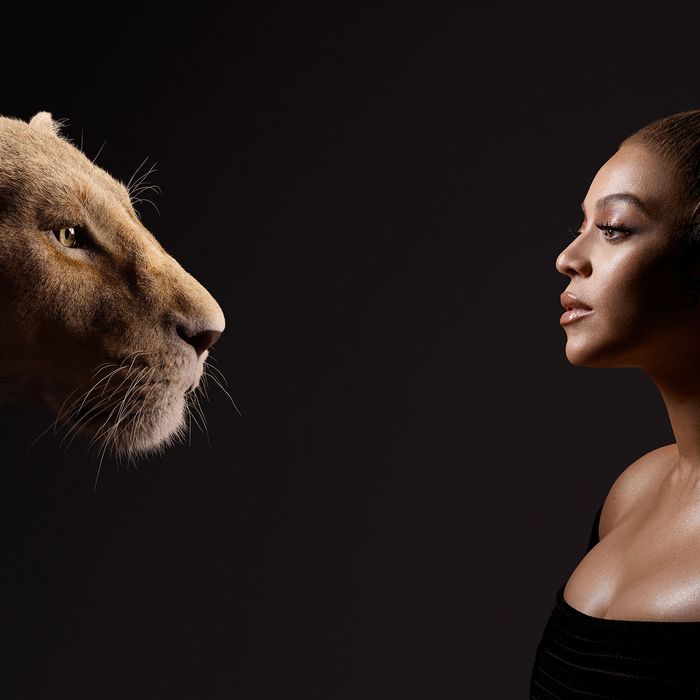 This Sears Portrait Studio photo absolutely did what needed to be done.
Photo: Kwaku Alston/Disney Enterprises
This month, Disney will drain the last bit of nostalgia from our weak bones and release a live-action Lion King. In it, a realish lion named Simba will live out his Hamlet fantasy and ascend to the animal kingdom's throne, and he will sing about the so-called circle of life in the process. But this isn't just Disney's Lion King, it is Beyoncé Giselle Knowles Carter Presents: The Lion King! (That is to say, it is a version of The Lion King featuring Beyoncé and a mysteriously untitled "Track 14.")
On Tuesday, Disney revealed a set of seven very dramatic cast photos of The Lion King crew, including the above portrait of Beyoncé looking deeply into the eyes of Nala, her Panthera leo (yes, that is encyclopedia-speak for "lion") counterpart, to satisfying results. Here are the rest of the Lion King stars in similarly charged staring contests, and my thoughts on all of them:
Simba saw Guava Island and thought Rihanna should've had more lines.
I absolutely refuse to explain myself, but this is the best Chiwetel Ejiofor has ever looked. That pensive glare, that slight brow furrow, the turtleneck? Mischief, table for two!
It is still stunning that warthogs actually look like this, and Billy Eichner seems as confused by this reality as the rest of us.
It was very kind of this photo of Alfre Woodard looking very amused by her lion likeness to give birth to me.
The Lion King's trio of spotted hyenas are known chaos agents. Keegan-Michael Key looks locked in a cosmic, never-ending staring contest with Kamari (perhaps Kamari was also upset that Friends From College's second season did not have any Fogo de Chão jokes). Florence Kasumba's cobalt suit and cobalt eyeshadow are very personally inspiring. Eric André's look of concern — he understood the assignment.
It's so funny how this photo of JD McCrary and Shahadi Wright Joseph told me to stay in school, turn in my homework on time, and respect my teacher. Let's celebrate the utter wholesomeness of youth!
According to the Bible, on the fourth day God created Beyoncé. On the fifth day Beyoncé created edges. On the sixth day she snatched them, and on the seventh day she created lions, just so she could snatch them with her hands and her paws. God created other animals, too, but none as majestic as lions.