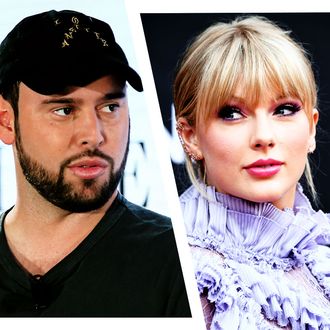 Internet sleuths love to blame a recent controversy on a marketing scam. It happens every time Keeping Up With the Kardashians airs and, seemingly, every time Taylor Swift puts out an album. But this time it's not the stans who are suspicious. Taylor Swift herself has got bad blood with Scooter Braun. After the infamous manager acquired her former label, Big Machine (which still owns all of her masters), Swift penned a Tumblr post about how Braun has systematically bullied her through Kanye West, Kim Kardashian, and Justin Bieber. So, how did he go from glorified party planner to the Swifties' biggest enemy?
Where did Scooter Braun come from?
Scooter Braun is a rich kid from Connecticut who once owned a T-Mobile Sidekick. His phone of choice may have upgraded, but he still exudes that energy to this day. Braun started his career off young thanks to connections he made as a party promoter in Atlanta. In 2001, at 20 years old, music producer Jermaine Dupri made him executive director of marketing at So So Def Records. Braun dropped out of Emory College and began working with Usher, Kevin Federline, and more. When he left to do independent consulting, he brokered a $10 million deal between Ludacris and Pontiac. He had clout and he knew what he wanted to do with it: manage artists.
How did he meet Justin Bieber?
The origin story is Belieber lore. Scooter Braun discovered Justin Bieber on YouTube in 2007 and basically stalked him and his mother until they agreed to work with him. Both Usher and Justin Timberlake wanted to sign the 13-year-old. Scooter leveraged Timberlake's interest and, soon after, Bieber was signed by Usher's mentor, L.A. Reid at Island Def Jam Music Group, in partnership with Braun and Usher's Raymond Braun Music Group. Bieber's skyrocket to stardom needs no description. Even at his lowest, Braun was by his side, engineered his comeback, and if you ask him, saved Justin Bieber's life. Throughout Bieber's career, even as he faltered, Braun was only growing more and more successful.
How did he gain so much influence?
With Bieber's success giving him more and more credibility, Scooter Braun expanded SB Projects, a management company that reaches much farther than music. Past and present musicians include Ariana Grande, Asher Roth, Carly Rae Jepsen, Psy, David Guetta, Idina Menzel, Tori Kelly, Zac Brown Band, Usher, Kanye West, J Balvin, Demi Lovato, and Hilary Duff. Outside of music, SB Projects manages models Ashley Graham and Karlie Kloss. They've pushed into film and television with projects, including both of Justin Bieber's concert films and the television show Scorpion. Braun was the mastermind behind Ariana Grande's One Love Manchester charity event. He signed Psy when "Gangnam Style" was at 60,000 views on YouTube. Ithaca, Braun's $120 million investment fund, also acts as a holding company for SB Projects and "seven of the country's largest music management companies," according to Fortune. On his own, Scooter Braun has over 3 million followers on Instagram. Businesses aside, Braun carries his own influence.
So, what did he just acquire?
On June 30, 2019, when Taylor Swift woke up and read the news that Scooter Braun's Ithaca Holdings had bought her former label and the owners of her masters, Big Machine Label Group, Braun got a lot more than that. Big Machine's talent still includes Lady Antebellum, Florida Georgia Line, Reba McEntire, Thomas Rhett, Rascal Flatts, and more.
Why does Taylor Swift hate him?
In Taylor Swift's Tumblr post, she holds Braun accountable for the drama surrounding Kanye West's "Famous." The song and music video are his reactions to both the 2009 VMAs controversy, where West interrupted Swift onstage. After Taylor Swift denied being warned about Kanye West's explicit "Famous" music video, Kim Kardashian West shared a video of Swift agreeing to the concept. As West's manager at the time, Swift blames Braun for both the video and the leak. She also believes Justin Bieber's 2016 Instagram post of himself, Kanye West, and Braun FaceTiming with the caption "Taylor Swift what up," was Braun's doing. (The caption has since been removed.) Braun and West ended their professional relationship in April of 2018. With his purchase of Big Machine Label Group, Scooter Braun effectively owns every album from Taylor Swift to Reputation. In a since-deleted Instagram Story, Braun reposted a story captioned, "When your friend buys Taylor Swift," a reference to his latest acquisition.
What other celebrities hate him?
Since Swift's post, many celebrities have either voiced their support or silently disconnected themselves from the music manager. Sky Ferreira, Alessia Cara, Halsey, Cara Delevingne, Haim, Iggy Azalea, Jack Antonoff, and Todrick Hall have all commented. Nicki Minaj, Camila Cabello, Miley Cyrus, and Rihanna have all unfollowed him on Instagram.
Who is on Scooter Braun's side?
The most outspoken members in Braun's corner are Demi Lovato and Justin Bieber. Braun's day one, Bieber, wrote an open letter to Taylor Swift apologizing for the Instagram post, but defending his manager. Hailey Bieber commended him for it, placing her on Scooter's side. Lovato spoke up after Todrick Hall called Braun "homophobic," citing her own positive experience with him. Scooter Braun's wife, Yael Cohen Braun, also wrote a message to Swift on Instagram. Kendall Jenner and Kacey Musgraves "liked" the post, although Musgraves's likes have since been removed. After spending years dealing with his clients' drama, now we wait and see how Scooter Braun will handle his own.