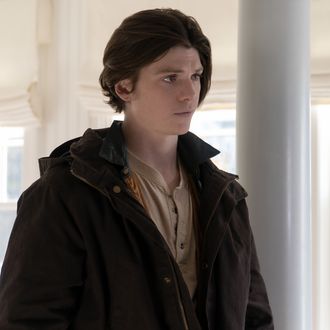 Grizz, our only hope.
Photo: Seacia Pavao/Netflix
The Society is a Netflix show about a group of teens in an upscale New England town who are left to fend for themselves after everyone else — in maybe the entire world — disappears. It's filled with awful boys and people making ridiculous decisions and new issues being tackled almost every episode, and it just got renewed for season two. It's a good thing, too, because there's a lot The Society has to answer for. Like, who is the father of Becca's baby? Will Lexie get what she deserves? Will Elle make it out of her abusive relationship? (And will we get more random tidbits about her being an Irish immigrant?) Will socialism triumph over fascism? Will sweet-boy Grizz find happiness with Sam, or at least be able to go live in the woods by himself away from everyone else's drama? And why do the teens use a wine cellar for a jail when there's an … actual jail just sitting there empty. The people demand answers!