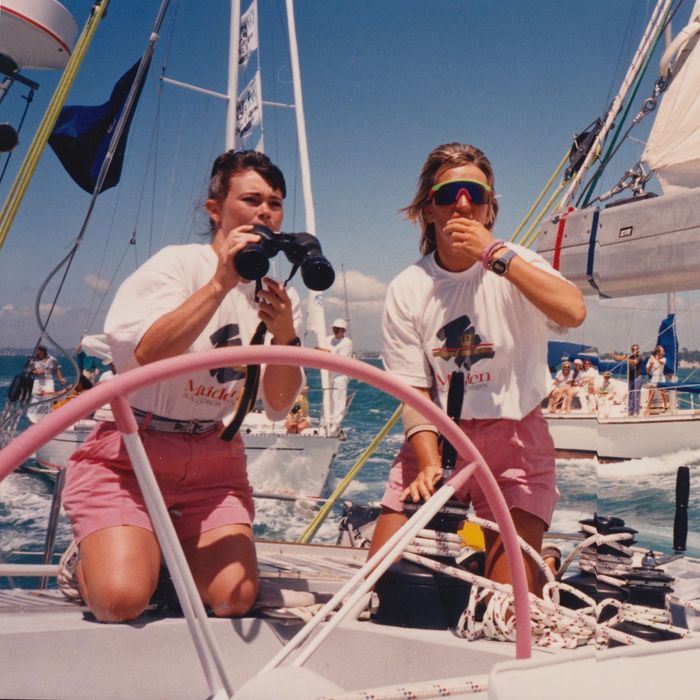 Photo: Courtesy of Sony Pictures Classics
Do you like boats, but also the obliteration of structural inequality? Do you enjoy watching women grapple with their mortality in the face of the roiling seas as much as you enjoy watching them absolutely fuck up the patriarchy? Do you want to see the ocean nearly swallow a dozen women whole while also watching a dozen women swallow the very concept of men whole? Then I'm here to recommend that you leave your house immediately and watch Maiden, a film that promises all of the above and is in theaters nationwide now.
I was first introduced to Maiden when the trailer premiered before my third viewing of Booksmart, another movie about charming young women bravely charting seas unknown. I burst into tears 40 seconds into Maiden's trailer and essentially didn't stop crying until weeks later, when I finally had a chance to see the film. Alex Holmes's documentary, a combination of archival footage and interviews, follows the incredible true story of Tracy Edwards, a young British woman with a dark past who decides that the only thing she wants to do is captain the first all-female team to sail around the world. Her backstory is heart-wrenching: After she lost her father at age 10 and became the subject of abuse by her stepfather, she ran away from home at 16. She worked as a cook and yacht stewardess near various island marinas until the magnetism of her very precise ambition overcame her.
Specifically, Edwards set her sights on the Whitbread Round the World Race (now known as the Ocean Race), a grueling yachting competition established in 1973 that takes place over nine months and more than 30,000 miles. Beyond being wildly dangerous, the Ocean Rae was (and is) expensive. Boats alone cost upwards of $1 million. And until Edwards and her crew stepped in to shake things up, the race was exclusively populated by men, the sorts who wear crisp khaki shorts to brunch. But even in the face of major financial difficulties and a deep-seated, industrywide sexism, a 26-year-old Edwards managed to find over a dozen willing women to join her, and one king (Hussein of Jordan) to sponsor it all. It's hard to believe it until you watch the footage, but in 1989, Edwards set out to conquer the Whitbread — on a boat aptly dubbed Maiden.
The sheer physical feats contained in Maiden are compelling enough; mammoth waves constantly pound their salty sprays at a camera pitched atop a sinkable boat holding 13 women's lives in its grasp. But the film carries an impressive emotional weight, too. Edwards is an imperfect heroine, an intense and angry young person who occasionally alienates her crew as she white-knuckles her way to the finish line. Near the beginning of the film, she scoffs at a reporter who asks her if she's a feminist. "I hate that word," she says, laughing. Edwards eventually changes her mind though — in part due to the deeply misogynistic ways the press and the male boating community treat the Maiden crew (one journalist refers to the women's boat as a "tin full of tarts"), but primarily because of the camaraderie Edwards finds among them. There's a symbiotic, predestined feel to her fellow Ocean Race sailors: In one moving scene, Edwards talks about how, by the end of the race — yes, they finished — the women barely had to speak in order to communicate with one another. This was despite their personalities ringing so distinct. Each crew member feels pulled from the page; think The Baby-Sitters Club at sea, or Little Women transplanted to the 1980s. Among them are Jo Gooding, Edwards's gentle childhood friend; sail trimmer Angela Heath, she of bawdy wit; no-nonsense helmer Sally Creaser Hunter; and the volatile, passionate Marie-Claude Kieffer Heys, whom Edwards unceremoniously fires just before the competition starts.
Maiden's only flaw is that it doesn't let you in on what happens after the Whitbread. As the credits rolled, I realized I was dying for a sequel, or at the very least, a title card with updates on where each woman went once she got off the boat. So a few days before the film's premiere, in the lobby of their New York hotel, I sat down with as many of Edwards's crew as I could. Fresh off a day trip to Oyster Bay, they explained that they didn't see one another, altogether at least, for almost three decades after they returned to land in 1990. It wasn't until this time last year, when they reunited to watch Maiden. So what happened the moment they stepped back on land? How do you move on to anything after you've sailed around the world? Do they feel they changed the sport of sailing forever? And most importantly, can they still communicate telepathically? "We just look at each other's eyes," says trimmer Heath. "We don't even have to have an expression."
"We're very emotional about all of this," trimmer and medic Claire Russell adds. "So much has happened in between and I'd forgotten all about it. It was so long ago, and now it's come, whee!, back into our lives again."
Tracy Edwards, skipper:
Edwards says watching Maiden was a surreal experience. "I just looked at me and went, 'That's not me!' I was a bit of a — can I say this? — twat. I was lurching from one disaster to the next," she recalls, laughing. "So watching me give sensible interviews, I'm like, 'I don't remember doing that at all!'"
It's a common theme among the women: Almost every single one makes reference to how drastically they changed after their boat docked, and how difficult it was to go back to their "normal" lives. Edwards struggled more than most. "I didn't deal well with the end of the race," she admits. "None of us really thought about the end of it, I don't think. On the last few days, I thought, Bloody hell. We've been together for two years, and they're all gonna go." Edwards "wrote the books and did the talks," taking the lead on the post-boat press tour, but says she "suddenly looked around and everyone was gone." So she "got married to a man I shouldn't have gotten married to — we didn't want to disappoint anyone, how English is that?"
Three months later, they divorced. Soon after, she discovered her agent had been "screwing" her out of paychecks. At this point, she was still trying to hide from an increasingly rapacious group of journalists, who were climbing into her mother's garden to get photos of her. She had a nervous breakdown at the age of 28, and credits her childhood friend and Maiden crewmate Gooding for nursing her back to health.
Eventually, Edwards began breeding horses ("a real link in this team," she laughed) and "went back to my roots" by reconnecting with other childhood friends. She had a daughter. In 1998, she put together the first all-female crew to attempt the fastest nonstop circumnavigation by sail and broke several world records. In 2001, she put together the first mixed-gender pro racing team to similarly wild success. (She made sure to clarify that she'd "never sail again with men, ever. They smell so bad.") These days, she doesn't do the "risking-my-life shit anymore." But a few years ago, she rescued and restored the original Maiden sailboat, which was rundown and about to be destroyed. Now, she runs the Maiden Factor Foundation, raising money around the world for girls' education. That's how she met documentarian Holmes, during a talk she was giving at a school attended by Holmes's daughter. "I'd kind of put Maiden away," Edwards said. "But she was like, 'Hello?!'"
Jo Gooding, cook and videographer:
"After the race, I didn't know what to do with myself," admits Gooding. So she went back to Wales — "a place that's hard to escape" — where she'd grown up with Edwards. Though she "vowed never to cook again," she says she cooked in a local hospital for a few years before opting to enter the field of mental health. She became a therapist and teacher, hosting courses and workshops on health and well-being for "some of the most vulnerable people in society." "I'm still passionate about mental health and people getting the right support," she said, "but now I'm exploring what I want to do next. I'm on a bit of an adventure!"
When I tell Gooding she has one of the most warm, soothing energies I've ever encountered, and the women all chime in in agreement, Heath tells me: "She was like that on the boat as well."
Marie-Claude Kieffer Heys, first mate:
Heys was an integral part of the building of Maiden's ship, but after clashing with Edwards, she was "sacked," as she puts it, before the boat set sail. But she went on to complete the race twice, in 1993 and 1997, with all-female crews of her own. (Though, as she and Edwards note, "Every all-female team that came after us was put together by men, so they didn't do as well as us … it's never been the same.") Now, Heys lives in Hampshire with her husband, another sailor, running a company importing and brokering boats. As for her conflict with Edwards? Five years after the race, the two came together, talked about what happened, and made peace. "We just had a good chat," says Heys. "We know we were very young, and very passionate." These days, they're good friends.
While Heys is pleased with the doors that Maiden busted open, she's frustrated by the lack of progress made overall. Though the race now requires two women on every crew, she thinks it's "still a man's world" thanks to lingering stereotypes and the fact that boats are getting bigger and more "extreme," requiring "more brute strength." "You still see these big racing boats with not one single woman onboard," adds Edwards. "Not much has changed."
Sally Creaser Hunter, helm and safety equipment specialist:
"Like everybody else, I had no idea what I was gonna do after the race," laughed Hunter. So she kept sailing, racing, and delivering yachts around the world. In 1995, she got married, set up her own yachting company, and had two sons, both of whom are now professional sailors. Though at one point she tried settling down exclusively on land, she told me that one day she called up her husband and said, "This is not working. We have to buy a yacht!"
Hunter has maintained her wry sense of humor; when I push for gossip about the raucous stopovers Maiden made along its journey, she shoots me a darkly comic look. "We were well-trained athletes," she says, pretending to be shocked. "As soon as we stepped off the boat, it was straight in the gym." Everyone erupted in laughter.
Claire Warren Russell, sail trimmer and medic:
While racing with Maiden, Russell met her future husband, another sailor participating in the Whitbread. After the competition, she spent a few years hanging out on boats with him, then eventually moved to the U.K. and kept practicing medicine. Later, she moved to New Zealand, where she's now the clinical lead at an urgent care center — and she runs a horse farm.
Needless to say, Russell has been busy. She says she realized a few years back how she regretted letting the Maiden women slip out of her life. "There's a natural time in your life when you go, I need to reconnect with these people. Because you've been so busy with your kids or your career or your farm or your animals, and 25 years have gone by, and it goes by so quickly. And one of these things becomes less important, and you have the funds, or the time, or both," she says. "And you're like, Jesus, I'm 50 now; I better do it."
"She's 56; she's lying," says Heath dryly. "Well, I was 50 when I first thought that!" laughs Russell.
Angela Heath, sail trimmer:
Heath, the comedian of the group, surprised me by admitting she was actually extremely tense throughout the trip. "I'm so much more comfortable in my skin now," she says. "They were very formative years, and we were all growing up together. You're trying to stay in the team; it's tough going. When I looked at myself, I could see a tension in my face. I prefer being older because I couldn't care less anymore." Heath also says she doesn't think of herself as particularly funny, and the women erupted in disagreement. "You were a one-line wonder!" says Edwards. "Our comedic relief on the boat."
After the boat, Heath "changed." "I had to get to know my husband again," she says. "But I wanted to really finish the race, and create a new life. It was hard to keep going back. It was so big. Even going to the yacht club, it was like, 'You're the girl from Maiden!' I just wanted to be Angela again. Normal old Angela." She's since worked in various administrative and medical jobs, had two boys, and settled down in Dublin Bay, where she gardens, plays piano, and makes pottery. But she remains deeply nostalgic: During the race, the women marked their route on a blowup globe, and Heath still has it. "In big black marker, we have the route that we took, but the last leg has not been filled in," she said. "We have to get a pen and finish the rest. It's up in my room."
Tanja Visser, foredeck and sailmaker:
Visser, the first Dutch woman ever to race in the Whitbread, met her husband during the race, and kept sailing up until the early 2000s while simultaneously opening a dental clinic near Amsterdam (she had trained in dentistry before the race). Visser, like 90 percent of the Maiden crew, now breeds horses and has her own horse farm, where she lives with her kids and dogs. "Some of the girls came over to the farm recently, and we had some fun," she says with a twinkle in her eye.
Sarah Davies, reserve crew:
Davies, a quiet woman, only participated in one leg of the race, as the reserve crew, and went back to her job in the British army afterward. She "had a family, as you do," and "followed her husband around for a while," another military man. Now, she teaches children to sail and get comfortable in the water, and — like so many of her crewmates — breeds and grooms horses.
Dawn Riley, watch captain, diver, and engineer:
Riley — the only American on the team, who wasn't present at the group gathering in New York — hopped off the boat and went straight on David Letterman. She continued racing, and was the first woman to manage an America's Cup sailing team; she also co-authored a book, Taking the Helm, about her racing experiences. Now a public speaker and TV commentator, Riley lives in a "little cottage beside the sea" in Oyster Bay. "You just can't believe it," says Heath. "It's so gorgeous." Nearby, she heads up a sailing school, Oakcliff Sailing Center.
Mikaela Von Koskull, watchwoman, helm, and deck hardware specialist:
Though I glimpsed Koskull at the film's after-party in an all-white outfit with a serious tan, she wasn't able to hang out the next day. Koskull leads a similarly glamorous life to Amanda Swan Neal: She's done the Whitbread race multiple times, spent much of her post-Maiden years on "fast, extreme yachts," and works as a tour guide in Europe and Africa. Her two favorite places on earth are the North and South Pole, but she's also got a farm in Portugal.
Nancy Harris, sail trimmer and deck hardware specialist:
Harris still lives in her hometown of Hampshire, England, where she's married with two daughters and — you guessed it — some horses. "It was wonderful to see how well everyone was, and to follow Tracy's projects, but I am happy with my feet on the ground and looking after my animals and garden," she says in the movie's press notes. "I've tried to instill in my children the values I learned from Maiden: Don't give up. There is always a way of overcoming anything."
Amanda Swan Neal, rigger:
Neal, much like Riley, didn't give up sailing after Maiden: She owns and operates a company that provides ocean sail-training expeditions, wrote a book that "demystifies engine systems," and writes a monthly column in 48° North magazine. She's currently "based in the South Pacific for the next five years," which sounds mysteriously glamorous.
Jeni Mundy, foredeck:
Mundi also completed a second Whitbread race, during which she realized she was extremely talented working with very complicated electronics. She went on to get a master's degree in electronic engineering and work as an engineer. She's now a regional managing director of Visa's U.K. and Ireland outposts. In the press notes, she expresses an unending joy about her experience on the Maiden, but also a frustration with how far things haven't come for women in sports. "Women athletes still have to carry day jobs," she said. "I did expect us to be a lot further on in these many years. My patience has run out — c'mon! c'mon!"
Michèle Paret, watch captain and helm:
The elusive Paret, a sort of Carmen Sandiego figure, was mentioned several times throughout our interview: She's the only woman who didn't make it to the film's premiere, and the Maiden team rarely sees her. That's because she's still sailing around the world to this day, with more than 170,000 sea miles to her name. But the women are determined to find her. "We're all going to meet up once a year now, from now on," says Hunter. "At least. We'll go to Michèle. We'll get on a boat and we'll chase her."