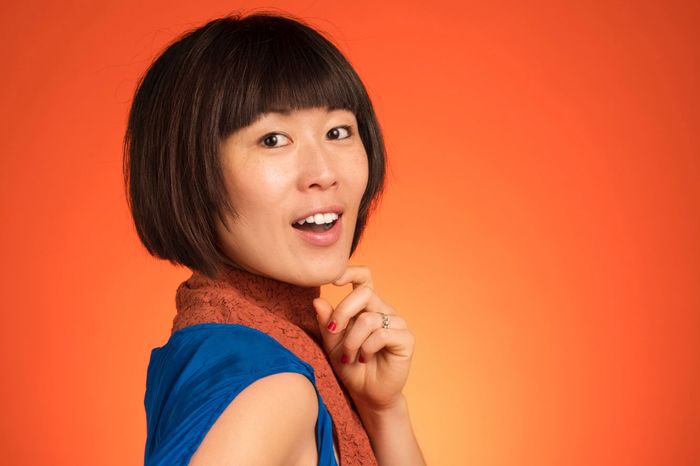 Atsuko Okatsuka.
Photo: Kim Newmoney
The comedy podcast universe is ever expanding, not unlike the universe universe. We're here to make it a bit smaller, a bit more manageable. There are a lot of great shows, and each one has a lot of great episodes, so we want to highlight the exceptional, the noteworthy. Each week, our crack team of podcast enthusiasts and specialists and especially enthusiastic people will pick their favorites. We hope to have your ears permanently plugged with the best in aural comedy.
Let's Go, Atsuko! A (woke) Japanese Game Show - Live from Los Angeles
Hosted by L.A. comedian Atsuko Okatsuka, Let's Go Atsuko! blends the physical silliness of Japanese game shows with the dry, matter-of-fact fatuities of Wait Wait … Don't Tell Me! Don't let the title fool you: While the questions that quiz the contestants on wokeness ("Which of these situations is it not okay to ask someone where they're from?") are serious, the possible answers most definitely are not ("Your first day on set of The Real World"). For contestants Brendan Scannell, D'Lo, Robby Hoffman, and Dewayne Perkins, the physical aspect of the show comes in the second round, where the previous round's losers are given impediments — like being tethered together — based on fears that they previously disclosed to Atsuko. Even though listeners won't get the same effect as the audience who saw it live at the Dynasty Typewriter, you don't need any visuals to hear Hoffman hilariously rise to the final challenge of pretending to defend Moby while on a first date. —Pablo Goldstein
Listen: Spotify | Apple | Website
Small Doses With Amanda Seales - Side Effects of Shame With Jameela Jamil
Jameela Jamil just wants everyone to love their imperfect selves. Anyone who follows The Good Place star on social media or has read this Reductress article knows her iron-fisted brand of self-love. On this week's Small Doses With Amanda Seales, Jamil is able to bring more nuance to the complex conversation around shame. Seales (NBC's Bring the Funny) and her hard-earned confidence make for the perfect mirror to bounce these ideas off of. The two audition buddies immediately dive into the hard work that needs to be done to undo the shame embedded in people at an early age — especially in women, and even more so in women of color. Jamil opens up about her difficult past as a teenage model, when she was told by her agents to eat one red pepper and call it a day. She's even able to sum up how people usually handle shame with a gross little cockroach metaphor. Seales's slickly produced show helps elevate what would be an engaging conversation between two friends into a hilarious pep talk for everyone. Men have as much to learn from the discussion about our own shame regarding sexual performance, and how it can affect women. In fact, every single living organism — human, animal, even plant — could benefit from the life-affirming advice doled out on this episode of Small Doses. – Mark Kramer
Listen: Spotify | Apple | Website
Filling the Void - Roller Coasters With Diablo Cody
Host and writer Lesley Arkin (Love) celebrates her guests' nerdy, weird, musical and tasty obsessions in this feel-good podcast that is actually one of her hobbies. (For those of us in our 20s, a "hobby" is something you do for pure joy with no agenda.) This week, writer and thrill seeker Diablo Cody (Juno, Tully) welcomes us into a competitive subculture of warring factions: the roller-coaster scene! Cody explains her journey from being a kid afraid of everything to a coaster enthusiast who loves flying out of her seat. Learn why researching and making spreadsheets — yes, spreadsheets — are her favorite part and how tracking each coaster's designer and architecture enhances the ride: "If your interest was math, wouldn't it be cool if you could walk into the equation?" The busy among us will be reassured that Cody started her hobby in her late 20s, when she had enough job security to finally hop on a travel bus with 50 strangers who loved lists as much as she did. With Cody's expert park-wardrobe tips and scary-coaster recommendations, you'll be ready to start this hobby yourself! After all, "You just have to be tall enough to ride." —Anna Marr
Listen: Spotify | Apple | Website
Conan O'Brien Needs a Friend - Deep Dive With Dana Carvey
"I met Dana in 1988, and after all this time, he still has one of the most outrageous, creative, and cartoonish brains in comedy. Getting to sit in a room and riff with him is something I would pay to do. I actually looked into it, and it's tax deductible." So says Conan O'Brien about his podcast partner in the six-episode mini-series Deep Dive With Dana Carvey, a kind of summer replacement version of Conan O'Brien Needs a Friend. For his part, Carvey told me that he and Conan "always have a great time, especially when we get together when it has nothing to do with show business. So we thought this would be a fun way to hang out a little bit more, but with microphones."
The first episode picks up with O'Brien and Carvey reprising a bit they did on the host's regular podcast: Carvey plays Paul McCartney talking to O'Brien's Paul McCartney who is in the afterlife, not understanding what is happening on Earth. This collision of non sequitur components sets the stage for the run of episodes, with the host goading his friend into doing a myriad of amazing characters and impressions. Sometimes they're enhanced by added sound effects, sometimes they're not. Carvey reveals some more aggressive voices in his head in the second installment, as well as the catchphrase his pal Jon Lovitz tried to make happen back on SNL, but no one really liked it. By the time they hit the third episode, they're getting into the weird weeds that O'Brien loves: "Dana's impression of Johnny Carson talking himself out of a DUI in 1976 is one of the funniest things I have ever heard. I also die every time he does his impression of Jimmy Stewart being orally pleasured."
The odder the celebrity and the things they talk about, the more Carvey gets into it. As he puts it, "There are things we get into during each of the shows that makes my brain happy." Such as when the series gets into the last couple of episodes and the SNL vet goes into a bizarrely inspired premise of John F. Kennedy, his bother Bobby Kennedy, Elvis Presley, and Adolf Hitler, all living in a secret bunker buried in the desert under Las Vegas where they have been since faking their deaths. Too weak from laughter at this point, O'Brien can't even join in the whirlwind because he's enjoying watching his guest fly from voice to voice to voice too much. Carvey says, "The style of these shows may start to give people a little insight about how my comedy mind puts things together." All six shows dropped last week and are currently available behind the Stitcher Premium paywall, but expect them to begin appearing shortly via Apple Podcasts and the other usual outlets. I asked O'Brien if there might be a second season of Deep Dive With Dana Carvey in the future. He says, "That's like asking a diabetic if he wants more ice cream. If Dana isn't sick of me, I'll be there with a microphone." —Marc Hershon  
Listen: Stitcher Premium
Earwolf Presents - Teledetective 
If you've ever wanted to be a detective, now's your chance. Let "Teledetective" take you to Julius, a fictional town that desperately needs your help. Created by comedian Ian Abramson, Julius is "overrun with pirates stealing subway cars and mysterious monsters running organized crime." As a result, local law enforcement is looking for freelance flatfoots. It's peak gig economy, but much more fun than, say, driving drunk strangers around. Guided by an assistant who provides you with clues, interrogation interviews, and messages from the chief of police, "Teledetective" is as enthralling as any of the best true-crime podcasts available. Yet it offers a reprieve from the ethical dilemma of shows like Serial by giving you an interactive neo-noir full of absurdly funny and totally fictional characters. Brought to life by a group of talented comedians, everyone from your assistant to criminal Tony "Oh gosh, I have pasta in my pockets" McNamara exist solely for entertainment purposes. But of course, as Abramson asserts, if you don't solve the case, the "crime is your fault." You didn't think this was all fun and games, did you? Speaking of which, as part of Earwolf Presents, which offers podcast pilots a chance at full production, it's also up to you to ensure the livelihood of "Teledetective" by giving it a listen. —Becca James
Listen: Spotify | Apple | Website
Other Podcasts We're Listening To:
High & Mighty - Conspiracy Theories (w/ Adam Pally and Anthony Atamanuik)
Listen: Spotify | Apple | Website
Culture Kings - The 2019 NBA Free Agency Discussion (w/ Behzad Dabu & Carl Tart)
Listen: Spotify | Apple | Website
Dumb People Town - Janet Varney and Cole Stratton - Big Bertha Test Drive
Listen: Spotify | Apple | Website
Dexter Guff Is Smarter Than You - Manufacturing Your Authentic Self
Listen: Spotify | Apple | Website
Got a comedy podcast recommendation? Drop us a line at comedypodcasts@vulture.com.