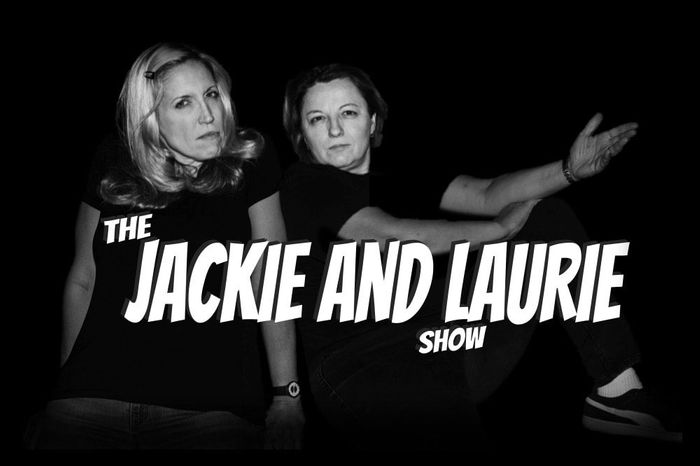 Photo: Courtesy of The Jackie and Laurie Show
The comedy podcast universe is ever expanding, not unlike the universe universe. We're here to make it a bit smaller, a bit more manageable. There are a lot of great shows, and each one has a lot of great episodes, so we want to highlight the exceptional, the noteworthy. Each week, our crack team of podcast enthusiasts and specialists and especially enthusiastic people will pick their favorites. We hope to have your ears permanently plugged with the best in aural comedy.
The Jackie and Laurie Show - Defining Context
Imagine being just a day or two out of the hospital following aneurysm surgery only to plunge into the churning mill that is the San Diego Comic-Con to perform a series of comedy gigs while on OxyContin. Or you can listen to the latest installment of The Jackie and Laurie Show and hear what it was like from co-host Laurie Kilmartin, who lived it just last week. ("The Oxy wasn't that good!" she insists to fellow host Jackie Kashian.) Kashian missed the action in San Diego because she was visiting family in Milwaukee. Now, when most of us drop in on family, it tends to be a pretty perfunctory thing, but Kashian is a bona fide veteran stand-up, so she made a side trip along the way to do a guest set at a club with headliner Ron Funches just because she could. They also kick around the recent controversy about comedian Dina Hashem's Venmo joke about slain rapper XXXTentacion, why Kashian can get Kilmartin a birthday present but not the other way around, and the disparity between how many guy comics have specials on Netflix versus women. Plus they plug Heather Pasternak, their latest "Comic of the Week." If you haven't listened to TJ&LS, you're missing out on two fellow comics and friends swapping these kinds of road-warrior and hell-gig stories. But they also chat about many aspects of life, death, and relationships from the perspectives of two women who have been through a lot and lived to laugh about it. —Marc Hershon 
Listen: Spotify | Apple | Website
Hollywood Handbook - Moshe Kasher, Our Comic-Con Friend
If you ever want to experience abject terror, try explaining the premise of Hollywood Handbook to someone you truly respect. It's a feeling akin to bombing in front of 100-plus people who hate your guts, which is what happened last year when Sean Clements and Hayes Davenport took their podcast that "takes 15 to 20 episodes for people to really get" to Comic-Con. That live recording featuring Moshe Kasher was an unmitigated disaster, but the Boys were able to wring a classic episode out of it by recording a meta commentary track about the crater they left behind in San Diego. To commemorate both the event and the show's 300th episode, Kasher was invited back this week to record a commentary track on the commentary track. However, the show's desultory producer Chef Kevin showed up with several baked pies (not a metaphor) and no clips, thinking that the trio would spend hours riffing on an already lengthy commentary episode despite one of the hosts having a hard out. It's another Comic-Con catastrophe, albeit one that wasn't intentionally meta. Six years in, Hollywood Handbook remains a well-oiled, ironic Rube Goldberg machine designed to take us from the introductory name-drops to Hayes's exasperated "Bye!" sign-off with no telling of what comes in between. —Pablo Goldstein
Listen: Spotify | Apple | Website
Earwolf Presents - Dead Eyes (w/ D'Arcy Carden & Zach Woods)
In the grand scheme of things, the story at the center of Connor Ratliff's (The George Lucas Talk Show) new Earwolf Presents show, Dead Eyes, is a deeply trivial one. "Now, this isn't an important story — in fact, I'm not sure that this story could be less important," he admits in the introduction. But the "dead eyes" that caused Ratliff to be fired from Band of Brothers by Tom Hanks represent the dead eyes in all of us. With "Dead Eyes," Ratliff sets out to tell the universal tale of finally landing your big break, counting your eggs before they hatch, having it all taken away, and 20 years later — hopefully — gaining redemption. All Ratliff wants is the opportunity to audition for Tom Hanks again. In the meantime, he'll be joined by some of his funny and famous friends to get to the bottom of this grand failure. Like Zach Woods (Silicon Valley), who reassures Ratliff he has the eyes of "someone who could play both sides of a murder case." And D'Arcy Carden (The Good Place), who shares a similar story of getting fired from a junior-high-school play through her reps (her parents). The show's whimsical production choices and exciting future guests Jon Hamm (and fingers crossed, Tom Hanks) make Dead Eyes one of the weirdest and most promising podcast projects on the horizon. —Mark Kramer
Listen: Spotify | Apple | Website
Best Friends – Nicole Is Watching Frasier
Real-life best friends Nicole Byer and Sasheer Zamata continue to find the fun in their friendship. Luckily for us, the reinforcement of their relationship is recorded and put out weekly for our listening pleasure. The best part of Best Friends continues to be when Zamata and Byer surprise each other with a previously unknown story from their respective pasts. With each new anecdote, the gleeful reaction from the other host is always a true delight. Zamata and Byer continue to prove true the old saying "Just when you thought you knew someone …" In this week's episode, our duo cover quite a lot. From a Byer fantasy involving Michael B. Jordan's character in Black Panther to Zamata's history with Facebook and why it makes Byer want to start sliding into people's DMs, the two leave no stone left unturned. Although Best Friends can normally be described as a giggle-fest, the most interesting part of this week's episode stems from a rather traumatic story in the listener mail segment. In watching Byer and Zamata quickly shift gears from delivering zingers to giving great advice to the listener, it's no wonder these two are best friends. Based on this interaction alone, you can tell they're totally in sync with one another. Whether you're interested in hearing what an ever-evolving friendship sounds like or just want two comedians to take an in-depth look at a problematic episode of Frasier, Best Friends has your back. —Tom Rainey
Listen: Spotify | Apple | Website
The Alarmist - The Titanic: Who Is to Blame? 
Earios, the new podcast network "built by women, with funny, smart, and inclusive programming for everyone," just launched another podcast, and this one is for history buffs with a sense of humor. The Alarmist is here to "scrutinize history's greatest disaster to figure out what went wrong, and, most importantly, who's to blame." Hosted by Rebecca Delgado Smith, a comedian and self-professed history lover, the show will cover everything from the Donner Party disaster to the Beatles breakup. This week, Delgado Smith tackles the sinking of the Titanic with fellow comedian Adam Lustick. Dubbed "the deadliest maritime tragedy ever," the duo sets out to determine who fucked it up. Was it the captain? The lookout without binoculars? The patriarchy? No one is safe from their investigation, least of all the many confident dummies who believed the Titanic was unsinkable. Full of nearly unfathomable facts — just 20 lifeboats were provided, which would save only half of the people aboard in the event of a shipwreck — and funny quips, The Alarmist both educates and entertains. Tune in as Delgado Smith continues with her tongue-in-cheek thesis that "we should all be pointing fingers and figuring out whose fault things are." —Becca James
Listen: Spotify | Apple | Website
Other Podcasts We're Listening To:
Conan O'Brien Needs a Friend - Season Finale with Julia Louis-Dreyfus
Listen: Spotify | Apple | Website
Culture Kings - In Conversation with NBA Comedy Twitter King, Josiah Johnson
Listen: Spotify | Apple | Website
Chapo Trap House - American Mids
Listen: Spotify | Apple | Website
The Three Questions With Andy Richter - Mayim Bialik
Listen: Spotify | Apple | Website
Maybe Don't: A Kevin and Yusong Variety Show - Go Home
Listen: Spotify | Apple | Website
Why Won't You Date Me? - w/ Jessica McKenna
Listen: Spotify | Apple | Website
Got a comedy podcast recommendation? Drop us a line at comedypodcasts@vulture.com.