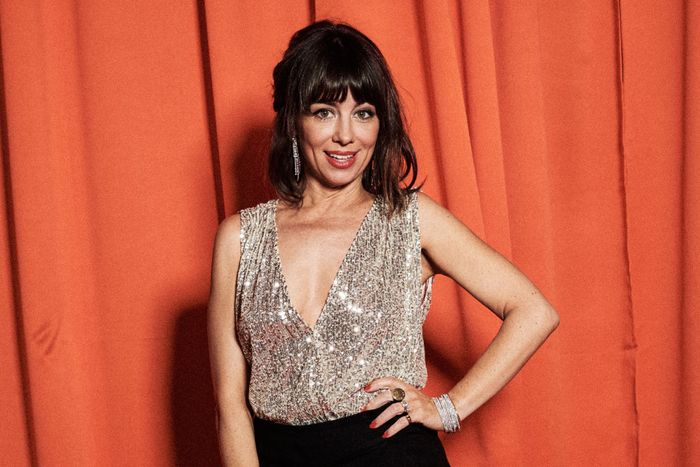 Natasha Leggero.
Photo: CBS Photo Archive/CBS via Getty Images
The comedy podcast universe is ever expanding, not unlike the universe universe. We're here to make it a bit smaller, a bit more manageable. There are a lot of great shows, and each one has a lot of great episodes, so we want to highlight the exceptional, the noteworthy. Each week, our crack team of podcast enthusiasts and specialists and especially enthusiastic people will pick their favorites. We hope to have your ears permanently plugged with the best in aural comedy.
The Goodie Goodie - Started at Zanzibar Now We're Here with Natasha Leggero
Ever since her old podcast My Sexy Podcast ended a few years ago, there's been a Sabrina Jalees–shaped hole in the podcast universe. But listeners, rejoice! She's back with an all-new podcast on the Forever Dog Network, The Goodie Goodie With Sabrina Jalees. What exactly is The Goodie Goodie? Well, as Jalees explains, it's "cool conversations with cool people that I like … It's the stuff you want to talk about and not the stuff you don't want to talk about." In the premiere episode, she talks to very cool person Natasha Leggero. The two discuss what it feels like to both be starring in CBS sitcoms starting in the fall, how they got there, what they'd tell their younger selves about where they are now, and the futures they want for their babies. If you listened to My Sexy Podcast, you'll no doubt remember the constant and hilarious sound effects played throughout and be relieved to know they're back and better than ever, while new listeners will have the joy of experiencing these delightful little sound bites for the first time. The second half of the conversation with Leggero will be released in another episode later this week. Two new episodes in a single week is not just good news (sorry in advance for doing this) — it's goodie goodie news. —Leigh Cesiro
Listen: Spotify | Apple | Website
Teen Creeps - A Summit on YA Fiction with Grady Hendrix
In celebration of 150 episodes, Teen Creeps hosts Kelly Nugent and Lindsay Katai open up the podcast, which usually focuses on one book from their "awkward neon youth" at a time, to do a genre summit. Breaking down the history of YA pulp fiction, author and YA historian Grady Hendrix (Paperbacks From Hell, My Best Friend's Exorcism) joins in to help. The trio bounces from title to title with gusto, as Hendrix does an outstanding job relaying the books' often amusing backstories via an only slightly exaggerated delivery. See this excerpt from his description of O.T. Nelson's 1975 book The Girl Who Owned a City: "Everyone over the age of 12 just dies … By the time the book ends [Lisa] has, like, this child army … and they turn the high school into a castle and are, like, pouring boiling oil on people." Turns out "the whole book is just Libertarian propaganda." The episode is a nonstop recommendation session, and although there are plenty of contributions made to the genre, the group consensus is that popular author Christopher Pike's "murder books" are the best for numerous reasons. For example, unlike the more fuddy-duddy R.L. Stine, Pike provides characters who fuck and drink and "eat like horses." Write all the titles down, and you'll have one hell of a summer reading list. —Becca James
Listen: Spotify | Apple | Website
Why Mommy Drinks - John Ross Bowie: Never Forget
There's something delightful listening to moms of youngsters drinking wine and cutting loose when it comes to dishing the dirt on their own kids. And when those moms are comedians, like Amanda Allan and Betsy Stover, we're talking pro-level ragging. Add the improv mind of Why Mommy Drinks return guest John Ross Bowie (Big Bang Theory, Speechless) capping on his offspring (the episode title comes from the fact his kids are currently 9 and 11 …), and this is an hour of nonstop funny parental bellyaching. They start off delving into the danger of second-guessing their own second-guessing about how to handle new surprises from their young sprats (Bowie is the only parent with an almost-teenager so far). Then they get into the hazards of sending their progeny off to a different camp every couple of weeks during these summer months. (One of the host's kids is 5 years old and was preparing to belt out the Chainsmokers' "Closer" at music camp.) There's also the frustration of not being able to discipline other people's children — like the young scamp who taught another how the "N-word" is revealed when you pronounce "salt-and-vinegar potato chips" slowly enough. A regular segment on the show is when the hosts kick into "What Broke You This Week?" — a reference to the thing your child recently did that really made you want to throw in the towel — and it's funny to hear the other parents being both sympathetic and laughing their asses off at the same time. It's clear that for every trick a parent learns (Bowie talks about ways to limit his kids' screen time, for instance), their kids learn some other way to outsmart them. —Marc Hershon
Listen: Spotify | Apple | Website
Natch Beaut - Mini Beaut 1 - Questions From the Hunnies
It's the middle of summer, a.k.a. it's 100 degrees and hundreds of fall wedding invites are arriving. Shake off the midsummer rut and get movin' and improvin' with comedian Jackie Johnson, a.k.a. the Beauty Talk Shock Jock, Queen of Creams … the title goes on. This popular beauty and skin-care pod is now dropping two episodes a week, hun-nies. In this first official mini episode, nothing is off topic in a classic Q&A. Johnson talks facials, Lush, and basic skin routines for men, but the hunnies also have some weird questions — and we're here for it! What's best, though, is sensing how Natch Beaut has grown into a community. The supportive hunnies ask Johnson, who's been open about going through a divorce, how she's doing and about her therapy journey. She later gets into positive social media and self-care practices for mental health, plus how to pump up your confidence with a life soundtrack. Maybe she should add Vulnerability Vixen to her title! There's a lot to make you feel good packed into this mini, including why it's darn okay to not quite meditate or compost yet. We're all doing our best! —Anna Marr
Listen: Spotify | Apple | Website
Dude Talks to a Lady - Pranav Behari 
The premise of Dude Talks to a Lady is simple: Host Janet Hyde interviews male comics about their jokes about women. Hyde's hard-hitting questions about sex, dating, and gender relations continue to be the backbone of what makes this podcast great. Some notable examples of her rapid-fire segment include, "What percentage of your friends do you think are rapists?" and "Have you ever been called a sexist?" For me, Dude Talks to a Lady hits its full stride when guests come in ready to answer these questions as honestly as possible. Fortunately for us, this week's guest, comedian Pranav Behari, is pretty open in his responses. Before getting into topics like toxic masculinity and mansplaining, Behari tells a joke about the time he donated a kidney to his mother. From there, Hyde and Behari get into an interesting conversation about mother-son dynamics and why looking for a maternal bond in a romantic partner can be dangerous. Although the two cover some pretty heavy ground, Hyde is always able to direct the conversation back to a lighthearted place. —Tom Rainey
Other Podcasts We're Listening To:
Las Culturistas - Maggots or Magic (w/Betty Gilpin)
Listen: Spotify | Apple | Website
Gilbert Gottfried's Amazing Colossal Podcast - Beverly D'Angelo
Listen: Spotify | Apple | Website
Bunny Ears - Esther Povitsky and Macaulay Culkin Discuss French Nipple Cream and More
Listen: Spotify | Apple | Website
Dylan Brody's Neighbor's Couch Revisited - J. Keith van Straaten
Listen: Apple | Website
What'd You Eat - Rebecca Metz!
Listen: Apple | Website
Got a comedy podcast recommendation? Drop us a line at comedypodcasts@vulture.com.