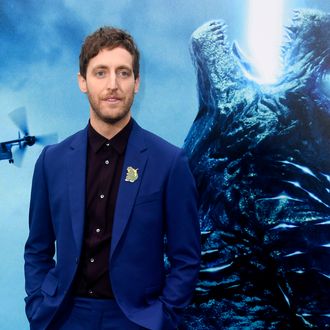 Photo: Frazer Harrison/Getty Images
The shenanigans one gets up to while on a location shoot! Thomas Middleditch interviewed his Godzilla: King of the Monsters writer pal Zach Shields for Interview magazine. The two met in Atlanta when Middleditch was acting in Godzilla and Shields was doing whatever an on-set writer does on a movie. Eating craft services and trying to maintain the integrity of one's vision, probably. Shields let it drop that Middleditch took him on a double date to a sex dungeon while filming was taking place, like you do.
SHIELDS: And that talk lead us to a pretty good adventure. Thomas, you want to talk about that night?

MIDDLEDITCH: Oh, the night. I'm in Atlanta. There's my wife and your girlfriend, Mollie. We all had a double date, and we went to this fun little place in Atlanta called Trapeze, which is a known adult swingers club. The first night that we're all bonding, we saw each other naked. We didn't do anything, but we certainly witnessed what a swingers club on Sunday night at like 1AM is like. It's pretty sparse, let me tell you that.
Shields then mentioned that Trapeze serves an all-day brunch on Sundays, which is a hot tip for anyone hungry 'n' horny in Atlanta: "We walked into the smell of maple syrup and sausages. There was a guy serving himself from a breakfast buffet next to the stripper pole. He was serving up hot cakes."