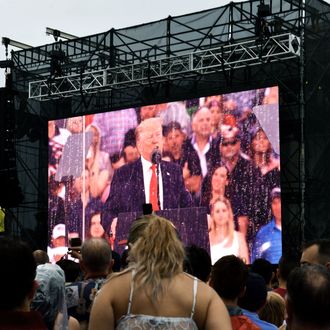 Photo: Nicholas Kamm /AFP/Getty Images
President Trump's plan to turn the Fourth of July into a commercial for his reelection campaign paid off spectacularly, if you're using Nielsen ratings as a metric. According to just-released figures from the audience-measurement company, more than 6 million Americans watched coverage of the Trump propaganda effort between 7 and 8 p.m. EDT last Thursday, the hour during which the former star of The Apprentice read remarks from a teleprompter. Unsurprisingly, Trump-friendly Fox News, which covered the event most exhaustingly, dominated the hour, notching an eye-popping 4.9 million viewers during the hour, about double what the network normally draws in the time slot. CNN, which mixed coverage of Trump's speech with some analysis, drew about 1.5 million viewers, also a substantial improvement over its typical early-evening numbers (which generally hover around the 1 million mark). That puts the combined audience for the Trumpified festivities at around 6.4 million.
As impressive as these numbers are, it should be noted that more Americans opted to watch NBC's politics-free presentation of the Macy's Fourth of July fireworks/concert. The Peacock's two-hour premiere telecast of the show generated an average audience of 5.9 million from 8 to 10 p.m., with the audience peaking at 8.8 million viewers from 9:30 to 10 p.m. (when the actual fireworks were going off). The network also aired a condensed version of the special in the 10 p.m. hour, drawing another 3.8 million viewers. That puts the estimated combined audience for the two telecasts at around 9 million viewers (since there was likely some overlap between the two telecasts' viewerships).
Another NBC-owned network didn't do quite as well on July 4: MSNBC opted against airing the Trump-produced event, instead showing encores of the first Democratic-primary presidential debates. Predictably, given how massive the audience was for the debates when they aired live, not too many folks turned up. MSNBC's rebroadcasts averaged about 360,000 viewers.