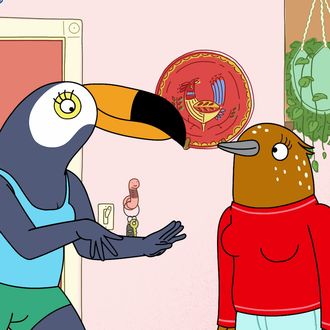 Lisa Hanawalt's Tuca & Bertie drew raves from critics but apparently not enough viewers flocked to it to justify a second season: Netflix has clipped the animated show's wings after just one season, the streamer confirmed Wednesday. In addition, Designated Survivor — an ABC series which jumped to Netflix for season three — won't be getting a fourth season at Netflix. While Netflix has said it still renews about 80 percent of its freshmen series, it's become increasingly hard-nosed about renewing shows that don't bring in enough viewers relative to their cost, or that don't do a good enough job recruiting new subscribers.
The Tuca news comes despite plenty of love from critics and a pedigree that includes BoJack Horseman alum Hanawalt and Raphael Bob-Waksberg, along with two red-hot Netflix talents in lead vocal roles (Tiffany Haddish and Ali Wong.) "Lisa Hanawalt created a relatable yet whimsical world in Tuca & Bertie," a Netflix rep said in confirming the news. Tuca's ending comes a week after BoJack finally snagged an Emmy nomination for best animated series, while Tuca, which bowed in May, was overlooked. As for Designated Survivor, the Kiefer Sutherland drama actually aired as a Netflix original for all three seasons outside of the U.S., so in a way, the show actually had a relatively long (for Netflix) run of 53 episodes.
Update 6:21pm: Hanawalt took to Twitter after the news to say good-bye to the show.