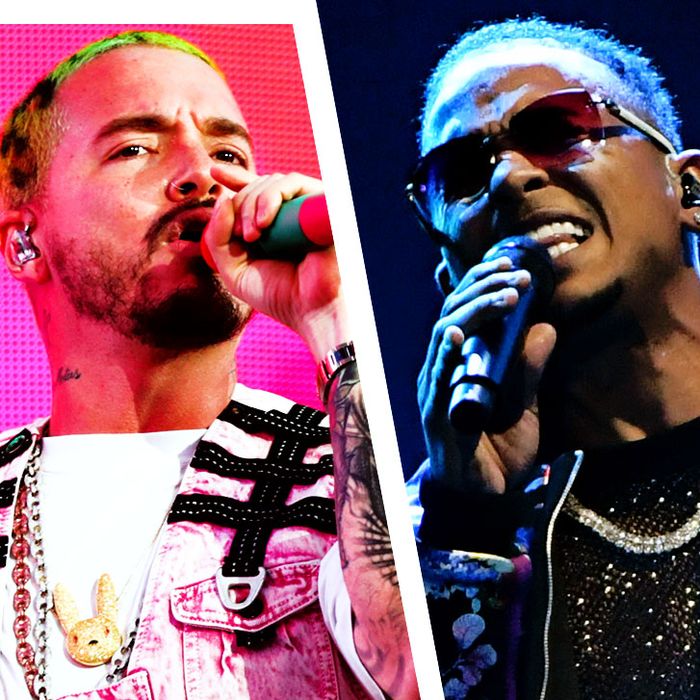 J Balvin, Ozuna, Bad Bunny, and so much more.
Photo: Getty Images
Música urbana is American music. The loosely defined term encapsulates Spanish-language "urban" music with roots in the culture of descendants of enslaved peoples across North, South, and Central America. The various styles and genres that encompass música urbana — hip-hop, reggaetón, dembow, and champeta, to name a few — have reached a critical mass in the Americas that has become impossible to ignore for even the most mainstream corners of English-language media.
Even if you don't listen to Spanish-language radio — or any Latinx friends — you're still likely to have entered the urbano orbit. Some of pop's biggest stars, from Drake to Cardi B to Beyoncé, have all acknowledged the art and audience of música urbana. Colombia's J Balvin and Puerto Rico's Ozuna and Bad Bunny were the three most-streamed artists in the world on YouTube in 2018. The myth of the Spanish language as a barrier to mainstream consumption has also been obliterated — according to a report from the music consumption company BuzzAngle, last year "Latin" music (measured by physical and digital sales as well as on-demand streams) represented 9.4 percent of listening in the U.S., overtaking country music (8.7 percent). Latin artists' share of video consumption is even more pronounced, representing 24.3 percent of video views, evidence of YouTube's prominence as the go-to streaming service for music in Spanish.
But more specifically, música urbana is a cultural umbrella that shifts with the times; a proper history would require a book length treatise (or several). But at the core of pretty much every style are rhythms brought from Africa, fostered by enslaved people and blended with indigenous sounds and the language of Latin America's chief colonizer, Spain. The influence of the United States looms large, with the Latin diaspora often filtering through the U.S., and a reverence for American culture manifesting in homage (or outright mimicry). But the scales have balanced, and the cultural exchange between Anglo and Spanish-language music is bi-directional. In an interview with the Latin culture site Remezcla, DJ Luian — the architect of Bad Bunny's meteoric rise — acknowledged the exchange: "Obviously we draw so much inspiration from American music," he said. "When we started, we wanted to sound like them, and now they want to sound like us." And whether or not the Anglo media acknowledges it or not, urbano's biggest stars stand in no one's shadow — they cast their own.
What follows is a brief — and by no means all-encompassing — primer on some of the most important artists in urbano, broken up into three categories: The superstars at the top of the charts, the OGs who helped create and sustain the community, and the next wave of new artists and underground veterans set to break out in the coming months.
The Superstars
Any discussion of música urbana in 2019 inevitably begins with it's biggest stars, the holy trinity atop the YouTube charts: J Balvin, Bad Bunny, and Ozuna.
J Balvin
Age: 34
Hometown: Medellín, Colombia
The Thing He's Known For: Balvin spent time in his youth in the U.S., absorbing American music and culture without necessarily understanding all of the words. He's since become a world-class wave rider on the level of Drake or Jay-Z, identifying trends and incorporating them into a global aesthetic that comprises myriad pan-Latin sounds. You will almost certainly recognize him for his ever-changing colorful hair (most notably, his rainbow leopard and zebra-print pattern cuts).
That One Song You Might Know: The "Mi Gente" remix featuring Beyoncé, who donated her profits from the tune to hurricane-relief charities for Puerto Rico, Mexico and the other Caribbean islands affected by hurricanes in 2017.
Bad Bunny
Age: 25
Hometown: San Juan, Puerto Rico
The Thing He's Known For: A distinctly unique AutoTune croon that catapulted him into superstardom in the span of just two years. Bad Bunny's first big hits were at the crest of the Latin trap wave, exhibiting a mastery of the sing/rap flow with a distinctly nasal tone that not even the most robotic of vocal filters could disguise. On his debut LP X100PRE and his latest collaborative EP with J Balvin, Oasis, he's wisely resisted the trapero pigeonhole, flexing equal proficiency in reggaetón, dembow (reggaetón's fast-paced Dominican cousin), and even Afrobeats, evidenced by the Oasis "Banku" bop featuring Nigeria's Mr. Eazi. Beyond the music, he's especially known for his gender-nonconforming style, third-eye prosthetic, and tender tweets.
That One Song You Might Know: X100PRE track "MIA," featuring a Spanish-singing Drake.
Ozuna
Age: 27
Hometown: San Juan, Puerto Rico
The Thing He's Known For: 2019's preeminent reggaetonero romántico, Ozuna draws as much inspiration from the Dominican bachata king Romeo Santos as he does boricua rap luminary Vico C, for whom his father worked as a dancer. He's equally comfortable over a trap beat or reggaetón's dembow riddim, but at heart he's a balladeer, inspiring swoons and screams with romantic odes like "Tu Foto."
That One Song You Might Know: "La Modelo," his beach fantasy collaboration with the Dominican/Trini Cardi B, who sings in Spanish on the hook.
Anuel AA
Age: 26
Hometown: Carolina, Puerto Rico
The Thing He's Known For: The obligatory "bad boy" of Latin trap (he's a year removed from a prison bid for a gun charge), Anuel AA's street cred is unquestioned, garnering features and co-signs from U.S. rappers such as Meek Mill and Gucci Mane; he's also very publicly coupled with Colombian reggaetón singer Karol G.
That One Song You Might Know: "Uptown Vibes," a triumphant trumpet-driven nod to the far reaches of Upper Manhattan on Meek Mill's comeback LP Championships.
Maluma
Age: 25
Hometown: Medillín, Colombia
The Thing He's Known For: A poppy-er Colombian contemporary to J Balvin, Maluma has perfected a brand of reggaetón and trap&B with softer edges that's earned him high-profile collaborations with Thalía, Shakira, Madonna, and Ricky Martin.
That One Song You Might Know: His 2019 single "HP," which has clocked almost 440 million views on YouTube.
Farruko
Age: 28
Hometown: Bayamón, Puerto Rico 
The Thing He's Known For: The Puerto Rican rapper released his debut album El Talento del Bloque at just 18 years old and has been steadily attacking the mainstream since, dropping hits like the J Balvin collaboration "6 AM" and the Bad Bunny/Rvssian team up "Krippy Kush."
That One Song You Might Know: The "Krippy Kush" remix, featuring Travis Scott and Nicki Minaj, who dabbles in a bit of Spanish in the intro.
Arcángel
Age: 33
Hometown: New York City/Bayamón, Puerto Rico
The Thing He's Known For: Arcángel's evolution bridges reggaetón's peak in the mid-aughts to the Latin trap explosion of the current decade and mirrors the general shift in urbano from the former's style to the latter. He was involved in what's generally recognized as the first major Latin trap recording, the remix of Yaga y Mackie's "El Pistolon" featuring Randy and De La Ghetto, but spent much of his early career dropping reggaetón bops like 2008's "Pa' Que La Pases Bien" and 2013's "Pakas de 100" with Daddy Yankee.
That One Song You Might Know: The Bad Bunny collaboration "Original," a standout from his latest LP, 2018's Ares, which saw Arcángel largely abandon reggaetón's dembow riddim for smoothed-out trap productions.
The Originators
As the aforementioned stars stand atop the global streaming charts, they do so on the shoulders of urbano's progenitors, early Spanish-language hip-hop and dancehall stars that opened the doors that superstars like Bad Bunny and Ozuna would burst through.
El General
Age: 49
Hometown: Río Abajo, Panama
The Thing He's Known For: El General is arguably the true godfather of reggaetón, popularizing "reggae en español" with hits like "Tu Pum Pum," adapting the West Indian sounds for Spanish-speaking audiences. The influence of Shabba Ranks's 1990 hit "Dem Bow" was particularly infectious, and its syncopated riddim would quickly become the default for the nascent genre. As reggae en Español gained popularity and migrated back to the Caribbean, the sound was embraced by Puerto Ricans, who morphed it into the portmanteau "reggaetón."
That One Song You Might Know: "Tu Pum Pum," the reggae en Español track that provided the foundation for what reggaetón would become.
Vico C
Age: 47
Hometown: Brooklyn, New York/San Juan, Puerto Rico
The Thing He's Known For: Vico C can trace his beginnings in hip-hop back to the mid-'80s, well before raps were mainstream and raps in Spanish were as rare as English salsas. He would land hits in the mid-aughts reggaetón boom with his 2004 album Desahogo, but his most lasting legacy might be the influence he had on the DJs, producers, and performers of The Noise, the San Juan nightclub and crew that was the epicenter for Puerto Rico's reggaetón explosion.
That One Song You Might Know: "Viernes 13," his horror-themed hit with DJ Negro, who would later become an influential member of The Noise collective.
Daddy Yankee
Age: 42
Hometown: Río Piedras, Puerto Rico
The Thing He's Known For: Daddy Yankee's 2004 LP Barrio Fino, largely produced by DJ Nelson protegés Luny Tunes, would mark the introduction of reggaetón — and by extension, música urbana — into the U.S. mainstream. By that point, reggaetón had evolved to include bachata guitar elements, salsafied timbales, and more futuristic electronic instrumentation. The single "Gasolina" was much of the English-speaking world's introduction to the sounds of Puerto Rico and Panama's underground, and the first reggaetón song to be nominated for Record of the Year at the Latin Grammys.
That One Song You Might Know: If not "Gasolina," then certainly "Despacito," the world-conquering collaboration with pop singer Luis Fonsi that dominated pop charts for all of 2017 — and most of 2018, too — or his latest juggernaut, "Con Calma," whose video has amassed over a billion views.
Don Omar
Age: 41
Hometown: Carolina, Puerto Rico
The Thing He's Known For: He shares credit for reggaetón's crossover in the mid-aughts, riding Luny Tunes productions to hits with jams like "Intocable" and "Dile." His greatest success, the Latino pride anthem "Reggaeton Latino," was one of Puerto Rico's biggest exports during the first reggaetón boom, rivalled only by "Gasolina." After announcing he'd retire after a trio of arena shows in Puerto Rico at the end of 2017, he released a 4/20 anthem in 2019 with Farruko called "Ramayama."
That One Song You Might Know: The "Reggaeton Latino" remix, featuring prominent New York Latino rappers Noreaga and Fat Joe.
Tego Calderón
Age: 47
Hometown: Carolina, Puerto Rico/Miami, Florida
The Thing He's Known For: One of the few reggaetoneros that could hang with Don Omar and Daddy Yankee in the mid-aughts, at the peak of his music stardom Calderón made vocal appearances on remixes of Usher's "Yeah," Fat Joe's "Lean Back," and N.O.R.E.'s "Oye Mi Canto." He also starred in the Fast and the Furious franchise as the Dominican street racer Tego Leo, alongside Don Omar, who plays his friend Rico Santos.
That One Song You Might Know: His duet with Don Omar from the Fast & Furious Soundtrack, "Bandolero."
Nicky Jam
Age: 38
Hometown: Boston, Massachusetts/Santurce, Puerto Rico/Medellín, Colombia
The Thing He's Known For: An early collaborator with Daddy Yankee before their acrimonious breakup, Jam demonstrated palpable skills as both a singer and MC, but eventually self-destructed and fell into relative obscurity before embracing a rabid, reggaetón-crazed fan base in Colombia and revitalizing his career.
That One Song You Might Know: "Te Robaré," this year's romantic reggaetón ballad he cut with Ozuna that's closing in on 400 million views on YouTube.
Ivy Queen
Age: 47
Hometown: Añasco, Puerto Rico/New York City/Miami, Florida 
The Thing She's Known For: Being the "Queen of Reggaeton." In terms of women in reggaetón, she's peerless, having held it down for years amid the completely male-dominated reggaetón scene in the late '90s and early aughts. Her 2003 LP Diva likely has the most staying power, but she released a handful of EPs as recently as 2015 showing she's still got it (despite what Anuel AA may think).
That One Song You Might Know: "Yo Quiero Bailar," which sees La Reina effortlessly slip back and forth between singing and rapping, with a nimble flow and a singing voice that moves crowds with authority.
Messiah
Age: 29
Hometown: New York City
The Thing He's Known For: In 2014, New York's DJ Flipstar was looking for a way to connect the mostly Spanish-speaking patrons at his club nights in New York with the sound of contemporary hip-hop. He started remixing radio hits with verses in Spanish, and tapped his homie, Messiah el Artista, to cut vocals for "Si Ta Bien," a reworking of Rick Ross's hit song "Yeah OK," kicking off a local trend among Dominican-American artists that would reach back to the D.R., Puerto Rico, and the rest of the Latin world.
That One Song You Might Know: "Si Ta Bien," his Spanish remake of Rick Ross' "Yeah OK."
DJ Luian
Age: 28
Hometown: Carolina, Puerto Rico
The Thing He's Known For: As head honcho of Hear This Music, he was the chief architect of Bad Bunny's meteoric rise to superstardom. He also assembled the absurd all-star cast for the "La Ocasion" remix, the massive posse cut generally accepted as the track that triggered the current Latin trap explosion.
That One Song You Might Know: "La Ocasion," which features a veritable who's who of música urbano: Mambo Kingz, Ozuna, De La Ghetto, Farruko, Nicky Jam, Arcángel, J Balvin, Daddy Yankee, Zion, and Anuel AA.
The New Wave
Now that the new wave of urbano is firmly rooted in Latin trap, even the biggest reggaetoneros are dabbling in lower BPMs and codeine-fueled production. J Balvin helped reignite reggaetón's flame in Colombia, where the genre is more popular than ever, but even he is reluctant to accept being pigeonholed into any one style. And the next generation has taken notice.
Natti Natasha
Age: 32
Hometown: Santiago De Los Caballeros, Dominican Republic
The Thing She's Known For: 2012's "Dutty Love," a duet with Don Omar, who took her under his wing after a chance meeting at an NYC recording studio. High-powered collaborations with Daddy Yankee, Bad Bunny, and Ozuna have raised her profile considerably, and her internet clout got a boost after recently crossing paths with the Kardashian galaxy after some flirty tweets with the family's black sheep, Rob.
That One Song You Might Know: Her smash hit duet with Ozuna, "Criminal," which has logged almost 2 billion (!) views.
Sech
Age: 25
Hometown: Río Abajo, Panama
The Thing He's Known For: The Panamanian is one of the few AfroLatinx artists who's been able to crack the mainstream; the smooth-singing trapero's hit "Otro Trago" has likely soundtracked every urbano party since its release earlier this year.
That One Song You Might Know: "Otro Trago," a single featuring Darell from Sech's 2019 debut album Sueños that hit number one in Spain, Argentina, Colombia, and Mexico, and debuted on the U.S. Billboard Hot 100.
Lunay
Age: 18
Hometown: Corozal, Puerto Rico
The Thing He's Known For: Recently anointed "Urbano's Next Superstar" by Remezcla, the 18-year-old Puerto Rican singer already has multiple high-profile remixes under his belt, including collaborations with Zion & Lennox, Ozuna, Bad Bunny, and Daddy Yankee.
That One Song You Might Know: The remix of his song "Soltera," featuring Daddy Yankee and Bad Bunny.
Tomasa del Real
Age: 32
Hometown: Iquique, Chile
The Thing She's Known For: The tattoo artist turned "Neoperreo" pioneer leads a darkwave movement within reggaetón that seeks to push the limits of the genre's somewhat codified boundaries, creating space for women and climbing out of the underground in the process. Hailing from Chile, a South American country not known for reggaetón artists, her sound has less in common with its roots and more with the various styles of dance music being made across the Americas. She's evidence of the genre's growth and a hint at what its future might sound like.
That One Song You Might Know: "Barre con el Pelo," a dance floor buzz saw from 2018 that cracked a million views on YouTube.
Jhay Cortez
Age: 26
Hometown: Carolina, Puerto Rico
The Thing He's Known For: Cortez is a rising star who spent years building a rep behind-the-scenes working as a writer on hits like Cardi B's "I Like It," Natti Natasha and Ozuna's "Criminal," Anuel AA's "Amanece," and J Balvin & Bad Bunny's "Cuidao Por Ahí." This year he scored a hit in his own right with "No Me Conoce," a romp that splits the difference between the classic reggaetón riddim and trap's swirling atmospherics.
That One Song You Might Know: The "No Me Conoce" remix, in which he holds his own with the two biggest stars in urbano, Bad Bunny and J Balvin.
Anitta
Age: 26
Hometown: Río de Janeiro, Brazil
The Thing She's Known For: The veteran Brazilian singer has considerably raised her profile with several high-profile collaborations with the likes of J Balvin, Snoop, Mambo Kingz, and Rae Sremmurd's Swae Lee. Her fourth LP, Kisses, is a trilingual (Portuguese, Spanish, and English) collection of hits that highlight her ability to adapt to the styles of the artists she works with while keeping her fingerprints on the compositions.
That One Song You Might Know: "Banana," her sweet-toothed collab with Latin pop princess Becky G.
El Alfa
Age: 28
Hometown: Santo Domingo, Dominican Republic
The Thing He's Known For: Arguably the preeminent artist in dembow, El Alfa has been making music for a decade but didn't drop his debut LP, Disciplina, until 2017. He excels at bringing dembow vibes to whatever genre he sees fit, and has scored hits with Farruko ("Lo Que Yo Diga"), Cardi B ("Mi Mami"), Anuel AA "Con Silenciador," and Diplo "Tecnobow."
That One Song You Might Know: "La Romana," the bachata/"trapbow" anthem he carries on Bad Bunny's debut LP X100PRE. Pásame la hookah!
The Honorable Mention
Rosalía
Age: 25
Hometown: Sant Esteve Sesrovires, Spain
The Thing She's Known For: A flamenco-influenced R&B singer who dropped jaws with her stunning second LP El Mal Querer, Rosalía is white, European, and culturally doesn't really have anything to do with urbano. Nonetheless, she incorporates many of the same influences as Latinx urbano artists, and her biggest song to date is a reggaetón track with J Balvin.
That One Song You Might Know: "Con Altura," the aforementioned reggaetón bop she made with El Guincho and J Balvin.
The future of urbano will likely continue to trend global, as the language barrier proves to grow progressively weaker in keeping Spanish-language artists from global domination. If Beyoncé and Drake's actions are any indication, expect the gravitational pull of the massive Spanish-speaking audience to continue to pull Anglo artists to jump on urbano tracks and sing in Spanish. Expect newly minted pop stars like Rosalía and Becky G to continue to incorporate the sounds of urbano into their pop pastiche. And expect to hear way more Spanish in the club, no matter where you are. The days of the "Latin crossover" are long gone. These are the days of the Latin takeover. Get used to it.