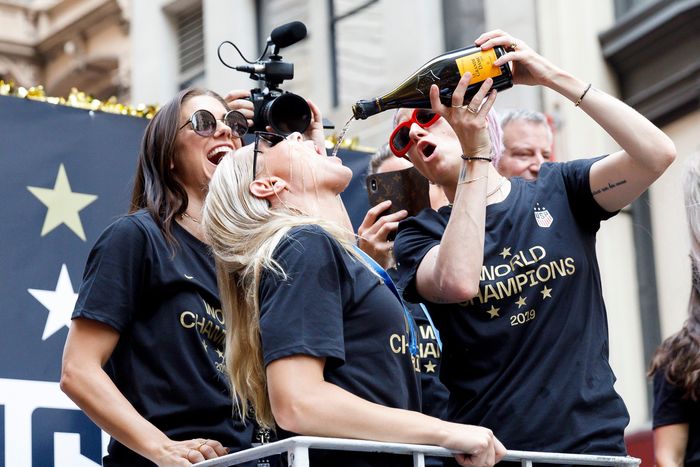 They deserve this.
Photo: Justin Lane/EPA-EFE/Shutterstock
The U.S. National Soccer Team of record kicked off day three of celebrating their World Cup victory by cruising through the Canyon of Heroes in downtown Manhattan this morning. The ladies have been re-toxing and reveling in the glow of sweet victory by drinking in and around rooftop pools, drinking more on a massive yacht in the Hudson, and today, by drinking some more on a float that carried them through a corridor of screaming fans. Fortunately, it's all been very documented, particularly by goalkeeper Ashlyn Harris, so everyone who wasn't in New York to party with the squad can still enjoy the festivities. And what do you do when you're an apex athlete with a resting heart rate probably around 25 beats per minute who has been on a strict World Cup regimen for months? You pop infinite Champagne and vamp for your fans.
What does co-captain and Golden Boot winner Megan Rapinoe deserve? Everything. Literally everything.
Here's a nice selection of Harris's Stories from this morning, which heavily feature the goalie getting her entire life.
Let's break out a highlight from that reel. What does USWNT co-captain Alex Morgan prefer to drink from when she's not sipping phantom tea on the World Cup pitch? Only a champion's trophy will suffice as a chalice.
Star players Rapinoe and Morgan show what it means to be a teammate. Co-captains forever.
Harris is hyped about her team getting keys to the city in New York, but honestly, all she has to do is knock.
Rapinoe, a true star, obviously made the absolute most of her entrance on the steps of City Hall.
And then she delivered a magnanimous speech in which she both roasted and thanked the U.S. Soccer Federation representative who was on the stage — an organization the Women's Team is currently suing for equal pay — and called on everyone to make a better America. Nothing but respect for our president.