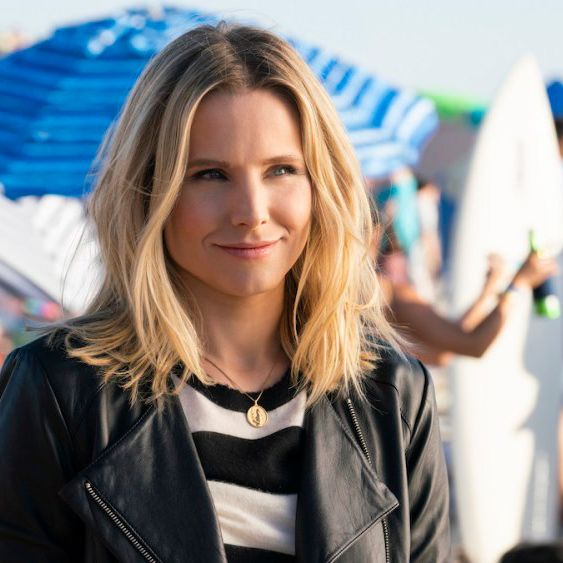 Photo: Michael Desmond/Hulu
As with any mystery miniseries, Veronica Mars' second episode is heavy on table-setting. But it's hard to dispute that this is an exceptionally well-laid table. With its usual wit and style, the show has stacked up an impressive roster of potential culprits in the Sea Sprite Motel bombing. They include a couple of boldface names: the great J.K. Simmons, as Big Dick's duplicitous prison buddy Clyde, and Patron Saint of Cult TV Shows Patton Oswalt, as Penn, the pizza-delivery guy obsessed (much like Oswalt's late wife) with online cold-case sleuthing.
"Chino and the Man" also lays the groundwork for a fun dynamic between Veronica and Matty (Izabela Vidovic), the daughter of the Sea Sprite's recently deceased owner. Like Veronica at the series' start, Matty is 16, smart as hell, overcome with grief, and has a massive chip on her shoulder about class — had the wealthy Alex Malouf not stuck around to dispute his bill, her father likely would have survived the bombing. Since Veronica is working the case for the Malouf family, their "Spy vs. Spy" dynamic feels lively and natural.
But without the benefit of Keith's tutelage, Matty is far less equipped to investigate her dad's death than Veronica was Lilly Kane's. She quickly runs afoul of Veronica's longtime enemy Liam Fitzpatrick, but without a stun gun or pit bull to keep her safe. After Veronica comes to her rescue, Matty still declines to share critical evidence: that the vending machine her dad rented from the Fitzpatricks was incorrectly stocked with gum — the bane of a motelier's existence — and may have been the source of the bomb.
For his part, Penn the Pizza Sleuth thinks the Maloufs stashed the bomb in the makeup case that got returned to Alex's late fiancée Tawny just before the explosion. It's a fair conclusion, given that Penn overheard Tawny say that the Maloufs tried, and failed, to buy her out of the engagement for $50K. Alex's three lost fingers might seem like unacceptable collateral damage, but Penn has a solid point that the makeup case could have just missed its intended destination, Tawny's room.
That theory gains credence with the introduction of Tawny's family, a clichéd pack of jacked-up rednecks less concerned about finding her killer than clawing back her missing engagement ring. They're the polar opposites of the genteel Maloufs, and the two families nearly come to blows before the police chief intervenes. The fight picks back up at the Neptune Grand, as Logan takes a break from collecting Veronica's paycheck to defend the Maloufs from the rednecks. One very impressive display of Navy training later, he's got a job as the head of their security detail.
Now that we're two full episodes in, I'm disappointed that there's still been no mention of Neptune apparently incorporating, which would explain its having a mayor and a police department (instead of a sheriff, which it still had in the movie). That might sound like a nitpicky fan thing, but the potential incorporation was a major story line in season two, and it's at the heart of Veronica Mars' central haves-and-have-nots theme: If it went through, it would've carved out Neptune for the '09ers and left the rest of the citizens high and dry. It's a notable omission.
Same goes for Logan suddenly leaving a post as a naval intelligence officer to become a security guard. Sure, he's working for a congressman, but considering Veronica Mars' usual attention to detail, the implausibility is notable.
The episode does improve on the premiere's most off-key aspect, the Mexican-cartel hit men sent to find and execute the bomber on behalf of the deceased Gabriel. Forcing the pair to speak English improves the humor quotient — their shakedowns of various privileged white spring-breakers are priceless. But I'm not sure the gore they leave in their wake (including yet another severed head) fits with the show's overall tone. They're clearly the linchpin of the writers' efforts to take the show darker, but the queasy mix of humor and ultraviolence feels like a mediocre Tarantino pastiche, instead of a reflection of Veronica Mars' own comedic voice.
Veronica and Logan's conflict, on the other hand, feels entirely original. Always a sucker for the bad boys (Piz, we hardly knew ye), Veronica is surprisingly unsettled by the fact that Logan's been working through his anger issues in therapy. As Logan notes, she says she wants Bruce Banner, but she actually wants the green guy — and the resulting rough sex, displayed in its full Hulu-appropriate glory. It's refreshing to see a female lead have her shit far less together than her male love interest, pining for dynamism instead of domesticity.
Marshmallow Fluff
• Opening on the fake-out of Dick getting killed — as a minor character in a movie — was such a perfect little "We would never!" from the creative team to the fans. If we can't get a Party Down movie, at least Dick was able to attain Kyle's dream career for him.
• Dick also refers to Veronica as Logan's "special lady friend," the latest in a storied tradition of Big Lebowski references in Veronica Mars. (The first half of season three is practically its own tribute film.)
• Veronica casually smashing an inattentive nerd boy's game controller into the wall is a real mood, as is her decision to take Penn up on an 11 a.m. beer when she doesn't like where their interview is heading.
• Another weird aspect to the whole incorporation thing: Penn's tweet describes the current police chief as the direct successor to Keith and both Sheriffs Lamb. Does that mean Vinnie Van Lowe never held office? If so, what the hell happened in the election?
• Apparently Veronica was profiled in Vanity Fair at some point ("eight whole column inches"), though it didn't do much for business. (The IRL magazine ran a big Veronica Mars oral history last month.)
• The Menthol School of Acting: It's all about being in the moment™.