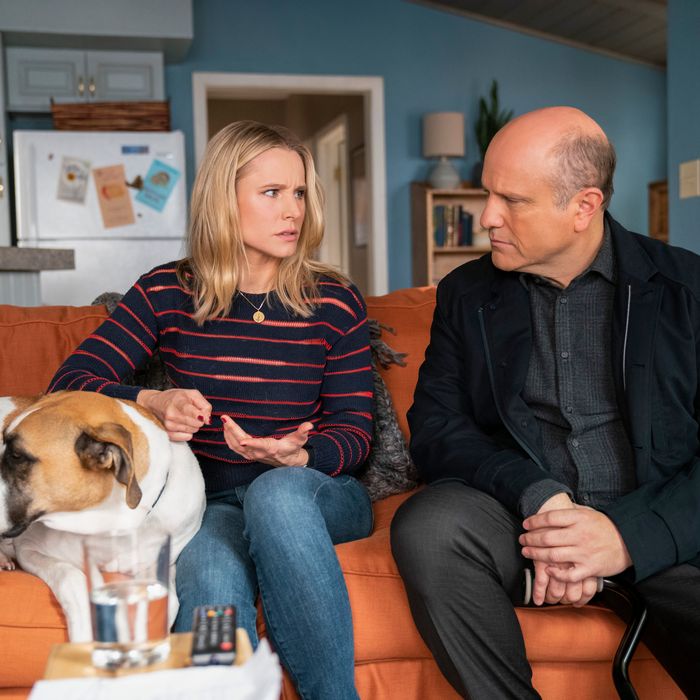 Photo: Michael Desmond/Hulu
Half the fun of Veronica Mars is watching her get the better of every other person in Neptune; the other half is watching her struggle to overcome their collective privilege. But it's rare for the show to nail both vibes as simultaneously as it does in this episode's cold open, as Veronica turns the tables on a PCHer who mugs her by mugging him back.
The fun part comes first, as Veronica overpowers the kid, snaps his photo "for the 'graaaam!" and responds to his retort of "eat a dick!" with an offer to tase his until it's well-done. But her discovery of six crisp hundos in the mugger's wallet suggests that it wasn't a random robbery. The motel bombing is only the tip of a conspiracy iceberg — likely intended to end spring break in Neptune for good.
A key disappointment of Veronica Mars' cancellation is that it never got to play out a promising season-four storyline: Veronica discovering a trove of taped blackmail fodder on Hearst's Skull and Bones–equivalent secret society, whose members were all privileged corporate titans. So the show finding another path to a Chinatown-inspired rich-person conspiracy arc is truly music to my ears. DJ, play "No Scrubs"!
Watching Veronica and Dick do shots with the spring breakers at Comrade Quack's is one of many highlights of this episode, which is the season's funniest so far. I also enormously enjoyed Veronica and Keith's seen-it-all questioning of Daniel Malouf, as the congressman confesses to being blackmailed over a scandal as quaint as masturbating to a cam girl. ("Not even in pussy-grabbing range? Who even cares anymore?" Veronica wryly responds. "I thought that's what we were all learning, that nothing matters.")
That's only the start of the humiliation for Daniel, the "Middle Eastern Barack Obama" with a yen for cigarettes rivaling his idol's. With Logan off-duty, a late-night Nicorette run leads to a pair of abductions: first the rednecks, still looking for that engagement ring, and then the cartel hitmen, who continue to bumble through assaulting various innocents in their quixotic attempts to avenge Gabriel. (That decapitated head was indeed Gabriel's rival from robotics club, the nerd crew having signed his death warrant.)
But Daniel's own neck is saved at the last second by the discovery of the actual bomber, with the help of newly minted Mars family ally Matty. On the recommendation of her physics teacher (that'd be Wallace), she decides to bring her evidence to Veronica and Keith, joining Veronica on a stakeout to spot the "mole man" who fatefully serviced the Sea Sprite's vending machine with gum. Turns out he's a Chino alum with a specialty in package bombs. An ungrateful Chief Langdon pursues the lead from Keith, but the guy blows himself up on SWAT team arrival.
That should be the end for Keith and Veronica, but she's unwilling to take the W. There are just too many Chino alums afoot: the bomber, Big Dick, Clyde, and the guy who's been releasing rats in Hu's Discount Grocery. She learns her mugger had a sideline in taking dumps in the Sea Sprite's ice machine, suggesting the PCHers' mayhem was indeed in exchange for a payoff. Keith encourages her to shut up and take the Maloufs' money, but deep down, Veronica's still suspicious.
Some of that is likely rooted in her encounter with the Murderheads, Penn's ragtag crew of amateur cold-case investigators. Many of them are clowns (namely a congressional worker played by Hot Tub Time Machine's Clark Duke), but one, a Hearst College librarian, is the first to make the connection between Gabriel and El Despiadado's cartel. ("It means 'The Ruthless,' I looked it up!" she cheerfully tells Veronica.)
The use of the group is savvy, quickly getting the audience back in the loop of the show's original mystery: the still-unsolved murder of Lilly Kane, of which Aaron Echolls was acquitted at the end of season two. To the Murderheads, Logan and Veronica are celebrities; to Logan and Veronica, the Murderheads are a very painful reminder of the horrors at the root of their domestic life. After little to no mention of Lilly in season three, the prospect of this season working its way to a culprit in her murder is a massive valentine to fans — and irresistible to Veronica, who tells Maddy that she's "still angry" about Lilly's death, all these years later.
The episode concludes with a second beach bombing, thankfully falling just short of Dick and Logan's charity volleyball game. The suspect is still out there, and once again, Veronica is the smartest woman in Neptune. But against the machinery of the moneyed, does she even stand a chance?
Marshmallow Fluff
• Tina Majorino apparently had other commitments this go-round, so unfortunately for all of us, Mac is "in Istanbul" for the season.
• Thankfully, there's Kirby Howell-Baptiste, who is just so much fun as Veronica's booze-loving, TLC-crooning new bestie. I particularly enjoyed their mutual cooing over her sweet brass-knuckle gloves: "Weighted and ridged, for his displeasure!"
• Keith tells his telephone mark that he's calling from "AMTPG Financial." Knowing the show, that's got to stand for something amusing, but I can't figure out what it is. Anyone?
• The Mars family motto is "We used to be disgusted, now we try to be amused," a note-perfect Elvis Costello reference I'd happily engrave on my own crest.
• After essentially using Veronica's TV as a Hulu ad in the previous episode, the writers got a nice little retort in: "You were so proud of being a cable-cutter," she tells Keith, "but now you're just over here all the time for the live news and the baseball games."