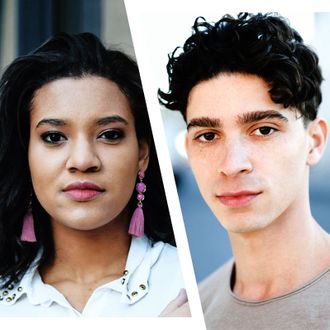 Shereen Pimentel and Isaac Powell.
Photo: DKC O&M
In case you had forgotten in the midst of the press about Steven Spielberg's West Side Story movie coming out in December 2020, there's also a whole different West Story Story revival coming to Broadway this December, which means we've gotten ourselves into a whole Armageddon–Deep Impact situation, but for one specific Sondheim-Bernstein musical. Anyway, the Broadway production of West Side Story, from edgy Belgian director Ivo van Hove (of Network and The Crucible), is here to remind you that it exists, and it has a cast now, too. The musical will star Isaac Powell, of Once on This Island, as Tony, with current Juilliard student Shereen Pimentel as Maria. Yesenia Ayala (Carousel) will play Anita, while Ben Cook (Mean Girls) will play Riff (Cook also happens to be doing double West Side Story duty, playing Mouthpiece in Spielberg's film version). Amar Ramasar (Carousel) will play Bernardo. Ramasar, notably, was fired from the New York City Ballet last September after being accused of sharing sexually explicit photos of other female dancers. After the dancers' union challenged the decision, an arbitrator ordered the company to reinstate Ramasar this April, and he has since performed with them.
Instead of using Jerome Robbins's choreography, which has defined West Side Story for decades, this production will be choreographed by Anne Teresa De Keersmaeker. The rest of its cast includes Ahmad Simmons as Diesel; Danny Wolohan as Officer Krupke; Jacob Guzman as Chino; Kevin Csolak as A-Rab; Matthew Johnson as Baby John; Dharon E. Jones as Action; Zuri Noelle Ford as Anybodys; Daniel Oreskes as Doc; Pippa Pearthree as Glad Hand; and Thomas Jay Ryan as Lt. Schrank. The ensemble includes Alexa De Barr, Daniel Ching, Gabi Campo, Gino Cosculluela, Marc Crousillat, Stephanie Crousillat, Roman Cruz, Tyler Eisenreich, Armando Eleazar, Marlon Feliz, Satori Folkes-Stone, Constance François, Carlos Gonzalez, Jennifer Gruener, Jarred Manista, Michaela Marfori, Michelle Mercedes, Michael Seltzer, Corey John Snide, Sheldon True, Ricky Ubeda, Madison Vomastek, Tony Ward, Bridget Whitman, and Kevin Zambrano.
The production will start performances on December 10, 2019, at the Broadway Theatre and open on February 6, 2020. It has already started its ad campaign, with art direction that can only be described as "very sans serif" and "extremely A24."