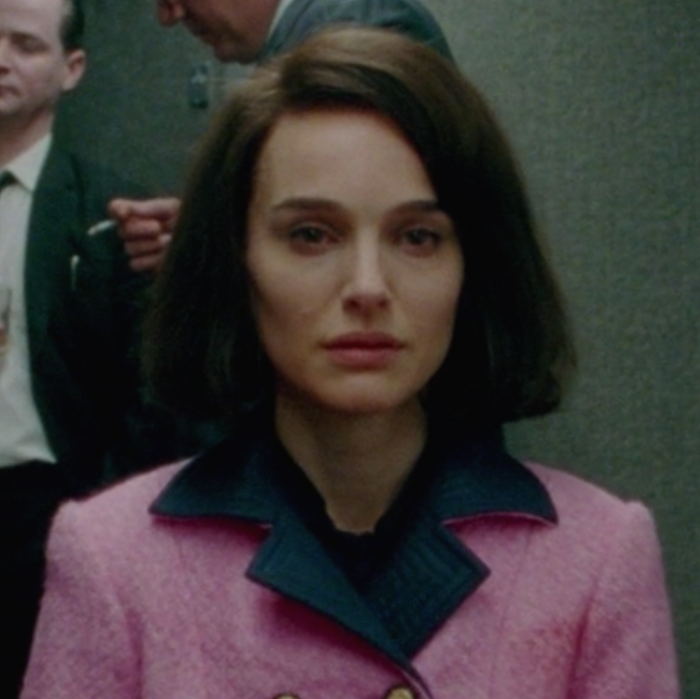 Natalie Portman in
Jackie
.
Photo: Jackie
Every July, we all convene in a backyard, on a rooftop, next to a pool, or at a friend's cousin's boyfriend's parents' beach house to throw some hot dogs on the grill and watch fireworks. Whether you're celebrating being American or just celebrating being outdoors, congratulations! But you've gotta head inside eventually. There are a handful of new movies and TV shows to catch this weekend — Stranger Things' latest season is streaming on Netflix starting July 4, Spider-Man's Euro-trip and the brightly lit horrors of Midsommar are already in theaters, new episodes of Euphoria and Big Little Lies are arriving on Sunday — but here are some rewatchable favorites that are at least kinda, sorta, tangentially related to the nation's birthday:
Jackie (Prime)
There's no better movie for the Fourth of July than Jackie. I said it last year and I was right, and I'm saying it again this year, and I'm still right: Every scene in this movie, about the days in Jackie Kennedy's life following her husband's assassination, aches with love and resentment and loyalty all mixed up together. It's as much about the making of America — the White House tour, a trip to Texas that goes horribly awry — as it is about the unmaking of America and its ability to rationalize and compartmentalize all manner of horrors in the name of democracy. If you, like me, are decidedly not engaging in patriotism this year, might I invite you to join me in watching Pablo Larraín's exquisite and haunting Jackie this Independence Day? (Miss Natalie Portman herself may or may not join us, too.) Rent it for $3.99 on Amazon.
The Siege (HBO)
My parents — Annette Bening and Denzel Washington, yes, feel free to fact-check me — made this little ditty in 1998. New York City is under attack: Terrorist cells have struck a city bus in Brooklyn and a Broadway theater, and FBI special agent Anthony Hubbard (Washington) and CIA agent Elise Kraft (Bening) are racing to find the next cell before it deploys. The Siege has Edward Zwick's trademark specious politics and momentum, but it's a shame this movie did not devote at least a dozen more scenes to my parents' — again, Annette and Denzel — insane chemistry. If you want to hear a lot of people in suits fuss about life, liberty, and the pursuit of the American police state, The Siege is your movie. Stream it on HBO.
The American President (HBO)
But let's say that you, like me, love Annette Bening unconditionally. And let's say you, like me, want to watch her fall in l-o-v-e, with a side of environmental policy. Hello Rob Reiner's American President! Michael Douglas is the widower President Andrew Shepherd, who just happens to overhear environmental lobbyist Sydney Ellen Wade ripping him a new one over his sluggishness when it comes to saving the planet. He tries to woo her, and at first she rejects his advances — it is a little bit of a mindfuck to watch a movie where the man in the Oval Office is not only generally respectful but maybe even a little charming — but then she comes around, just in time to be his date to a fancy ball. Love in the time of Politico's Playbook! Annette Bening is braver than the Marines. Stream it on HBO.
The Parallax View (Prime)
I've never met an Alan Pakula political conspiracy that I didn't love unconditionally. There is something oddly comforting about these movies: They're all nightmares of American bureaucracy, isolation, and twisted idealism, but at least at some point, they end. (Our real-life politics, meanwhile, go on forever and ever.) In this one, newspaper reporter Joe Frady is reinvestigating the assassination of a presidential candidate. The conspiracy is engrossing and all-encompassing: Everyone is in on it, and no one is. A true story: I was trying to make small talk with Annette Bening's husband, Warren Beatty, at a party this spring, and because I didn't have anything better to say, I told him that I'd just seen The Parallax View for the first time the weekend before. "Really?" he said "What made you watch that?" Obviously I watched it for his hair. Rent it on Amazon for $2.99.
The Pelican Brief (HBO)
If The Parallax View is your shot, make The Pelican Brief your chaser. There is nothing more American than 20-something New Orleans law student Darby Shaw (Julia Roberts) successfully solving the murders of two Supreme Court justices embroiled in a government conspiracy over an oil czar's right to drill in a protected marshland, thereby saving the republic, but not getting to kiss Denzel Washington in the process. Every Alan Pakula movie is about someone, somewhere, who "knows too much," and there's something comforting in his ability to admit everything is terrible but at least tie his version of events up with a bow at the end. Stream it on HBO.
National Treasure (Netflix)
Nicolas Cage wants to rob — specifically the United States National Archives because he needs the Declaration of Independence. What is more "fun for the whole family" than a Cage caper that involves a mix of history, antiques, and a secret society of America's founding fathers? There was a time when producer Jerry Bruckheimer and Disney couldn't miss, and we have National Treasure because of it. Stream it on Netflix.
20th Century Women (Netflix)
Once upon a time, Annette Bening lived in a big house with Greta Gerwig and Billy Crudup, and pondered an impossible question: How do you raise a son? How do you make sure he turns into a sensitive, confident, emotionally curious man? It's a question that takes Bening, her son, and their house's two tenants in many hilarious and devastating directions. Teenage Jamie (Lucas Jade Zumann) isn't sure what his mother means when she hands him feminist literature, but he knows something is happening. There's nothing particularly patriotic about this movie, but it is newly streaming on Netflix this week, and this country would be a better place if we all watched 20th Century Women as often as possible. Stream it on Netflix.
Big Little Lies (HBO)
So maybe you know the lies are bigger and littler in Big Little Lies' second season. Maybe you've even heard rumblings that Meryl Streep is wearing fake teeth. But maybe you haven't had time to catch up with the goings-on of Monterey's finest … use this weekend to do so! Madeline and Celeste and Jane and Renata and Bonnie (and some of their moms!) are getting themselves into more trouble this school year: Someone's husband spends the night in jail, someone else's husband finds out a big betrayal, and even the kids — now second-graders — are spilling secrets. America was built on family drama. Stream it on Netflix (ahead of this week's new episode).
Succession (HBO)
If it isn't already clear, my favorite genre of movie is families behaving badly over the weekend of a big get-together, and my favorite genre of television is families getting in each other's faces over some kind of personal or professional betrayal. Meet Succession, a happy, healthy blend of both. Do you want familial deceit, humor, weird sits, and a truly hilarious exchange over whether or not California Pizza Kitchen is a nice restaurant? The show returns for season two in August, so this is a good weekend to start binging. Stream it on HBO.