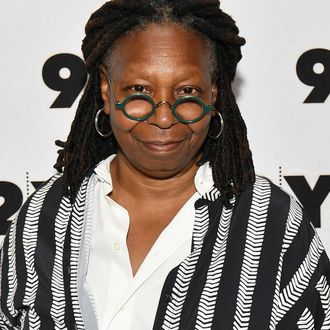 Photo: Dia Dipasupil/Getty Images
Whoopi Goldberg's advice about marriage is the best advice about marriage (according to me, an unmarried person). In August 2016, Goldberg declared to the New York Times she wasn't married because, frankly, "I don't want somebody in my house." It was a quote destined to play on a loop in our brains, a line that deserved to be stitched on somewhere between one and 1,000 Etsy throw pillows. In a new interview with the New York Times Magazine, Whoopi has more thoughts on marriage — why, specifically, it was never for her:
Look, people expect you to have a boyfriend. They expect you to get married. So I kept trying to do that, but I didn't want to share information with somebody else. I didn't want anybody asking me why I was doing what I was doing, or to have to make the other person feel better. But if you're in a relationship, you have to do those things, and it took me a while to figure out that I didn't want to. I'd be thinking, why don't I feel the thing that I'm supposed to? Then one day I thought: I don't have to do this. I don't have to conform. I tried marriage, and it wasn't for me. You can't be in a marriage because everybody's expecting you to.
Goldberg was married thrice, most recently to the actor Lyle Trachtenberg, from 1994 to 1995. She's happier without any of her husbands: to the Times, Goldberg describes the unique bliss of throwing lavish dinner parties with a lot of friends and even more risotto — "Truly, to be happy in the world, you must have risotto," Goldberg promised the Times — and finishing her meal and going upstairs to watch Twin Peaks with her cat. Bliss!