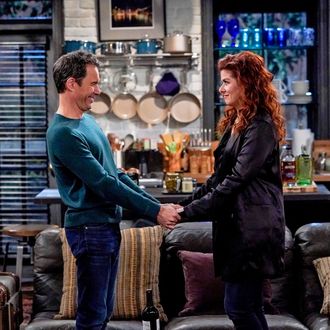 Bad news for the era of network TV reboots.
Photo: Chris Haston/NBC
Will & Grace has lived, died, revived, and now, died again. NBC announced today that the revival of the 1990s sitcom will end after its upcoming third — or if you count the original seasons, 11th — season. The sitcom, which helped introduce gay TV characters to mainstream audiences, returned to TV in 2017 with its original stars Eric McCormack, Debra Messing, Megan Mullally, and Sean Hayes to dive into the current state of politics and also make jokes about how Grindr has changed so many things. The revived version will have run for a total of 52 episodes by the time it ends. "We think of the Will & Grace reboot episodes the way Karen Walker thinks of martinis — 51 is not enough, 53 is too many," executive producers Max Mutchnick, David Kohan, and James Burrows said in a statement. "That is why, after consulting with the cast, we all have decided this will be the final season of Will & Grace." NBC hasn't yet announced when the final season will premiere, or whether it will include another series finale time jump that yet another Will & Grace revival would have to ignore.