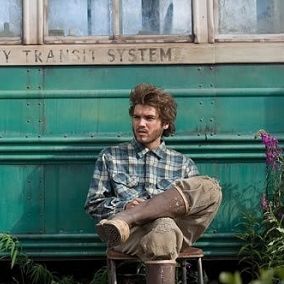 Emile Hirsch with the bus in the film adaptation of
Into the Wild.
Photo: Getty Images/2019
A woman, celebrating a honeymoon trip with her new husband, has died while trying to reach a secluded tourist attraction in Alaska that was made famous by Jon Krakauer's best-selling book, Into the Wild. (And further popularized by the 2007 film starring Emile Hirsch.) Per Deadline, 24 year-old Veramika Maikamava from Belarus was traveling in the state's central terrain when she attempted to visit the "Magic Bus," which is where the subject of Krakauer's book, young adventurer Chris McCandless, was found dead back in 1992. Maikamava tried to cross a river in pursuit of a shortcut to get to the vehicle, but drowned due to the rough waters "from recent rainfall." Her husband, Piotr Markielau, was unable to pull her out in time. As Deadline notes, the "Magic Bus" is a fairly popular (if not macabre) attraction for hikers to visit in Alaska, with many unprepared tourists requiring rescue missions from state troopers in the past.