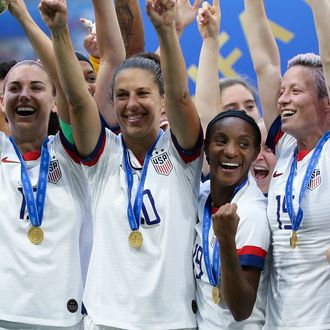 Photo: Jean Catuffe/Getty Images
Despite its early start time (especially on the West Coast), Sunday's dramatic showdown between Team USA and the Netherlands in the FIFA Women's World Cup final drew a massive audience for Fox Sports and Telemundo. Per Nielsen, the American victory was seen by 14 million viewers on the Fox broadcast net, outperforming last year's men's World Cup final by more than 20 percent (11.4 million) to rank as the biggest Stateside soccer match since 2015 — the last time the women's team brought home the trophy. As Ad Age reporter Anthony Crupi noted on Twitter, that 14 million viewer figure beats most of this year's World Series and NBA Finals games and every edition of ESPN's Monday Night Football — an amazing feat given the match aired on a Sunday morning during a holiday weekend, with West Coast viewers having to get up by 8 a.m. to watch.
What's more, Fox's linear TV feed wasn't the only way audiences tuned in. The network says an additional 289,000 viewers watched the final on the network's streaming platform. Additionally, Telemundo said the match ended up delivering "the most-watched FIFA Women's World Cup match in Spanish-language history," drawing even more viewers than the 2015 team's win. The Spanish-language broadcaster said its coverage drew 1.6 million viewers via both TV and streaming. (It didn't break out the TV-only numbers as Fox did.) Currently unknown: How many viewers watched in bars, restaurants, and in other group settings not included in Nielsen's preliminary measurements. As impressive as these numbers are, the 2019 women's final didn't break any ratings record for Fox, but that's almost certainly because of its early start time. The 2015 match between the U.S. and Japan took place in Canada and thus aired entirely in prime time for East Coast viewers. With a much wider available audience, that American victory was seen by over 25 million viewers — the most ever in America for a soccer game.