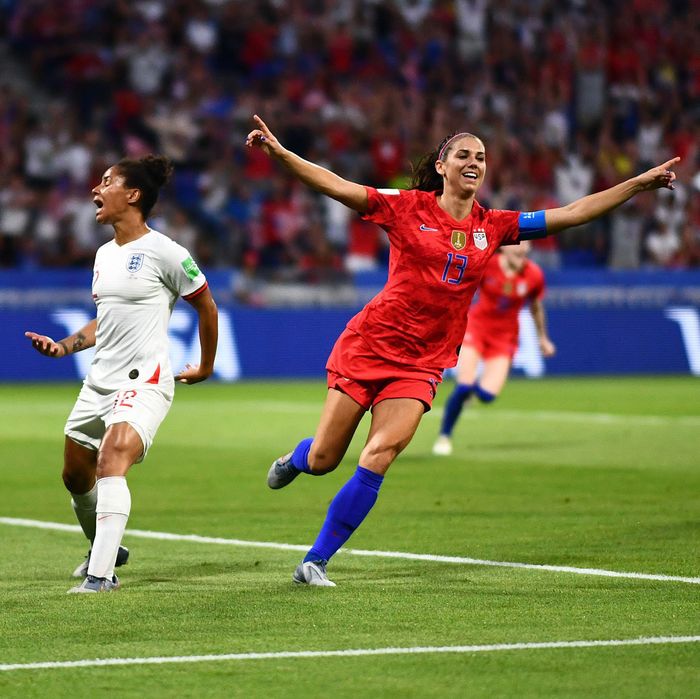 Photo: Javier Garcia/BPI/Shutterstock
The U.S. Women's National Soccer Team hasn't just been winning through this World Cup; they've been winning in style. The stage was set for today's semifinal against the British squad by a whole lot of drama on and off the pitch. Megan Rapinoe caught the wrath of the right when she said there was no way she'd go to the White House after the World Cup, and then she went and scored a pair of goals against the French squad in a quarterfinal match that gave us the iconic American image of this championship: Rapinoe standing gracefully in triumph with her arms extended in celebration before the World Cup crowd. Well, today the U.S.A. played their oldest frenemy, England, and star forward Alex Morgan got to stand in the spotlight, too.
In the 30th minute of the game, Morgan drove a header into the back of the goal to send the Americans up 2-1 before saying, metaphorically if not literally, "It's my goddamn birthday and I make 30 look so good." She then ran up the sideline before pausing to sip from a hot cuppa, having a pantomimed tea party all over the dreams of the English. Would you like to see a video? Let's all watch a video:
Computer, show me a gif of that celebration.
This is how a legal transfer of power of the British crown happens, right? Is Her Majesty Elizabeth relieved of her duties?
But that wasn't all. With the U.S. up just a goal, the Brits had a chance to tie the match up on a penalty kick in the 83rd minute. But goalie Alyssa Naehers handled the moment like the Patriots did at Saratoga in 1777: By winning the battle against the Brits and effectively putting the war out of their grasp. We absolutely love to see it.
Naehers was all business, swallowing up the ball and then telling her teammates to get the hell back and finish the game.
Here's America's foremost supporter of all of our national teams, Leslie Jones, with the call:
Someone run off "YOU GETS NOTHING" shirts for Naehers. With today's win, the USWNT advances to its third consecutive World Cup finals, and notches a record-setting 11th consecutive win in the FIFA tournament. As if Morgan's birthday goal and tea-sipping celebration and Naehers's clutch save weren't enough, the Women's Team also ruined the day of one odious British talking head. (An accomplishment we'd like to think Brits and Americans can rally around in solidarity.)
So congratulations once again to the U.S. Women's National Soccer Team. May you be honored with equal pay for being the truly superior American national soccer squad. And to the Brits: Better luck in the next one!