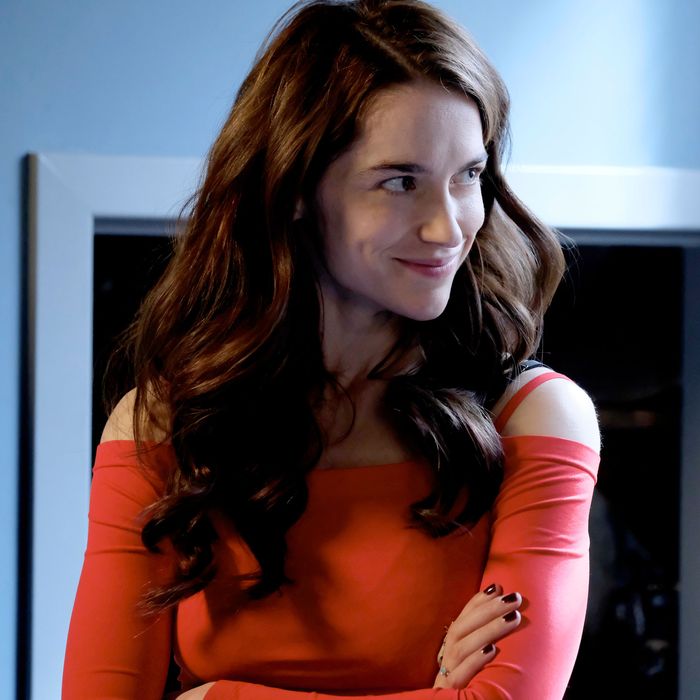 Photo: Michelle Faye/Wynonna Earp Productions, Inc./Syfy
Wynonna Earp is out of TV purgatory. After a months-long delay brought the Syfy horror-Western to a screeching halt, multiple sources tell Vulture that preproduction on the fourth season will start this fall, and filming will begin in January 2020.
Cameras were supposed to roll on season four in early 2019, but all was not well at IDW Entertainment, the studio behind Wynonna Earp. The studio's various financial and management troubles, which had been building throughout 2018, burst into the open in February: Despite Wynonna Earp's status as the flagship of the comic-book company's expansion into filmed entertainment (and its thrifty budget), IDW simply didn't have the money to make season four.
Once it became clear that the show was in trouble, fans — a.k.a. Earpers — rallied around the hashtag #FightforWynonna. During the winter and spring, they bought a series of billboards in Times Square, among other efforts to raise awareness about the show's battle for survival. The fandom's plucky campaign echoed the adventures of the title character of the Syfy drama, which tells the story of a tart-tongued descendant of Wyatt Earp who is drawn into efforts to protect her community — and the world — from a series of evil supernatural forces.
"The Earpers, this is all thanks to them," showrunner Emily Andras said in an interview. "The movement they have built on kindness and inclusivity is legendary, but what I admire most is their determination to fight not only for what they want, but what they deserve. The fans showed up right when we needed them most — but then, they always do."
As things stand now, Andras, the drama's cast, and Earpers will have quite a bit to celebrate at San Diego Comic-Con later this month. Vulture can exclusively confirm that the show will indeed have a panel at SDCC, which will feature Andras, cast members Melanie Scrofano, Katherine Barrell, and Greg Lawson, as well as Wynonna Earp comic creator Beau Smith. There will no doubt be more victory laps at Toronto's EH Con in August, one of many Earp-centric conventions that have sprung up since the show's debut in 2016.
Later this fall, the Wynonna Earp brain trust will reconvene to continue the Earp family's adventures in Purgatory, the dusty town where Wynonna and her crew usually confront evildoers. A representative for IDW confirmed the show's writers room and preproduction staff will report to work in November, and cameras will roll on the 12-episode fourth season in January. The season, which will be shot in and around Calgary, will air on Syfy (and Space in Canada) next summer.
The show's network partners, Syfy in the U.S. and Space in Canada, have always been supportive of Wynonna Earp, especially as it emerged as a bona fide cult hit with an unusually active and committed fan base. If anything, multiple sources affirm that Syfy has only gotten more onboard with Wynnona Earp over time, given the show's stealth success and the way Earper passion ties into the network's fan-oriented rebranding campaign. When things went sideways at IDW in recent months, the network made its support crystal clear by offering to pay a higher license fee for the program. Multiple sources confirm that Syfy ponying up those additional funds — a rare gesture from a network to a struggling studio — helped ensure the fourth season would get made.
"Syfy has never wavered in its support of Wynonna Earp, a unique and important series with some of the most passionate fans anywhere," the network said in a statement. "To our Earper friends: Thank you for your patience and faith as we worked with our partners to ensure that Wynonna can get back to where it belongs … on Syfy."
During the show's unexpected hiatus, contracts lapsed for four key cast members: Scrofano (Wynonna Earp), Tim Rozon (Doc Holliday), Barrell (Nicole Haught) and Dominique Provost-Chalkley (Waverly Earp). New deals had to be put together, but that process went smoothly, according to sources familiar with the negotiations. Despite nervousness on the part of some fans about the possibility of losing Wynonna Earp personnel during the delay, Andras says the cast and crew roster will remain largely intact. (Rozon is set to appear in the Syfy drama Vagrant Queen, which is filming now and debuts in 2020, but that gig won't interfere with his Wynonna Earp duties.)
"Everyone involved with Wynonna Earp recognizes how special the show and the audience behind it is," Andras said. "Once in a lifetime, really. So without getting into specifics, I can say, most if not all of your favorites will be back on your screen — or working hard behind the scenes — for season four."
The Earpers' commitment to the show also inspired Andras to revise her plans for the fourth season.
"The #FightForWynonna rally cry has emboldened me to incorporate even more resistance and empowerment themes into the upcoming season," Andras said. "Without a doubt, the priority is reuniting Wynonna Earp with her dysfunctional posse of family, friends, and former foes. More than anything, our fans want to see this beloved cast of characters working and loving and living together, and that's what we'll aim to put onscreen." (The usual whiskey and doughnuts will also be present, because, in Andras's words, "we're not monsters.")
No doubt waves of ecstatic Wynonna Earp GIFs will be unleashed on social media when this news breaks, but the financial troubles of IDW Entertainment and its parent company, IDW Media, are not exactly resolved. IDW has undergone an unusual amount of financial turmoil and executive turnover in the past year or so. According to its most recent financial disclosures, the company lost around $3.6 million in the second quarter of 2019. This spring, the company raised $23 million through a private stock offering, and its debt load is half of what it was several months ago. But earlier this year, a prominent investor called for the company to be sold, though that has not happened as of this writing.
IDW Media's June financial statement indicated that, with the company delivering the upcoming dramas October Faction, V-Wars, and Locke & Key to Netflix within the next year, its financial condition may be stabilizing, so much so that in a recent presentation, a top executive spoke of the company's desire to "build out [IDW's] feature film presence." IDW has hired Cineflix Rights to handle international sales for all four seasons of Wynonna Earp, a move that insiders say may bolster the company's bottom line. According to its June financial statement, IDW will now "pivot to production models that require less capital and minimize downside risk."
And there's another possible income stream on the horizon: An IDW rep says that something fans have been clamoring for — an array of licensed Wynonna Earp merchandise — is on the way.
For now, it looks as though Wynonna Earp is out of the haunted woods filled with killer trees (yes, #MurderTrees exist on this show). But what about the future? Certainly Syfy's faith in the series was demonstrated by its 2018 decision to renew the program for two seasons. A source at Syfy noted that the network "remains committed to the story and series, and expects IDW to deliver" on that order for a fifth season. An IDW rep says that the company is "currently focused on the start of production for season four, but we are confident that if the show continues to have success — across the globe — that there will be more seasons in the future."
Still, given the show's scrappy history, Earpers (who are looking forward to season three arriving on Netflix July 16) say they're leaving nothing to chance.
"Now more than ever, we're poised to fight at any moment for the things we love," according to Bridget Liszewski, a leading Earper and editor for the TV Junkies. "I don't suspect that mentality of having to fight for our show is going to go away now that season four is a go. We always have, and always will have, that underdog mentality and know that we can't rest on this victory."
Bonnie Ferrar, who co-hosts the Earp-centric Tales of the Black Badge podcast and tweets as @WynonnaFans, said it would be a relief not to have to go to the mat for shows like One Day at a Time — which recently won a challenging battle to survive — and Wynonna Earp, both of which have large followings among LGBTQ viewers and their allies. "It is tough to constantly feel like you have to fight for the things you love, like you can't even take a breath or it'll get taken from you," Ferrar said. "Sometimes I just want companies to just see us, hear us, and believe in inclusive TV all on their own, without fans having to mobilize and fight every season."
As for Andras, she is glad Wynonna Earp's most suspenseful element — existential doubt about whether the show itself would survive — has finally been resolved. At least for now.
"I'm so grateful we're getting season four, and that would be enough for me," Andras said when she spoke to Vulture on July 1. "But as it's Canada Day — the one day a year I am legally allowed to be greedy — yes, of course I'd love a fifth season! Any and all Earp is good Earp. In the meantime, time to get to work. Tarnation, it feels good to say that!"