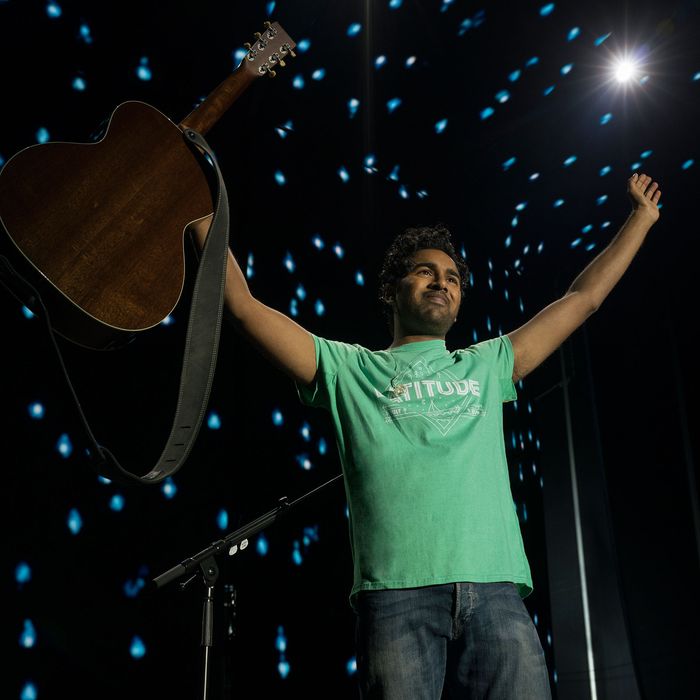 Himesh Patel in
Yesterday
.
Photo: Jonathan Prime/Universal Pictures/© 2019 Universal Studios
Yesterday is the kind of movie that works best if you turn off your mind, relax, and float downstream. Danny Boyle's film, the story of a musician who wakes up from a bike accident to discover he is the only person on earth who remembers the Beatles, doesn't dive too deeply into what a world without the Fab Four would actually look like; it's mostly a fun excuse to watch charmingly toothsome Brits sing Beatles songs for two hours. (The same strategy worked for Bohemian Rhapsody and Rocketman, and will likely pay major dividends for Blinded by the Light later this summer — if you're a mid-budget filmmaker, the one thing you cannot do is skimp on the music rights!) But there's one scene near the end where the pleasantly predictable plot zags into unexpected territory, and there's nothing I would rather do on the Tuesday before a long weekend than unpack it in exhaustive detail. It's the closest this eminently tasteful film comes to a risky creative decision, and to reveal more we'll have to talk about spoilers. Do you want to know a secret? Then read on.
After passing the Beatles's songs off as his own, singer-songwriter Jack Malik (Himesh Patel) has attained unprecedented levels of success, but it's cost him the love of his old friend Ellie (Lily James), and besides the usual alienating aspects of celebrity, he's got to carry the weight of his nagging imposter syndrome. He's freaked out by his own fame, but luckily the Beatles have songs for that, too: At his big record-release concert, Jack screams out a punkish version of "Help!" before retreating to his dressing room. It's there that he gets a visit from two strangers who've been following him the whole film. Turns out both of them remember the Beatles, too, but they're not mad — they're just happy to have the songs out in the world again. (Neither of them can sing.) Having partially assuaged Jack's conscience, they give him the address of a cottage near the English coast, where he'll find someone who can put him fully at ease.
As Jack strode up to the door, I fully expected he'd see Paul or Ringo standing there in a goofy wig. But the movie gives us an even more surprising sight — septuagenarian John Lennon, played by an uncredited Robert Carlyle in old-age makeup. Yes, that's right: In the Yesterday universe John is still alive! No Beatles means no "we're more popular than Jesus," which means no Mark David Chapman shooting Lennon outside the Dakota, which means the bespectacled genius lives to a ripe old age. (Whether this means that in the new timeline Chapman simply moved on to his alleged second target, David Bowie, goes unexplored.)
In a brief chat by the rolling waves, John fills Jack in on his life: No, he never wrote "Norwegian Wood," but he traveled the world, loved and lost a good woman — as in Vanity Fair's "Lennon at 70," no one can imagine a future where John and Yoko stay together — and is now enjoying a postcard-worthy beachside retirement, where he spends his days painting. It's a sunnier vision of John's alternate future than the one presented in the novella turned TV movie Snodgrass, which presents a world where Lennon left the group in 1962 and grew into a bitter old loner. (Paul became a pop idol anyway.) Yesterday doesn't have room for that kind of depressing thought. Besides proving that not everything is worse without the Beatles, old-guy John proves to be every bit the inspiration as the one we know: Chatting with him prompts Jack's revelation that he doesn't need musical stardom to be fulfilled. He comes clean about the lie, releases the Beatles' entire songbook for free on the internet, and gets Ellie back into his life. Happiness, it seems, is a Downton Abbey star and some adorable moppets.
Speaking with Vulture over the phone last week, screenwriter Richard Curtis revealed that he originally penned a long, long, long dialogue scene. "There was a lot of conversation about how famous [Jack] was," Curtis said. "John teased him a lot: 'You're an ugly bugger.' It was quite a lot of undercutting." The final version probably could have used an injection of the real Lennon's mordant wit — the movie version speaks in comforting koans, and he seems to have lost his Scouse accent, to boot — but eventually Curtis decided it worked best when pared down to the essentials. "I think less is more in that scene, probably."
Some Yesterday viewers have found the John scene in supremely bad taste, and thought the filmmakers should have known better. Indiewire's Kate Erbland was let down, calling it "one of the grosser bits" she'd seen in a movie this year. Personally, I felt fine. I've been so scarred by films like Rogue One that I was just thankful they resurrected John through the holy power of makeup rather than CGI. Still, I'm rankled slightly that we don't find out what happened to any of the other Beatles, partly because the group was always more than the sum of its members, and partly because it denies the opportunity for a character to somberly intone, "Paul is dead." And I couldn't help but think it was a bad break for George Harrison, whose own fatal lung cancer would seem to be unaffected by whether or not he was in the world's biggest rock band. But then I realized the movie was way ahead of me — alongside the Beatles, Harry Potter, and Coca-Cola, another thing that doesn't exist in the movie's universe are cigarettes.