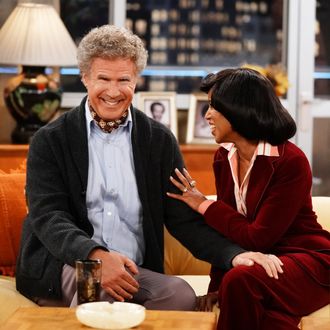 Live in Front of a Studio Audience.
Photo: Eric McCandless/ABC
Jimmy Kimmel and Norman Lear are reuniting for more Live in Front of a Studio Audience, the retro re-creation special which drew more than 20 million viewers for ABC, earned three Emmy nominations, and was one of last season's biggest (and most unexpected) network TV success stories. As Alphabet alternative programming chief Robert Mills had hinted was likely in an interview with Vulture in June, ABC has now officially ordered two more rounds of LIFOASA for the 2019–20 season, starting with holiday-themed installment set to air this winter. Another special has been scheduled for spring. Not yet announced: which classic sitcoms Lear and Kimmel are planning to revive next.
May's debut special showcased re-creations of Lear's landmark All in the Family and one of its spinoffs, the long-running The Jeffersons. Since the winter version of LIFOASA will be holiday-themed, it wouldn't be too much of a creative stretch to do one of the many Christmas episodes of those two shows (though getting the all-star cast back together again so soon might be a challenge). In our June interview, Mills didn't offer any hints about specific titles, saying only that Kimmel "absolutely loves Christmas and Christmas specials" and that doing a Yuletide-themed version of LIFOASA "would be a bucket-list thing for him." Should Kimmel and Lear decide to focus on different Lear shows this winter, both Maude and Good Times have very memorable holiday episodes in their catalogue (though several of the best Good Times holiday episodes came during years in which one of the show's stars, John Amos, was not seen on-camera. It's a long story.)
While the next LIFOASA audience will draw from the Lear lineup, it's worth noting ABC's press release leaves open the possibility that the 2020 installment could expand to include shows from other producers, including the many classic sitcoms part of the expanded Disney–20th Century Fox TV libraries. The Alphabet's announcement notes that Lear and Kimmel "will once again team up … to provide the next installment" of the franchise but doesn't link the two for the third special. That doesn't mean Lear won't return as an exec producer, but practically speaking, Kimmel and ABC likely will want to explore shows not within the Lear universe. Not only would doing so offer more creative possibilities, but it would make sense financially: Lear's shows are not owned by Disney, making them more expensive to license.