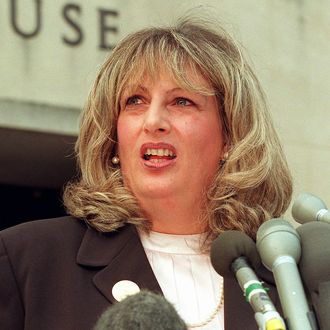 Linda Tripp.
Photo: William Philpott/AFP/Getty Images
The next installment of Ryan Murphy's FX franchise American Crime Story will tackle the saga of Bill Clinton and Monica Lewinsky — and it's already got a cast and premiere date. Sarah Paulson, Beanie Feldstein (Booksmart), and Annaleigh Ashford have been set as the leads in ACS: Impeachment, set to bow on September 27, 2020 — just weeks before the presidential election. And yes, the project appears to have Lewinsky's blessing: She will be a producer.
In a statement sent to Vanity Fair, Lewinsky explained her decision. She didn't come to it easily, but says after a long dinner with Murphy, she decided she could trust him with her story. "I came to understand even more clearly how dedicated he is to giving a voice to the marginalized in all of his brilliant work. I'm privileged to work with him and the other talented people on the team, and I'm privileged to have this opportunity," reads the statement. "People have been co-opting and telling my part in this story for decades. In fact, it wasn't until the past few years that I've been able to fully reclaim my narrative; almost 20 years later." In an interview with Murphy from 2018, the producer told The Hollywood Reporter that he brought up the idea of Lewinsky coming on as a producer and said to her, "Nobody should tell your story but you, and it's kind of gross if they do." He apparently added, "If you want to produce it with me, I would love that; but you should be the producer and you should make all the goddamn money."
As for the cast, Paulson, a regular Murphy collaborator, will play Linda Tripp; Feldstein is set for Lewinsky; and Ashford is onboard as Paula Jones. Sarah Burgess will write and executive-produce the project, while Murphy, who still oversees the ACS franchise even though he's not based at Netflix, will executive-produce. The limited series "will explore the overlooked dimensions of the women who found themselves caught up in the scandal and political war that cast a long shadow over the Clinton presidency," according to FX Networks chairman John Landgraf, who announced the long-rumored project at the TCA press tour in Los Angeles. As with ACS: The People vs. O.J. Simpson, Impeachment will use a book from reporter Jeffrey Toobin (A Vast Conspiracy: The Real Story of the Sex Scandal That Nearly Brought Down a President) as its source material. Production is set to begin in February.
The timing of the project — debuting just as Donald Trump is expected to be the Republican nominee for president, fighting for a second term — will likely result in some controversy. While no Clintons are likely to be on the ballot next year, the series will portray one of the darkest moments of a former Democratic president. There's also currently pressure for Democrats to impeach Trump, though it's unlikely any hearings or a trial to impeach will be going on in the weeks before the election. Landgraf says he's fine with doing this project during the heat of an election battle. "People are gonna be very interested in this right around the presidential election, and this is gonna be a great show," he told reporters Tuesday. "I don't believe it's going to determine who is the next president of the United States." And if the inevitable calls from politicians to delay the project start coming? "I'm insistent that I'm gonna support artists who are gonna make great art and put it [on] in [a] time and place where people are gonna watch it," Landgraf added.
Maria Elena Fernandez contributed to this report.