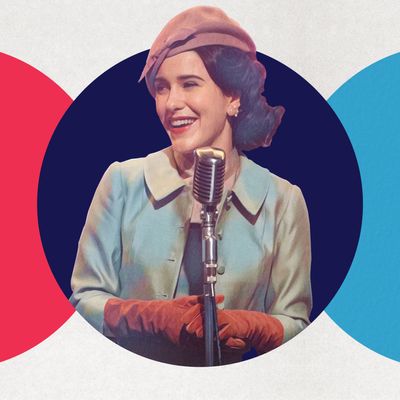 The Marvelous Mrs. Maisel.
Photo: Vulture and Amazon Studios
Tony Shalhoub and Marin Hinkle are joining us for a special Vulture Festival event. Join us November 14 at 2pm at the Hollywood Roosevelt for a conversation with the performers behind our favorite TV parental unit. Get your tickets here!
In this special episode of Good One, Vulture interviews the wife-and-husband team — who together have worked on shows including Gilmore Girls and Bunheads — behind Midge Maisel and her stand-up. They talk about how they write jokes for their lead character, how they shoot those jokes for the show, and how Amy's stand-up comic father influenced her creative life. Read a short excerpt from the conversation or listen below. Download the episode from Apple Podcasts, Spotify, Stitcher, Overcast, or wherever you get your podcasts.
The show takes place in the late '50s, so Midge is influenced by people like Mort Sahl, Lenny Bruce, and Joan Rivers. But her style has hints of contemporary comics like Janeane Garofalo, Kathy Griffin, and Jen Kirkman — who now works on the show. Who and what most makes Mrs. Maisel the comedian that she is?
Amy Sherman-Palladino: Well, she's based on my father. I made him a very attractive, young, 28-year-old woman — you're welcome, Dad. Stand-up is a very specific skill set. Knowing that we were going to cast an actress, we figured for her to find her way into comedy she would have to be an emotional storyteller. In order not to have the audience going, "Ugh, she's not really a comic," she would have to be somebody who is telling you what's going on with her at that moment. That dictated everything we do about Midge's comedy. She rarely comes out and goes, "Who ate a grilled cheese today?" You know, "Donuts: Why are they round? A square donut would be just as delicious."
Dan Palladino: That's funny!
ASP: I know. I can do so much on square donuts, you have no idea.
DP: Such a great observation. That's going in.
ASP: So more than anything else, that dictated the kind of stand-up that Midge has to be. She needed to convince the audience that she's not only somebody who legitimately could be a great, but she gets better and more confident.
Did you think of both past and present-day comedians that you could pull from?
ASP: We thought about the timing because, as you mention, with Lenny Bruce and Mort Sahl, comedy was changing from "Take my wife, please" to "Let's talk about politics, sexuality, relationships, society." We wanted her to be in that moment where conversations were changing. A lot of other stuff is a lucky accident. Lenny Bruce was a very specific pick because he embodied the kind of comedy that I think Midge would be drawn to.
There's a great story about Lenny Bruce where he went to see Joan Rivers and she bombed. He sent her back a note that said, "You're right, they're wrong." Forget about what women comics go through today, but back then, women comics really not only had to struggle, but had to figure out how to cloak femininity so that anybody would listen to them and laugh at them. That a man, for all of his shortcomings and troubles, could look at a woman like Joan Rivers and say, "You have it, keep going." That's a big deal. So it felt like: That's a muse to throw into the mix.
How do you script the stand-up in the show, and is there a difference between writing for Midge and anyone else?
ASP: For Midge's stand-up, it's just part of the script. I sit in my room and I write a script; he sits in his room, he writes his script. It's the other stand-ups, like when we have her go to a club and there's a bunch of guy stand-ups. We never write Lenny Bruce stand-up, it's always Lenny Bruce — we're not idiots, for fuck's sake. A lot of times, we say, "We want a guy that talks about his wife or this guy who does impressions." That's where we have all these great working stand-ups we grab when they're in town. We write Midge's stuff, because we are in her head. Writing these other pieces and keeping them period-correct — you can't talk about certain things in the way that you could talk about them now — it's a tricky thing. And so we get a little help.
Do you remember writing the joke that's like, "She imagined having sex with his mind so she didn't have to imagine having sex with his penis?"
DP: That's you, right?
ASP: That was me. First of all, it had the word "penis" in it — it's like a 50/50, 60/40 shot it's gonna be me.
DP: Even more.
ASP: If it's dirtier, it's probably gonna be me, weirdly. It was very organic. I write like a mental patient. I'm getting it all out. I have literally no business being in this business. I can't spell or do grammar to save my life. I did not go to college. I thought I was gonna be a dancer. I'm completely ill-equipped for this. So when I write, it's like a furious, bulimia binge.
DP: It's messy.
ASP: You don't want to be anywhere near it.
DP: Very few commas.
ASP: Then I go back and I take out half of the ridiculousness, and then I condense it down.
When working on a period piece, why was it important to have a character who was proudly sexual and a little dirty?
DP: The presence of Lenny Bruce was there to be the signpost for the audience to say, This is a contemporary for her. It's not Milton Berle, it's not Bob Hope, it's not these guys that have writers write for them and then they just spout jokes. I haven't met a comic that has not been a fan of Lenny Bruce, because he's the godfather of everyone out there who has any sort of edge. He created that and then had to die for other people's sins.
ASP: She's a truth-teller. She's somebody who's of her time, and when you're talking about what would a woman really talk about, you're supposed to comport yourself a certain way. The shocking things she did in the pilot were to show that there was an ambitious brutality to her. The world itself is a world of nighttime; there's a lot of drinking, smoking, and fucking going on. To pull back from that felt it would be kind of a cheat.
In club scenes, most of the cut-aways to the audience are of women, and women laughing. Why did you make that choice?
ASP: Women are gonna be her audience, that's the bottom line. She's saying things you can't say, that you can go home later on and look at your husband and go, Yeah, you're doing that weird thing that she was talking about. She's not afraid to say, "Hey, this is us broads; let's talk about it." It's unrealistic to say, "Oh, men are just gonna embrace this woman in 1959." It's not gonna happen, but the women could, because there's no one speaking for them.