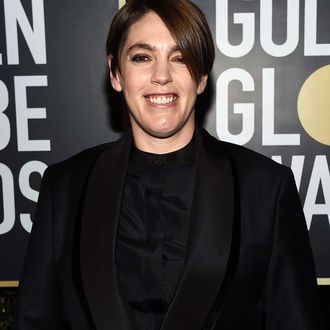 Megan Ellison.
Photo: Michael Buckner/Variety/Shutterstock
Word of Annapurna's financial troubles has been circulating around Hollywood and popping up in trade publications for a while now, but today, Deadline reports that the company is facing bankruptcy. Presided over by Megan Ellison, the daughter of Oracle co-founder and multibillionaire Larry Ellison, the company was established in 2011 as a financing outfit and made its name putting money behind prestige films like Zero Dark Thirty and American Hustle. Annapurna has racked up a lot of awards over its eight years, but far fewer box-office hits, and that challenging ratio has led to Ellison & Co. running through hundreds of millions in credit and cash.
Annapurna has always had a bigger cushion to operate with than most other small studios, because Ellison's dad is one of the richest men in the world. As Deadline reports, "Extensive preparations have been put into place for Annapurna to file for Chapter 11 in either Delaware or California if the elder Ellison doesn't provide a Hail Mary for his daughter and her besieged company. This could mean all the drama amounts to a hiccup for Annapurna, or something far more serious." A statement given to Deadline from an Annapurna spokesperson said, "The Ellison family is in negotiations to restructure their deals with the banks. They remain in full support of the company and are dedicated to Annapurna's future." Larry Ellison is said to be taking a bullish negotiating posture with the studio's financing banks.
Evidence of financial trouble was mounting when, last year, Annapurna offloaded two very high-profile movies, Hustlers and the A-lister packed untitled movie focusing on the fall of Roger Ailes at Fox News. The company — which expanded in 2016 from just financing to distribution and marketing of its movies, and has added producing arms for TV and other content streams — has taken write-downs on a string of recent releases, including Destroyer, If Beale Street Could Talk, and Vice, all of which were critically acclaimed.
Variety obtained a message that Ellison sent to her staff in response to the bankruptcy news. The memo reads, in part, "Regardless of whatever comes out in the press, the truth is that we are well on our continued path towards success. There will always be speculation, misinformation and personal jabs in the press — that's part of the business." Ellison continued, "But know, none of that matters to me. What does is your sense of security and protecting the special community and culture at Annapurna. I believe in what we make and have no intention of stopping any time soon."