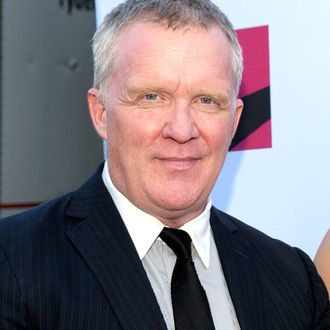 Photo: Michael Tullberg/Getty Images
The rebooted Halloween franchise has added another beloved character. Variety reported today that Tommy Doyle will return for the first time since the sixth movie in the original franchise, and will be played this time around by Anthony Michael Hall, in Halloween Kills. The character first appeared in John Carpenter's 1978 movie as one of the kids Laurie Strode (Jamie Lee Curtis) babysat on the night of Michael Myers's first attack. In the 1995 movie Halloween: The Curse of Michael Myers, Doyle appears again, all grown up and played by Paul Rudd, to team with Dr. Loomis (Donald Pleasence) and take on Michael once more.
Curse is the most supernaturally charged movie in the canon, with Tommy and Dr. Loomis discovering the mystical origins of Michael's immortality. Tommy makes it out alive in the end, so while Halloween Kills isn't retconning the character back to life, it's unknown how much — if any — of his original story line will be involved in this new sequel. Considering David Gordon Green's 2018 Halloween wiped the slate clean of anything that happened after Carpenter's original, it seems likely the same will be done for Doyle's story line. In that case, he'd be a little boy who grew up marred by the trauma of Michael's first killing spree, but without the part where he investigates a cult that imbued The Shape with invincibility. (Magic would be a big divergence from last year's movie!) But: We'll see!
Blumhouse is currently in production of the sequels, with both movies scheduled to be shot in close succession. Halloween Kills will debut on October 16, 2020, and Halloween Ends will arrive the following year on October 15. Hall's casting announcement specifically listed Kills, so we don't yet know Tommy Doyle's status for Ends.