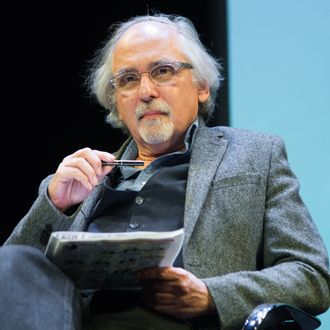 Photo: Mark Sagliocco/Getty Images
According to Art Spiegelman, Marvel Comics wanted him to remove a line about President Donald Trump from an essay he wrote for an upcoming comic collection, in an attempt to allow the company to appear "apolitical." The Pulitzer Prize-winning Maus cartoonist told the Guardian that he was approached to write a piece to serve as an introduction to Marvel: The Golden Age 1939–1949 from publisher the Folio Society. Since those years cover some pretty significant historical ground, especially for an artist best known for a graphic novel about the Holocaust, Spiegelman's essay (which he writes about here) discusses, among other topics, how superhero stories of the day were shaped by the rise of fascism in Nazi Germany and Europe at large.
At one point, Spiegelman draws a parallel between the political environment of the '40s with that of today, making a satirical jab at Trump in the process. "In today's all too real world, Captain America's most nefarious villain, the Red Skull, is alive on screen and an Orange Skull haunts America," he wrote. In response, the Folio Society informed him that co-publisher Marvel Comics had asked that the Red Skull line be removed, as they, unlike the comics in their collection, wanted to remain "apolitical." If the comment was not removed, he was told, the introduction would not be published.
"I didn't think of myself as especially political compared with some of my fellow travelers, but when asked to kill a relatively anodyne reference to an Orange Skull I realized that perhaps it had been irresponsible to be playful about the dire existential threat we now live with, and I withdrew my introduction," writes Spiegelman.
In conclusion, the cartoonist points to a "revealing story" he recently read concerning Marvel Entertainment chairman Isaac Perlmutter's extremely large donation to Donald Trump's re-election campaign, which you might recall Armie Hammer pointing out earlier this month. "I've also had to learn, yet again, that everything is political," writes Spiegelman. "Just like Captain America socking Hitler on the jaw."