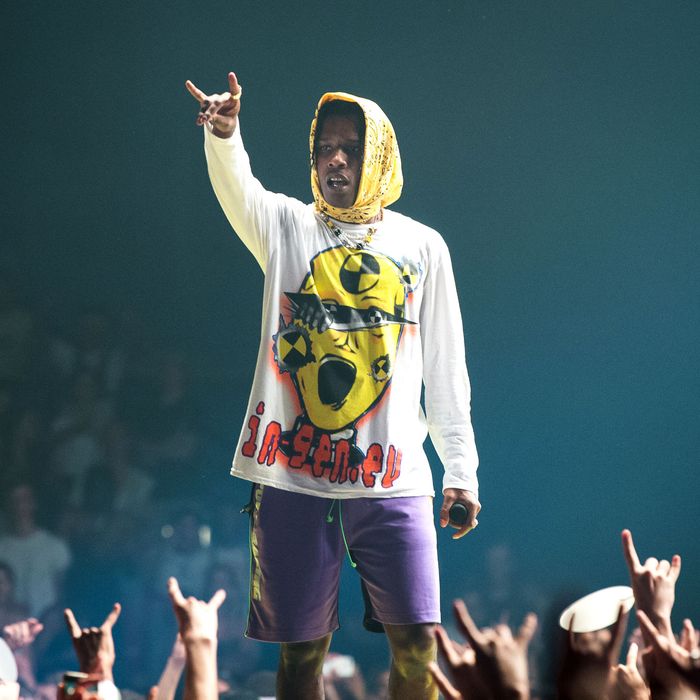 Rocky has been found guilty of assault, but given no further jail time than his month in detainment. Here's how the controversial case played out.
Photo: David Wolff-Patrick/Redferns/Getty Images
Every week, Vulture runs through the best, most interesting, and sometimes most confusing rap releases and other news. In this installment: what happened with A$AP Rocky's arrest and subsequent detainment in Sweden, J. Cole unites his Dreamville label for another compilation, new music from Jaden Smith, and more.
A$AP Rocky Found Guilty of Assault in Sweden; Spared Extra Jail Time
Following a month in Swedish jail, A$AP Rocky has been officially found guilty of assault stemming from an incident on June 30. The rapper's arrest and subsequent prolonged detainment sparked international outrage and became the subject of foreign policy debate, with Donald Trump attempting to intervene. Ultimately, Rocky was released from jail prior to the verdict, and will not be required to serve any further time. The following is how the controversial case played out.
On July 3, a Swedish court ruled that A$AP Rocky be held at a Stockholm detention center for two weeks during an investigation into an alleged assault. Rocky, whose given name is Rakim Mayers, was deemed by the court to be a flight risk. His Swedish lawyer, Henrik Olsson Lilja, said that he would appeal the detention, insisting that Rocky would gladly return if and when a trial is scheduled.
The incident in question occurred on June 30. Video footage, published by the Swedish newspaper Aftonbladet last week, appears to show Rocky and members of his entourage fighting with a pair of men. The footage was filmed by bystanders and contains no dialogue between the parties or context from their earlier interactions. But around the same time the footage surfaced, Rocky posted a pair of videos to his Instagram account. One shows Rocky and members of his entourage, primarily a security guard, asking a pair of young men to stop following the group. Rocky captioned the clip: "SO A FEW DRUG ADDICTS ARE NOT MY FANS , WE DONT KNOW THESE GUYS AND WE DIDNT WANT TROUBLE, THEY FOLLOWED US FOR 4 BLOCKS, AND THEY WERE SLAPPING GIRLS BUTTS WHO PASSED, GIVE ME A BREAK."
The second is spliced together from a number of different interactions with the men, who are asked repeatedly to stop following Rocky and his crew. At one point one of the men attacks Rocky's security guard with a pair of headphones; at another, Rocky clarifies for the camera that he and his friends simply want the men to leave them alone. At the very end, a woman who cannot be seen onscreen says that the men groped both her and her friend.
In the comments — amid messages of support from fans and famous artists and spats over racist policy and sentiment toward Arab immigrants in Sweden — Rocky himself posted twice, saying first, "IM INNOCENT" and then, "THEY TRYNNA ARREST ME OUT HERE NOW , SMH."
The detainment has disrupted a string of international dates, including planned shows in London, Dublin, Oslo, and Gdynia, Poland. Rocky was scheduled to play in Moscow this week and at seven other festivals across Germany, Belgium, Italy, Spain, and Ukraine between now and July 21.
The circumstances of the arrest and detainment have caused considerable controversy. TMZ reported that Rocky was arrested "immediately" upon his arrival to a police station, despite the fact that he arrived voluntarily to discuss the incident. The website also reports that the American embassy in Stockholm was not notified of an American citizen's arrest — a break with protocol — and that representatives from the embassy have been barred from speaking with Rocky. TMZ said that the Swedish embassy in Washington, D.C., has gotten involved, but does not say what role it's attempting to play. In an Instagram post over the weekend, fellow A$AP Mob member A$AP Ferg said Rocky is "in solitary confinement with no visit or phone call privileges." As news of Rocky's arrest has spread, several of his peers have declared a boycott on Sweden, including Tyler the Creator, T.I., Schoolboy Q, and Lil Yachty.
On July 8, Sweden's Supreme Court denied Rocky's appeal. Per Complex, lawyers for Rocky argued in their push for his release that his detainment has already cost the rapper $1 million and that further incarceration could "spell the end of his career." Though an alarming TMZ report described the jail where he is being held as "shockingly inhumane," both Rocky's Swedish lawyer, Henrik Olsson Lilja, and the Swedish Prison and Probation Service denied any "horrific" conditions.
Meanwhile, a Change.org petition launched (reportedly by Rocky's manager John Ehmann) urging that the Swedish government release the rapper on the grounds that Rocky and his entourage acted in self-defense. The petition, #JusticeforRocky, echoes the TMZ report of the jail's unsafe environment, calling it "inhumane conditions and the clear violation of human rights." It claims that Rocky has been subjected to "solitary confinement, restriction of amenities for the most basic of human functions, access to palatable and life sustaining food as well as unsanitary conditions." The petition also claims that Sweden, in denying Rocky's request to counsel upon being detained, violated Article 36 of the Vienna Convention on Consular Relations. It goes on to say that Swedish prosecutors are seeking a two-week extension for a trial to begin mid to end of August. (Charges have yet to be filed.) It ends, "To keep Rocky and his colleagues in jail pending the lengthy trial proceedings is a punishment before the fact, with no due process." The petition, at over 350,000 signatures at press time, has received an outpouring of support from the entertainment community, including Michael B. Jordan, Post Malone, Miguel, and more.
After two weeks, Rocky remained in jail with no decision on charges. An update on whether Swedish officials would either charge Rocky, ask the court that he be held longer, or release him was expected on July 19. Meanwhile, according to the Swedish Prosecution Authority, the two men whom Rocky is accused of assaulting were placed under preliminary investigation for suspicion of molestation and assault. Per Politico, Secretary of State Mike Pompeo and Robert O'Brien, the special presidential envoy for hostage affairs, are "closely monitoring the situation and working to make sure the rapper is treated fairly." TMZ reported that the State Department got involved thanks in large part to, of all people, Kim Kardashian West. (She later confirmed the report in a tweet.) Kanye West is said to have asked her to make a call to her friend Jared Kushner and advocate for Rocky's release. Kushner apparently then notified Donald Trump of the situation and he reportedly "acknowledged something seemed amiss," leading to Kushner, Pompeo, and O'Brien's further involvement. TMZ says the State Department is "now actively working to get A$AP out of jail."
Earlier in the week, several Congress members — Democratic representatives Adriano Espaillat and Hakeem Jeffries from New York, André Carson from Indiana, and Joaquin Castro from Texas — held a press conference demanding Rocky's and his two associates' release, calling their situation a human-rights violation. They also urged Pompeo to act faster and give more effort. "We are calling on Secretary Pompeo to do more," Espaillat said. "This is not enough. It is unconscionable that young men that are doing well, they are on the right track in life, they're very successful, they're icons in the hip-hop community, are treated under these inhuman conditions."
At a July 19 hearing, a judge granted prosecutors' request to keep Rocky in jail for another week while the investigation into the case continues, arguing that he's a flight risk. He will remain in custody until July 25, upon which it must be decided if charges will be filed. According to TMZ, there was some initial confusion after Swedish prosecutors released a statement suggesting they were moving to indict, but later amended it to clarify the need for more time. No decision has been made on the two Rocky associates who've also been detained.
Following the decision, Trump publicly weighed in on the situation for the first time during a press conference in the Oval Office saying, "I personally don't know A$AP Rocky but I can tell you that he has tremendous support from the African-American community in this country. When I say African American, I think I can really say from everybody in this country, because we're all one." He later tweeted that he'd been in touch with Kanye West and was on the case, apparently.
A day later, Trump followed up with an update, tweeting that he'd had a "very good call" with Swedish Prime Minister Stefan Löfven during which Trump said he was assured of Rocky's safety, argued that he's not a flight risk, and offered to "personally vouch for his bail." (Sweden has no bail system.) Trump claims there'll be more correspondence with the PM within the next 48 hours.
Meanwhile, responding to Trump's involvement, Justin Bieber tweeted that while it's nice and all of him to take care of Rocky's situation overseas, Trump's responsible for plenty of other human rights issues right here.
G-Eazy, who was similarly arrested and detained in Sweden last year on assault and drug charges but was swiftly convicted, received no jail time, and was released (and there was no video evidence in his case), responded to a TMZ post pointing out the role race played in the difference in the two rappers' treatment. He wholeheartedly agreed, saying on Instagram: "[It] brings to mind two concepts that disgustingly go hand in hand: white privilege and systemic racism. Let's call it what it is."
On July 22, Swedish prosecutors announced that one of the men whom Rocky is accused of assaulting will not face charges or continue to be investigated. Per ABC, the decision was in response to a "counter-investigation" (or complaint) filed by Rocky's bodyguard, who was involved in the incident and is seen on footage that Rocky posted on Instagram being attacked by one of the men with a pair of headphones. (Note that the bodyguard was not one of the two Rocky associates also detained.) In their decision, prosecutors said that the man acted against the bodyguard in self-defense; they claim that when the men did not refuse to leave, per Rocky and his teams' repeated request, the bodyguard pushed one of the men and lifted him by his neck. Confusingly, the bodyguard has not been charged with any crime.
After three weeks in detainment, Rocky has been formally charged with assault. At a July 25 hearing, Swedish prosecutors charged Rocky and his two associates with assault causing actual bodily harm stemming from the June 30 incident that seemingly started out as a dust-up caught on social media, but has since dramatically escalated into an international political firestorm. The prosecutor, Daniel Suneson, explained in his decision that Rocky and his team's claims of self-defense and provocation — that the two men Rocky is accused of assaulting, one now identified as Mustafa Jafari, refused to stop following the rapper and his entourage, and that the men had been accused of sexually harassing women — didn't hold up based on further evidence not yet available to the public, including CCTV footage and witness statements. The prosecutor says evidence shows Jafari was "punched, kicked, and struck with a glass bottle in an attack that lasted several minutes."
Rocky will remain in custody until a trial begins on Tuesday, according to the Swedish Prosecution Authority. If convicted, Rocky faces up to two years in prison or the minimum of a fine based on his daily earnings. The prosecutor has reportedly told TMZ that he will not recommend the full maximum sentence of two years; the trial is expected to last three days.
Trump eventually weighed in on the charge against Rocky, slamming Swedish Prime Minister Stefan Löfven for being "unable to act," and accusing him of letting down "our" African-American community. He also claimed to have viewed the tapes of the assault — though it's unclear if he meant the videos Rocky posted on Instagram or the CCTV footage — and believes that Rocky "was being followed and harassed by troublemakers." He then further went on the offense, telling Sweden to "focus on its real crime problem!" Naturally, he didn't elaborate.
On July 30, Rocky's trial for assault began in Sweden. He plead not guilty in Stockholm District Court where his mother was present, according to CBS News. Per CBS, the court has also set aside Thursday and Friday for the case, but it's unclear if the trial will go the full three days. Rocky's lawyer, Martin Persson, reportedly told Swedish press on Monday that he plans to dispute the prosecutor's claim that Rocky and the two associates also charged in the alleged attack struck Jafari with a bottle by presenting new evidence that allegedly shows "no bottle has been used to hit or injure anyone" and that the violence used was "within the limits of the law." Jafari's lawyer has maintained that he didn't provoke the assault and that it was incited by Rocky's bodyguard when he allegedly "grabbed [Jafari] by the neck and dragged him away." The bodyguard has not been charged.
Both Rocky and his accuser, Mustafa Jafari, took the stand on day two of the trial on August 1. Jafari reportedly testified that he was looking for his friend when he approached Rocky and his team on the street, and claims he was unaware of Rocky's celebrity. He alleged that Rocky and his associates attacked him and that "some had bottles," which Rocky's lawyer has disputed. In his testimony, Rocky said that he and his team were downloading an app to ride scooters around Stockholm when "two men approached his security guard." After doing so a second time, Rocky says, the bodyguard instructed the two men to "move away and pushed them away." Rocky claims that's when Jafari struck the bodyguard with a pair of headphones. "At this point, everything seemed strange. It got a little scary for us," he reportedly testified. He continued, "We didn't want to provoke these guys, we just wanted to get away from them … We didn't want no problems … Jafari was persistent: 'Come on, come on.'"
Rocky said that he believed the two men to be on drugs at the time of the incident, and that his bodyguard followed protocol to protect him, including lifting Jafari by his neck to keep him away from Rocky but that his bodyguard did not "beat" Jafari. As for his own role in the alleged assault, Rocky reportedly said he "threw Jafari to the ground," "shoved" him, and punched Jafari in the arm. Regarding the allegation that a bottle was violently used against Jafari, Rocky testified that he did "momentarily" pick up a bottle but then put it down realizing it was "stupid" to be holding it; he claimed that his entourage only picked up the bottles so that Jafari and the other man couldn't get them to first. Rocky said he asked women nearby to call the police because he and his team didn't have the local number, and also tried to order an Uber but was unsuccessful. Rocky testified that, upon eventually making it back to his hotel, he decided not to press charges against the men because he didn't want more attention on the incident or to disrupt his tour.
After some back and forth about text messages between Rocky's associates about the alleged fight — Rocky testified he wasn't a part of the texts — he gave his closing statement to the court asking to be acquitted. Rocky said he isn't looking for compensation if found not guilty: "What I want is justice. I want my name to be cleared," he said. "Justice for all of us."
Ahead of the final day of the trial on August 3, the Swedish Prosecution Authority reportedly denied a request from Trump's envoy for hostage affairs, Robert C. O'Brien, to release Rocky and his two associates. O'Brien has been present at the trial, and his request apparently "demanded that the three suspects be transferred to a hotel." The U.S.'s interference in Rocky's case, at Trump's insistence, has drawn ire from the Swedish government. A spokesperson for the Swedish Prosecution Authority told the Washington Post that "she was not aware of any comparable request by any other nation in the past."
At the last of the trial, several witnesses reportedly testified, including Rocky's bodyguard, Timothy Leon William, and the friend of Jafari who was with him at the time of the incident. The friend testified that he saw Rocky "throw" Jafari and that the only reason they returned after being told to leave was because Jafari wanted his headphones back; he added that Rocky and his team didn't seem afraid of them and that they were filming. He claimed he was also attacked in the incident. Rocky's bodyguard testified that when the men approached Rocky and his crew a second time, in the U.S. that's viewed as harassment and "you're allowed to protect yourself," and he acted to "secure" Rocky. He claimed that after pushing Jafari away a second time, Jafari allegedly swung at him with a closed fist but the punch didn't land, then Jafari allegedly threw his headphones at him.
The bodyguard described Jafari's behavior as "hostile"; he said he also witnessed something "greenish" in Jafari's hand. When two women nearby tried to intervene, the bodyguard said that Jafari "took a swing" at him, and that Rocky came to his defense because he was outnumbered. The bodyguard testified that force was necessary to get the men away from Rocky, and that both he and Rocky followed protocol. One of the female eyewitnesses also testified that she did not see Rocky with a bottle but heard one "crushed"; her friend, another female eyewitness, also testified that she didn't see anyone hit Jafari with a bottle. Rocky also addressed the court again, saying he'd be willing to do volunteer work or meet with Swedish artists while awaiting the verdict, and that he'd like to meet with his mother and get a shower. TMZ reports that the prosecutor is recommending he be sentenced to six months in prison if convicted. The verdict reportedly could take up to a week.
Following the conclusion of the trial, a judge has reportedly permitted Rocky and his two associates to be freed from jail while they await a verdict in the case, to be announced on August 14. According to Rocky's lawyer, he is not required to remain in Sweden until then. Rocky and his associates have been detained in the country for nearly a month. Trump tweeted his elation at the news of Rocky's release with his typical brand of bad humor: "It was a Rocky Week, get home ASAP A$AP!"
On August 14, Swedish judges delivered a guilty verdict in A$AP Rocky's assault case, but it's not all bad news for the rapper. He will not be required to serve any further jail time than the month he already spent in Swedish detainment while the case was being investigated and during the trial. The court instead gave Rocky and his two associates a "conditional sentence," ruling that the assault was not "of such a serious nature" to warrant further imprisonment — just a fine of an unspecified amount; prosecutors had pushed for a six-month sentence. The rapper was also not required to return to Sweden to be present for the verdict. Since his release from Swedish jail — an early indication, according to experts, that he wouldn't receive more time — Rocky has been spotted at Kanye West's weekly Sunday Service in Calabasas and gave his first post-jail performance at Real Street Festival in Anaheim. He addressed the crowd, "What I experienced was crazy … It was a scary, humbling experience, but I'm here right now. God is good."
Rocky later responded to the news with a statement on Instagram expressing his disappointment with the verdict but also thanking his supporters "who showed me love during this difficult time."
Dreamville, Revenge of the Dreamers III
Revenge of the Dreamers III, the third compilation from J. Cole's Dreamville Records, feels distinctly like a relic from a million news cycles ago. Early this year, Cole invited dozens of rappers and producers, including extremely famous ones, to a ten-day recording camp in Atlanta, which was exhaustively documented. The sheer bigness of the recording process is the album's chief selling point ("142 SONGS RECORDED"); the bloated roster of attendees calls into question what, exactly, Revenge of the Dreamers III is supposed to be — a label comp anchored by people who are signed elsewhere? And yet the record succeeds, more often than not, by feeling lean and specific from song to song and by shirking the pressure to bend toward where rap radio is at the moment.
Jaden Smith, ERYS
Jaden Smith is the kind of artist who will take his previous album's title, reverse it, and call it the new album's title; ERYS is the kind of album that would have that kind of name. It's conceptually overwrought (a young man in a partially destroyed Los Angeles — which is kind of like the movie The Warriors — tries to rule his peers through fear) and aesthetically underdone, frequently lapsing into the kind of rap that might be found on radio, SoundCloud, or TikTok. Glossy, of its moment, and almost entirely disposable.
Devin the Dude, Still Rollin' Up: Somethin' to Ride With
Devin the Dude is not a booming demigod like Scarface or a laconic kid who could have blown up in Houston's 2005 renaissance. And yet over the course of two decades, he's carved for himself one of the greatest and most consistent musical careers in the history of his hometown. He's an Everyman if every man were a little sharper and a little more charismatic, a populist who's always the most charming one in the room. And when the dust (well, ash) settles, he'll go down as one of the most enduring rappers of his generation.
But the point of Still Rollin' Up: Somethin' to Ride With, his tenth solo album, is that that moment isn't coming anytime soon. True to its title, the 12-song album is almost shockingly easy to listen to, as if each beat had been fashioned entirely out of silk. But where the music is warm and loose, Devin's writing is sneakily purposeful: There are songs, especially on the front half, that play like self-help, while later he slips into a series of apologies and moments of self-reflection. It's a smartly made, veteran album.
Car Registered to YG Involved in Shooting
Late last Wednesday, a black Cadillac Escalade registered to Keenon Jackson, better known as the rapper YG, was involved in a deadly shooting in Compton. The shooting took place on the 400 block of West Spruce Street — a block the rapper has immortalized on his records — and resulted in the death of an unidentified 65-year-old man. It appears that the man was a bystander who was killed in the crossfire as a person driving the SUV and a sheriff's deputy shot at one another; no news report or statement from the sheriff's department says whether the fatal bullet came from the suspect or the deputy, but it stands to reason that if the authorities had found that the suspect's bullet had killed the man, it would have been reported as such. YG told TMZ that while the SUV — which was fitted with armor and bulletproof glass — is his, he was nowhere near the incident and had no knowledge that the car was being used. "I was nowhere near the scene of this incident and had been in a recording studio all day in Hollywood," he said. "I was there until after midnight on the Fourth of July and didn't learn of these events until after they happened."
This post has been updated throughout.
Correction: This post previously stated that Rocky was denied bail; Sweden does not have a bail system. We regret the error.