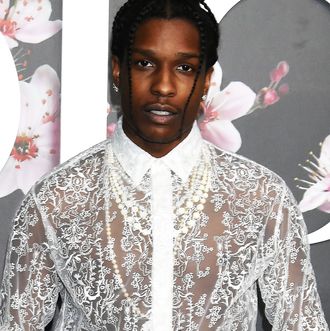 Photo: Jun Sato/WireImage
A$AP Rocky has been freed from jail in Sweden, pending a final verdict on his assault case. According to TMZ, not only is he able to leave jail, but he can even leave Sweden until the final verdict is announced on August 14. The rapper and his two friends have been in Swedish custody for about one month after getting in a fight on the streets of Stockholm. Prosecutors recommended a six-month sentence, specifically because of the bottle Rocky allegedly used as a weapon. His lawyer countered that the size and shape of the bottle are not consistent with the victim's wounds, as they'd be much worse. Rocky does admit to picking up the bottle, but not to using it. Two witnesses backed that up. During this week's trial, the rapper maintained his innocence, citing self-defense and that the alleged victim provoked him. His mother was in the courtroom when they announced he would be let out and, according to TMZ, onlookers cheered. A$AP Rocky celebrated his release with a Instagram post thanking his supporters, and thanking the Swedish court. Tyler, the Creator, YG, Big Sean, and more commented with their congrats.
The case was further complicated by Donald Trump's response earlier this month. He released a video statement, tweeted, and sent Robert O'Brien — the special presidential envoy for hostage affairs — to attend day one of the trial, per the Associated Press. The prosecutors said the U.S. embassy demanded to have Rocky and his friends held in a hotel instead. They denied the request and added that no other country has ever intervened in that way. Trump got involved after Kim Kardashian West, budding defense lawyer, reached out to him, Jared Kushner, and Secretary of State Mike Pompeo. And it seems Trump's very excited about today's outcome.