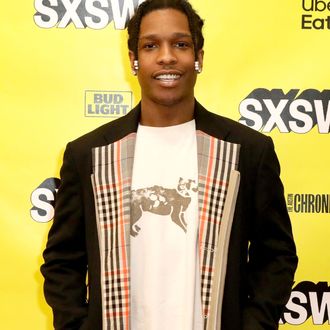 Photo: Diego Donamaria/Getty Images for SXSW
After two months of being held in Swedish custody and a weeklong trial earlier this month, rapper A$AP Rocky has been found guilty of assault. The two members of his entourage who were arrested alongside him were also found guilty. But none of them will face extra jail time, according to TMZ. Instead, the men were given a suspended sentence because the assault was not "of such a serious nature." They will, however, have to pay restitution to the victim and pay for Sweden's court expenses. An exact number was not given.
Rocky was arrested in early June for assaulting a man on the streets of Stockholm. He pleaded not guilty during the trial. The judges decided that the prosecutors did not prove that A$AP Rocky used a bottle as a weapon, so he did not need to do any more jail time for the crime. While behind bars, Rocky received an outpour of support, including that of Donald Trump. After Kim Kardashian West reached out to him, Jared Kushner, and Secretary of State Pompeo, Trump tweeted, released a video statement, spoke to the Swedish prime minister, and sent the special presidential envoy for hostage affairs to oversee day one of the trial.
Rocky wasn't present for the verdict after being released from jail on August 2 pending a decision. He returned to the United States, went to Kanye West's Sunday Service, and performed at the 2019 Real Street Festival with A$AP Ferg, YG, and Tyler, the Creator. "I'm so happy to be here, y'all don't even understand," Rocky said onstage. "That was a scary, humbling experience. God is good."
Update, 5:30 p.m.: Rocky has responded to the news with a statement on Instagram expressing his disappointment with the verdict but also thanking his supporters "who showed me love during this difficult time."