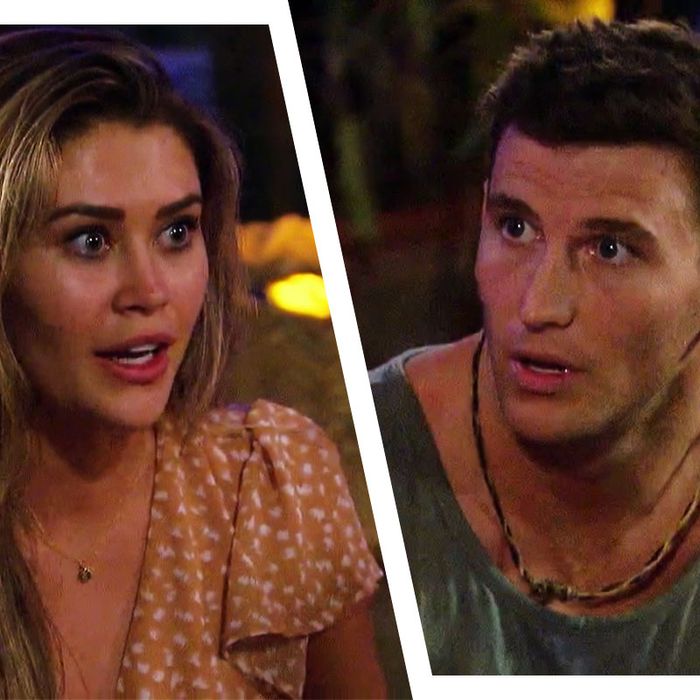 Everyone's favorite summer sex camp for 20-somethings, Bachelor in Paradise, began its new season this week with an incredibly juicy bombshell from the real world: Caelynn Miller-Keyes (third runner-up, Colton Underwood's Bachelor season) and Blake Horstmann (first runner-up, Becca Kufrin's Bachelorette season) slept together before the start of the show. And, well, that's the only thing the duo can agree on. As unfolded during Paradise's past two episodes, a hysterical Miller-Keyes claimed she and Horstmann were "together" for a few months before he unexpectedly broke things off, while he believed they were just having some no-strings-attached fun. Horstmann's reputation shattered after a tearful confrontation with Miller-Keyes on Tuesday's episode, and he's now been brandished as a unanimous fuckboi by Paradise's ladies.
Or should he not be? Because while the episode was airing on Tuesday, Horstmann went on Bachelor Nation's app of choice, Instagram, to share several text-message screenshots the duo sent each other prior to the show filming. The screenshots — which Horstmann has since deleted from his Stories — contradict the majority of Miller-Keyes's claims and portray her as someone exploiting their past for sympathy. (Something Miller-Keyes is no stranger to.) Vulture, ever the diligent watcher of this franchise, is here to break everything down.
When did this all begin? And what do they both agree on?
Horstmann and Miller-Keyes both say on Paradise that they ran into each other at the Tom Hanks–approved Stagecoach Festival earlier this year, after months of chatting and messaging each other. Other contestants, including Tayshia Adams (who went on one date with Horstmann on Paradise, too), were also present at the festival. Horstmann admitted that he slept with Miller-Keyes one evening of the festival and with a fellow contestant, Kristina Schulman, on another evening. Stagecoach is a three-day festival.
How did Miller-Keyes explain Horstmann's behavior on Paradise?
She claims Horstmann demanded that she remain quiet about their tryst and lie to anyone who asks about their involvement. (This was especially painful for her, she adds, because the duo were FaceTimeing each other at that point "about three times a day.") She also said that the morning after they slept together, Horstmann was actively DMing many Bachelor Nation women in bed, excited at the prospect of meeting them in Paradise. "I feel like a slimy, disgusting secret that you're ashamed of," she told him during their confrontation in Tuesday's episode. "You literally told me to lie for you." She also said that he made her feel like a "fucking dirty secret."
And vice versa?
Horstmann insisted Miller-Keyes exaggerated how their Stagecoach hook-up came to be and that he wasn't the one who pursued her at the festival. He did show remorse for having back-to-back trysts with her and Schulman, though. "It looks like we slept together and I bolted, and that wasn't what happened," he tearfully said in a Paradise talking-head interview. "Sometimes you try to do the right thing — I didn't want to disrespect Caelynn, I didn't want to disrespect Kristina. Man, this is bad. I look like the worst human in the world."
So, what are these screenshots Horstmann released?
As saved by People for posterity, Horstmann's screenshot messages come from two different time periods. The first round of screenshots are from that fateful Stagecoach weekend, where Miller-Keyes is shown to be the aggressor in their hookup — she ignores his "no" pleas and orders an Uber to go to wherever he was staying. "Come on loosen up. Let's just have a good time, man," she writes. "Yes sex, only sex. If I come over it's strictly for sex. Nothing more nothing less. I'm just trying to be honest, ya know." Horstmann, as we know, eventually relents, after writing things like "we can cuddle but no sex" and "I have willpower."
The second round of screenshots, which Horstmann said were sent a week before Paradise started filming, shows the duo frantically deliberating if they should go public with their relationship — or should even go on Paradise at all. "We fucked up so bad," he wrote. "If we play it off as not being a big deal then it's not. Everyone hooks up in this world," she responded. "I really don't want to tell people but I also don't want people finding out and looking like a liar … everything is good." They both eventually calm down and agree they're likely overanalyzing the situation.
Why did Horstmann choose to publish those screenshots?
In another Instagram Story, Horstmann said he wasn't going to remain silent while seeing all the "lies" Miller-Keyes told on Paradise. "This is the last thing I wanted to do, but my name and character are being attacked. My name is all I really have," he explained. "Most of all, it is the only real way to prove that what is being said by Caelynn and the story that is being shown is far from the truth. I'm deeply sorry for my actions at Stagecoach but telling the world that I silenced a woman amongst many other harmful accusations was just too much."
Has Miller-Keyes said anything?
After two days of silence, Miller-Keyes posted a lengthy message on her Instagram page in response to Horstmann. While she confirms the veracity of the screenshots, she insists Paradise's editing took a lot of what was said between the duo out of context. "I take ownership for what I said on the beach. I was upset and I let my emotions control my words," she wrote. "However, I did not go on a show to ruin someone's character. I attempted to address my feelings and the situation with Blake face to face. It's unfortunate that I didn't get the same respect in return, and I am absolutely mortified our private texts were put out there for the world to see and judge by someone who I trusted and consider a friend nonetheless."
Miller-Keyes also said she experienced a significant amount of slut-shaming since the two Paradise episodes aired, which was she believes was amplified owing to her status as a sexual-assault survivor. "What infuriates me the most is that I'm being trolled for having sex because of what I've been through. I want to be very clear that I am not looking for sympathy," she wrote. "I took the necessary steps to move on and heal, but I will not be abstinent for the rest of my life because of it." Overall, though, Miller-Keyes just wanted to give her side of the story to the drama: "This is a complicated situation considering it's not only on TV, but has taken a life of its own on the internet. This could've been over after last night's episode, but since it's now all over Instagram, I felt like it was imperative to share my truth."