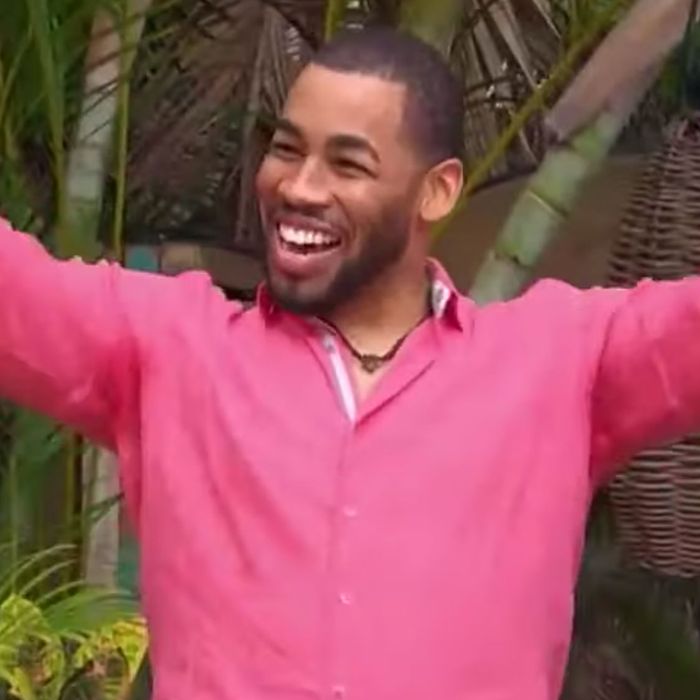 Is there any better image to describe the issues with The Bachelor Entertainment Universe, and quite frankly our Earth, than Blake and Dylan standing next to Hannah G, debating which one of them is going to talk to her … without asking her whom she wants to talk to? Can we find a better metaphor to explain what exactly the patriarchy is than two guys in linen shorts trying to figure out the appropriate schedule for a woman to speak to them?
"Hannah. PLEASE. We're trying to figure this out."
Let's get to it.
OH. THAT'S RIGHT. A ROSE CEREMONY. THIS SHOW STILL HAS STRUCTURE AND RULES AND MEANING. AN ORDER PERSISTS. Hold on to it while we can.
Everyone quickly does the math and subtracts 9 from 12, so there will be three women going home. And … we all know who they are, right? Derek gives his rose to Demi because she's such a breath of fresh air. A lot of women this season are being described with the same language as innovations in the air-deodorizer industry. Clay gives his rose to Nicole. Wills gives his rose to Katie, and she looks a little surprised. Kevin gives his rose to Sydney, and I honestly forgot he was still there. JOHN PAUL JONES gives his rose to Onyeka. Cam gives his rose to Caelynn, and she says that she has accepted a rose and doesn't acknowledge who gave it to her.
Dylan gives his rose to Hannah, which makes everyone wonder exactly what Blake will do. If Blake had any sense of decency or self-preservation, he would just eliminate himself. He's having a genuinely bad time and no one wants to hang out with him. Just go home, my guy. You're very hot and a white man. You'll continue to fail upward. But Blake gives his rose to Tayshia, and she says that he needs to man up and apologize to every girl. Okay, sure.
Anneliese says that she feels great about where she is with Chris. She hasn't felt this confident in a long time and oop — Chris gives his rose to Kristina. How is Anneliese this bad at this? She might have America's worst judgment of her own standing in relationships. Anneliese makes the most shocked face and says "WOW" out loud as if she didn't write him a prescription for kisses.
That means that Bibiana, Jane, and Anneliese are leaving. Anneliese says to the group, "Best of luck not deceiving people." Ma'am. Can you not? No one is asking for you, of all people, to bring the heat like this? Bibiana says that she should have made out with Blake and maybe she'd be sticking around. I don't know about y'all, but I stan Bibiana like no other contestant on this show. I just want her to be happy.
Then it's the next morning and everyone is watching Clay work out again. The ladies have the roses this week, so all the men better be on their best behavior or none of the women will do anything about it!
I know this is an unpopular opinion, but these women are young. Half of them seem pretty eager and excited to eat the men alive. They're confusing talking shit and delighting in others' pain with being empowered. The other half are incapable of dealing with any conversation or emotion that isn't completely positive. They're so terrified of hurting someone else's feelings or putting themselves first that they completely crumble when they have to be a big gal. This makes for both fantastic and infuriating television.
Before I can work up too much maternal concern, though, we get our first entrance of the week. It's Jordan. He's decided that this is his beach and he's the mayor of Paradise. Is this a thing? Was anybody checking for him like this? He arrives with more mixed metaphors than two in the bush. This motherfucker is a lot. He's an assault on the senses. He says he's looking for "bone depth that comes with marriage." He also says that he's looking for someone who washes their hands after using the bathroom and whose laugh he can stand because he's going to be hearing it for the rest of his life. He's also looking for a hot chick to take on a date and says someone is going to be calling him daddy. It's easy to ignore most of his bonkers turns of phrase, but then he says something that makes him sound like a casual asshole.
When he heads down to the beach, about two people are excited to see him. Hannah and Nicole both think he's cute. He takes both of them aside (along with Kristina), and they spill that Blake has talked to more than one woman on the beach. Jordan decides that he's going to be the vigilante of the season and Blake's bad behavior is his business. So he sits Blake down to tell him that if he's going to be casually misogynistic, it's better to do it by only comparing women to objects, not treating them like objects! Remember, this person got engaged last season.
Jordan asks Hannah on the date and Hannah accepts, stares into the ocean for a few hours, then turns around and says it would be too difficult for her to juggle three men.
There's something unspoken happening in this whole "Hannah's Love Triangle" thing. Whenever Hannah expresses that she feels conflicted about liking more than one person, all the women around her tell her that Dylan is a really good guy, that Dylan can't catch a break, that Dylan has been going through so much. All the women tell her over and over that Dylan is the better guy because he's giving her consistent attention. So their logic for Dylan being "a better choice" is that "he's such a nice guy."
Do I really need to lay out why "Just give the nice guy some attention. He deserves it" is a problematic tactic? Everyone is letting their bad opinion of Blake and their seemingly neutral opinion of Dylan turn into praising Dylan for being patient and putting in the time. We're literally praising a man for physically existing quietly.
And y'all, Dylan is doing too much. Every time Hannah walks away for more than five minutes, he has a meltdown that she's going to leave him forever. Then when she comes back, he wraps his entire body around hers and whispers into her neck how perfect she is and how happy he is. Between Dylan and the other women, do you think that's set up a dynamic where Hannah feels comfortable saying she might want something else?
Even if Dylan is "the perfect guy" because he happens to be alive near her and decided that he's in love with her already, she can want to make out with Blake. No one is monogamous yet because they haven't had a conversation about it. Maybe literally any of these children should TALK TO EACH OTHER. 
Oh, all this to say — Jordan takes Nicole on a date and she's impressed that someone like him would choose someone like her. Ma'am, you're kind and he's allegedly a model. This is what happens when you put a bunch of inexperienced people together. They're all way too grateful for Jordan's attention.
While they're on the date, Cam takes Caelynn aside and reads her a note about him licking his lips and tasting her jalapeño margarita. He reads the words "smiley face" to express to her how ready he is for marriage. Cam really wants to get married and he wants to marry Caelynn. He's decided it. Has he asked her one question about her feelings? Don't be ridiculous. Also, Cam reveals that he went on The Bachelorette because he thought Caelynn would have been the lead, so he's been carrying around these feelings for a long time. This is a Jacob-Renesmee in Twilight thing.
Cam's plan to read Caelynn how the contents of her stomach still linger on his mouth is interrupted when Mike B. Johnson arrives. (The B. stands for Bachelor. Do it, you cowards.) Every woman's head spins off its axis trying to catch a glimpse of his smile. That fucking smile is the tooth equivalent of coconut oil. It makes everything better and you want to rub it all over your body. Everyone keeps saying that he's a stud and a real man. Mike even comes up to a group of women talking about how hot he is. He takes Caelynn aside and asks her on a date. Before he can finish, she's already in a white dress with a veil.
Cam finds out that Caelynn is going on the date and stands in the ocean and lets the waves batter his face. Cam is also convinced that Mike has arrived in Paradise to rob him of the chance to be a husband and father. I'm gonna need this pre-husband to settle the fuck down.
Mike and Caelynn's date is pretty uneventful until the HIDDEN MARIACHI BAND starts popping up from behind curtains and out from behind planters. They got the best date in Paradise.
Wills takes Katie aside and tells her that he's interested in her, and she bursts into tears because she has to tell him that she's not interested in him. I relish in the opportunity to tell a man that I'm not interested in him. I try to schedule rejecting one male a week. It keeps me young. But again, someone must have a minor uncomfortable conversation and spins it into that they are a bad person for not liking a boy. I need these women to GET IT TOGETHER.
Then Katie runs to the arms of Chris B?!?! This is what's happening? Okay.
We arrive at Blake stealing Hannah aside to tell her that "in the future" he's "going" to "pursue" her. Has he talked to her all day or tried to pursue her over the last day or so? Oh, not at all. But he's not going to follow her around like he's interested in her or something. C'mon, Hannah. Also, Blake tells her that she needs to stop making excuses in her head, but in her gut, she feels this. Okay, Blake is acting like a fucking weirdo right here. It's one thing to tell someone that you like them and it's another to tell them that they actually like you, they just don't know it yet.
 
Blake takes Hannah down to the beach to dance like they're at a white people wedding and "Old Time Rock N Roll" by Bob Seger is playing. They end up making out in the moonlight while everyone watches. Blake has decided that Dylan is his cuck. Cam says Dylan should punch Blake in the face. I would pay $2,000 to see Cam attempt to punch any human. Blake and Dylan stand off against each other and literally talk over Hannah's head. She's petite, y'all! Blake keeps saying that she's uncomfortable. Look at her but don't talk to or listen to her!
All of the women decide that Hannah actually likes the drama and she's a player too. To that I say: GOOD. She's only 23 and has never played the field. She's on a show where that's the objective. Let Hannah flirt with two strapping young American Eagle mannequins.
See you all tomorrow as the Battle for Hannah continues!