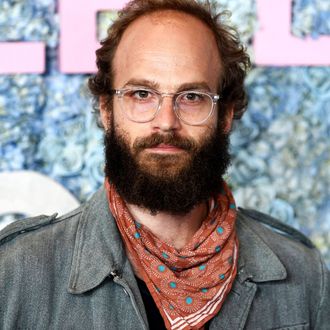 Ben Sinclair.
Photo: Evan Agostini/Invision/AP/Shutterstock
There's a low-stakes intimacy to showing somebody your favorite YouTube video. You're saying you know someone well enough to believe a video that really does it for you will also really do it for them. You're exposing yourself. If it goes well, you get to watch somebody experience the fleeting but hearty joy that only a particularly good YouTube video can offer. If you fail, well, then you're the cruel weirdo who thinks watching a little girl fall off her pony and get nailed by an ostrich is funny.
Ben Sinclair decided to have that experience over and over this summer, emailing his friends asking for YouTube video recommendations as research for a forthcoming episode of his HBO show, High Maintenance. The result is a crowdsourced Google spreadsheet of nearly 200 videos. There's your classics, like "Christian the Lion" and "Apparently Kid," and that one where the anchor mistakenly uses the word "gay" instead of "blind." But the list also includes deep cuts, with plenty of weird, funny, and sweet stuff you maybe haven't seen before. Like a live Lena Horne performance, Liza Minelli on the Home Shopping Network, and Japanese commercials for soy beans.
"I was trying to use what YouTube somebody recommends as like some sort of way to show what they're into … as like some sort of personality litmus test," Sinclair told Vulture. Sinclair left Twitter two years ago and Instagram in April — 4/20, to be specific and very on-brand — and says he got off Facebook "whenever Osama bin Laden was assassinated." So he went old, or, uh, older-school. "I just wanted to crowdsource what my friends were into, and then I just did it the way that you would've done it in 2006 or whatever, which is I just wrote emails," he explained. "What is nice about this project is every time someone submitted something, then I had an email thread with them, so not only would we talk about this video, but I would just get to catch up with somebody I haven't seen in awhile."
Sinclair also talked about the snap-judging that happens when you ask everybody you know, effectively, to reveal their true sense of humor. "There's one person on there. I gotta blow up his spot, because this is funny, but Josh Siegel, who runs film at MoMA, the video he put up was 'Toddler Getting Kicked by Breakdancer.' Of all of the things he could've put up, he put up 'Toddler Getting Kicked by Breakdancer,' and he has his own kids too, and that's just hilarious, man. Like, that right there is just like so human." Another friend added "80 Year Old Sky Dive Goes Wrong," which Sinclair said is a "pretty fucking upsetting" clip, while somebody else contributed "Reporter Makes Kid Cry on First Day of School," which still involves laughing at a crying pre-kindergartner but is a little less, well, fucking upsetting. (This video of a woman giving instructions on how to massage a cat while staring straight into the camera seemingly without blinking … possibly the most upsetting.)
The project was also about grappling with how pervasive and often necessary technology has become in our culture — YouTube videos are fun, but they are also brought to us on a problematic platform owned by a fraught tech giant — while also trying to get more offline. "I'm not an extremely political person. I try to rise above that and get on the, you know, spiritual plane. We're all just space dust or whatever, some bullshit like that, but I do feel like, fuck Zuckerberg, man. This shit sucks," Sinclair said. "It's a total monopoly. It's gotten to the point where it's, like, affected our government. It affected how we think about ourselves, and our psychology, and all of that shit. You know when people used to hand around dubbed VHS tapes? There's something that felt so cool about that. It felt so much more exclusive, because of the relationships you had and the people you knew. It's almost impossible to discover anything anymore. I'm a 1984-born millennial. We always want to discover everything first, and it's fun to do that through email and not through fuckin' feeds."
"Ultimately, I would have loved to throw an actual party, and just have this be the premise of it," Sinclair said. "Submit your videos before, because you know when you get to the party and you're selecting YouTube things right then, you know there's that moment where you put on a video and then you're watching and no one's laughing and you're fucking embarrassed because it was the wrong video or it's not as good as you remembered or it's just falling flat. I think it would be fun to have this as like, a pre-made party YouTube playlist."
You can throw your own YouTube party using Sinclair's spreadsheet here —contributors' names have been removed to protect the innocent — or watch the individual videos from the list below.
Lena Horne on Speed
Stephen A. Smith: Stay Off the Weed
Fart House
Let's Paint, Exercise, & Blend Drinks
The Wolves of Wall Street
Coyote in Chicago
Farewell Haka for Mr. John Addams
Gaga Says There's One Hundred People in the Room
Breakdancer Kicks a Toddler
Hermeto Pascoal
Pollo Crocodillo
'Apparently' Kid
Riverdance on Ice - Figure Skating Championships 2014
Turkish Man Yelling "Meow" at an Egg
He Doesn't Want to Host the Show Anymore (Steve Harvey)
Forget About Everything
HELLO, I'M SHELLEY DUVALL!
HELLO, I'M SHELLEY DUVALL! (Remix)
Cher Lloyd by Cher Lloyd (Shit Cover)
Paul Lynde & Hollywood Squares: BEST-1-LINERS Part 1
Ultimate Dog Tease
Old School Rap - Three the Hardway and White Flash 1988
2:30am at a 7-11 near Disney World - 1987
Grape Stomping Lady Falls
Stevie Nicks - Wild Heart - Live Demo - 1981
Honey Badger
Chinese Ping Pong Match
History of the Entire World, I Guess
Pinky the Cat
Jordan Peterson | ContraPoints
Transformer Owl
Funny Trigon Commercial: He Kicked Him in the Penis
He's Gonna Kick MY Ass?
God Is Doing a New Thing
The Radical
Pot Brothers
Little Girl Cuts Her Hair in Bathroom
Kim Cattrall Scatting
Samuel L. Jackson in Grease
In My Feelings Challenge With a Cow
Shrek Wrecks Kids Party
Friends of the Garden
That Dumb Song Fireflies with Dog and Cat Instead of Person
The Bully & The Beast: Wax Catches Poop
80-Year-Old Woman Sky Dive Goes Wrong
Reporter Makes Kid Cry on First Day of School (Back to School)
Jim Backus & Friends : Delicious
I'm Afraid to Talk to Men
Angry Ram
Possum Massage
Indian Thriller
Safety PSA Spot
Eagle Throws Goat
Crazy Frog Brothers
HAPPY FIRST BIRTHDAY BIG DOG PEPERONIE!!!!
Drunk Man Sings 'Bohemian Rhapsody' From the Back of a Police Car [Actual Police Video]
The Complete Saga of Harmony Korine on Letterman (and Why He Got Banned for Life)
We Are Here: The Pale Blue Dot
Wallet Thief Changes His Mind When He Sees a Surveillance Camera
The Original Technoviking Video
Georgie Pants
Adriano Celentano - Prisencolinensinainciusol
8th Grade Homecoming Skit - Second Place - 2014
Dennis Parker - Like an Eagle (1979)
Star Wars Trumpet
Meghan Markle's Face Doesn't Move
Performance of 'I Will Always Love You' (Whitney Houston) Creepy Lip Sync Contestant (Philippines)
Turtle Sex With a Shoe
Jesus Chroist Pop and Lock
In Ictu Oculi, 2009 (Vultures Destroying Dinner Table)
Man Sees Color for the First Time
Zoobilee Zoo Alternative Intro
Scarlet Takes a Tumble
Man Showering While Smoking
Snowball the Dancing Cockatoo x Backstreet Boys
Beyoncé Makes Fan Sing
Serene Branson Has a Stroke on Air?
AWOLNATION 'Sail' and Funny Cats
9GAG Crying While Dancing Little Sheep Baby
More Sand
Ms. Peachez in the Tub
Moped Dance
Chicago Botanic Video
Sotho Sounds
Cher - West Side Story | From 'Cher … Special' (1978)
Iron Mic: Eli Porter vs. Envy
The Elephant's Garden
The World's Most Awkward Interview - Mr. Wacky
Catch the Ice Dude
Countdown: Iggy Pop Interview and 'I'm bored' Studio
Man Falling Out of Kayak
Nicolas Cage Loses His Shit
Jim Bakkers Buckets
Mad Bitches Link Up Alert
Nicolas Cage Knows How to Make an Entrance
I Smell Like Beef
Lizard Jumps on Newscaster
Model Falling
Madeline Kahn Monologue
Funny Pine Sol Commercial Surprises People
Melanie Raccoon Sweeping the Floor
FIRST TIME HEARING LYNYRD SKYNYRD 'Free Bird'
Musicless Musicvideo / DAVID BOWIE & MICK JAGGER - Dancing in the Street
Eartha Kitt on Love and Compromise
Rhiannon Fleetwood Mac Live 1976
World's Best Yoyo Tricks 2017
Allen Ginsberg Live at the Pyramid Club 1989
Arab Drifting
Sick Drone Footage of Drifting Race Cars
Dangerfield on Carson '82
Disney on Ice in One Minute
Spelling Bee Faint
He's Gay He's Blind
Fireyhawk
Santana Shreds
The Rainbow Sponge
Cat Massage
Liza on HSN
Squirrel Hides Nuts in a Bernese Mountain Dog's Fur
Don Cherry's Piano Desk
FUCK NASA
Amazing Japanese Soy Bean Commercials
Little Kid Meets Lobsters
Cooper Loves Ice Cream
Flutterby Fairy
Old Lady Road Rage Revenge
Lindy Hop Hellzapoppin
Gorgeous Tiny Chicken Machine Show ep 1, 2, & 3
Indian song Subtitled by Buffalax
Can't Tell Me Nothing - Zach Galifianakis
Big Boi's Favorite Verse: Kate Bush's 'Running Up That Hill' | VERSES
Whitney Houston - Star Spangled Banner
'Seagulls Stop It Now' Bad Lip Reading
Tierra Whack
Rubber Bandits - Horse Outside
Prefab Sprout: Earth the Story So Far
Billy Corgan Rides a Roller Coaster
Radio 4's Charlotte Green Cracks Up on Air
James Brown Drunk (Full Version)
Do It Debbie's Way: Debbie Reynolds Workout Tape
Chonto
Pillow Talk
Hula Chair
Middle Finger Fight
Christian the Lion
'Thriller' Prison Dance
Highlights From Wildwood, NJ
Floating Dog
Drunk Orson Wine Commercial
Hanna Barbera Anti Drug PSA
It's a Whale, Jay
Woman Runs and Jumps Like a Horse
Small, Angry Man Yells at Trumpet Player in New York City
Chris Crocker - The B**** Bell!
Little Superstar
Goat Attacks News Lady
Yule Log With Family Argument
HELL'S CLUB. OFFICIAL. NARRATIVE MOVIE MASHUP. AMDSFILMS.
Mother_Ocean.mp4
Master Chef
The Martha Stewart Show Blooper Reel ⎢Martha Stewart
Couple Watches Their Cat
A Crazy Looking Cat at His Mom's House!
Appalachian State University Is HOT HOT HOT