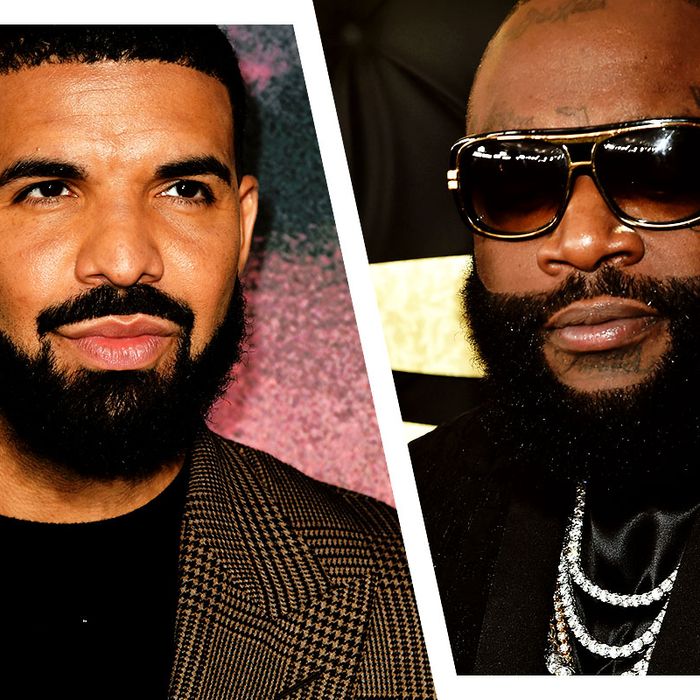 Both
Care Package
and
Port of Miami 2
wind back the clock.
Photo: Getty Images
Every week, Vulture runs through the best, most interesting, and sometimes most confusing rap releases and other news. In this special double installment: Rick Ross and Drake wind back the clock; Megan Thee Stallion's "Hot Girl Summer" melts us all; a list of the 50 best rappers of all time tears Rap Twitter apart; Chance the Rapper loses out on No. 1 to Christian rapper NF; and more.

Drake, Care Package
In an eerie show of the way digital-streaming platforms have the final say over which pieces of music are or are not preserved, Drake's decision to package a collection of loosies dating back to 2010 for said platforms has thrown those 17 songs back into the cultural conversation, inspiring endless strings of nostalgic tweets and presumably some extremely risky texts. Godspeed. This comes after Drake added his breakthrough 2009 mixtape, So Far Gone, to streaming platforms earlier this year. That sort of digital preservation is an economic and logistical near-necessity, especially as platforms like SoundCloud go through existential crises every 18 months. But it also acts as an important step toward tweaking the bird's-eye-view critical appraisals of Drake's career. Rescuing So Far Gone and packaging "Club Paradise," "Girls Love Beyonce," etc. canonizes them, making them an unmissable part of Drake's output in the 2010s. (Care Package has also netted him another No. 1 album off years-old songs.)
While some of these songs are thinner on a revisit than his fans would like to remember ("Trust Issues," for example, sounds like a half-finished Instagram DM), these songs are, for the most part, stronger than nearly anything on Drake's last two retail LPs and, perplexingly, have been sequenced in a way that makes Care Package a more coherent work than either one. There are grinning-at-the-camera rap cuts like "Draft Day" and "4 p.m. in Calabasas," stabs at mythmaking like "5 a.m. in Toronto," and perfect little songs that utilize his entire skill set at once — specifically "The Motion." It's a reminder of what made Drake the biggest star in the world eight years ago, packaged conveniently for your consumption.
Rick Ross, Port of Miami 2
As a commercial entity, Rick Ross is the equivalent of a hitter who ruled the Major Leagues during the dead-ball era: While five of his first six albums went to No. 1 on the Billboard 200 (the other topped out at No. 2), only one was certified platinum. The result is a career that might be spun — by Def Jam, which routinely counted on him to save the balance sheet during the lean years, or by his new label, Epic — as uniquely dominant but was, in fact, merely kinda dominant, that of a popular, consistent, reliable rapper who was allowed at the A-list parties because he always brought ice and never passed out in the living room. Creatively, there were more interesting things going on under the hood: a comfort with the most doors-blown-off, Lex Luger–led maximalism, with silky yacht rap, with contemporary trap, even with sentimental club pop. Port of Miami 2, the sequel to his 2006 debut, is Ross on autopilot in each sense — as an artist and as a salesman — and, save for a very small handful of droning, rote stretches, that autopilot is a pleasant ride.
Megan Thee Stallion ft. Nicki Minaj & Ty Dolla Sign, "Hot Girl Summer"
"Hot Girl Summer" is far better than it needs to be, considering what it is — a song retrobuilt from a meme — and, though not quite deserving of the ubiquity fans will surely force it into, it's further proof that Megan as a rapper is both athletic and adaptable, a technical talent who doesn't lose sight of a song's broader mechanics or of its imperative to be fun.
Trippie Redd, !
It's difficult to shake the feeling that, for Trippie Redd, the last train has already left the station. While the Ohioan only just turned 20, his sophomore album, !, arrives outside of the window during which it seemed like he might cross over to be come a genuine star. He bubbled up when so-called SoundCloud rappers, chiefly from South Florida, were being prospected by major-label executives; his sound was more melodic, his whole enterprise nominally cultish in a way that conveniently aligned with where mainstream, teenage tastes were trending. ! is a capable album, one that suggests Trippie — whose voice is still too indebted to Swae Lee's, but whose earnest, emotive writing is an appropriate update on Kid Cudi — will have a solid, bankable career, just not a stratospheric one.
Muja Messiah, Lucky Bastard
Though his music has received little attention in the national press, Muja Messiah is one of the most veteran, influential, and celebrated rappers in the history of Minneapolis's hip-hop scene. The brief Lucky Bastard, his sixth album, plays like a noir in surround sound; the chief architect of its production, Naj Bagdadi, furnishes Muja with beats that are a little too mean to be called "lush," but full of layers and varied textures. Muja quips about how terrifying microchips seemed in the Clinton years, how much money he drops at Olive Garden, how nervous his publicist was when he started showing up to photo shoots with loaded guns.
Chris Crack, PNO
No track on PNO — Pretty Niggas Only — lasts more than 87 seconds. Chris Crack knows the precise amount to let each idea breathe. His latest short, fantastically titled record (selected songs: "Mixed Feelings Means No," "Losers Over Analyze Friendships," "I Know Who You Really Are") in a string of many finds him in his most comfortable mode: over soulful flips that sound weathered in the way that expensive, wrongly shelved Roc-A-Fella records might.
A$AP Rocky Released From Swedish Jail
A little over a week ago, A$AP Rocky landed in Los Angeles, finally free after a legal odyssey that saw the rapper confined to a Swedish jail for a month. The incarceration stemmed from an incident that occurred in Stockholm on June 30, in which Rocky and his entourage were followed for several blocks by a pair of young men, culminating in a physical confrontation that was caught on video. On July 3, a judge had ruled that Rocky must remain locked up pending further investigation, deeming him a flight risk. A groundswell of support in the United States and abroad was not enough to free him before August 2's court date. That hearing was not conclusive — the verdict will be announced August 14 — but for the time being, Rocky is a free man. Since then, he has appeared at Kanye West's Sunday Service (West and wife Kim Kardashian had contacted Donald Trump to advocate for Rocky's release), and returned to the stage at Real Street festival in Anaheim over the weekend. He addressed the crowd, "What I experienced was crazy … It was a scary, humbling experience, but I'm here right now. God is good."
Top 50 Rappers Lists Dominate Twitter
Over the past week or so, the rap discourse online has been dominated by debates over various peoples' top-50-rappers-of-all-time lists. The conversation stems from a user who uploaded a list that, controversially, had Joe Budden in its top three (although it should be said that it was extremely correct in including Stack Bundles in the Top 50!). Naturally, the discussion continued with media figures like the radio host Ebro Darden chiming in with lists of their own — handwritten, in Ebro's case, because this is serious business.
Yung Miami Shot at in Miami
Yung Miami, the rapper who rose to fame over the past year as one half of the duo City Girls, was shot at repeatedly as she left a recording studio in Miami. The incident happened a week ago Monday, at the intersection of NW 135th Street and First Avenue on the city's north side. The rapper, who was inside her car at the time of the shooting, was unhurt. Miami is currently pregnant; in a video she can be heard recounting the shooting to the father of the child, her partner the producer Southside: "They just started shooting. They had their lights off so I never saw them, like whoever it was they kept their lights off. I don't know where they came from. It came from behind. The shots came from behind. They started from behind because when I got to the stop sign I was like, 'Oh shit, somebody's shooting.'" The rapper gave a statement to local police, but no arrests have been made.
Katy Perry Loses "Dark Horse" Lawsuit
Two weeks ago, a jury in a Los Angeles federal court found that Katy Perry, her collaborators, and her record companies were liable for improperly copying another song in the creation of Perry's 2013 hit "Dark Horse." The other composition in question is a Grammy-nominated Christian-rap song called "Joyful Noise," which was released in 2009 by the rapper Flame; the other liable parties on the "Dark Horse" side of the case are the producers Dr. Luke and Cirkut, the songwriters Max Martin and Sarah Hudson, and Juicy J, who was featured on the song, as well as Capitol Records, Warner Bros. Music Corporation, Kobalt Publishing, and Kasz Money Inc.
The ruling could have broad implications: While a musicologist testifying on behalf of the plaintiffs claimed that the "Joyful Noise" beat had been "borrowed" for "Dark Horse," one testifying for Perry et al. argued — convincingly, if you listen to the two songs — that the latter song is merely working within genre conventions of pop and trap, and that the elements the two recordings share are templates from which countless artists work. Perry, Luke, and Martin all testified that they had never heard "Joyful Noise" until the lawsuit was filed.
The jury further determined that Perry must pay Flame and his co-writers $550,000, which is less than the $1.2 million for which Capitol is on the hook. All told, the plaintiffs are entitled to $2.7 million — 22.5 percent of "Dark Horse"'s profits.
Ras G Dies
Gregory Shorter Jr., better known as the pioneering funk producer Ras G, was pronounced dead last week. He was 40 years old. No cause of death has been announced, though he had been hospitalized late last year with several health issues.
Ras was prolific and creatively brilliant — his Afrofuturism was both one of the Los Angeles beat scene's many competing spines and totally apart from it, a style unto itself. He co-founded Brainfeeder, the label that helped codify the scene, and appeared frequently at Low End Theory, the legendary club night that served as its epicenter. He was simultaneously a fixture in the city, someone inextricable from the decades-long cultural legacy of Leimert Park, and someone who seemed as if he were from another galaxy. As his friend Flying Lotus put it to the Times: "I felt like he had already lived another life before this one." A celebration of his life was held last weekend in Highland Park.
De La Soul Cut Ties With Tommy Boy Records
De La Soul is unquestionably one of the most culturally and aesthetically significant acts in the history of hip-hop. Unfortunately, in the 21st century, one of the major narrative threads defining their career is their endless, Sisyphean fight to control their back catalog. That battle came to a head this weekend when they finally cut ties with their longtime label, Tommy Boy. The parties had come to an impasse after long, fruitless negotiations about bringing De La's music to streaming services, with the group claiming that the label would offer them no more than 10 percent of revenues from said platforms. De La addressed the decision on Instagram, writing, in part: "With some helpful consulting and long careful consideration, we've decided we will not do our 30+ years the disservice of settling on Tom Silverman's terms."
Cardi B and Bernie Sanders "Finally" Meet
Two weeks ago, the Bronx rapper Cardi B and Vermont senator Bernie Sanders sat down at a black-owned nail salon in Detroit to film a voter-outreach video and to discuss the senator's plans for the country should his 2020 presidential campaign be successful. "We had a great conversation about the future of America," Sanders wrote on Instagram. "‬And let me tell you: Cardi B is right.‬ ‪Together, we'll get millions of young people involved in the political process and transform this country."
Tower Will Commemorate Nipsey Hussle
Last week it was revealed that in the last year of Nipsey Hussle's life, the LAPD was putting pressure on the owners of the property at 3420 West Slauson Avenue, where Nipsey operated several businesses, to evict him from said property. (In response, Nipsey raised the money to buy the buildings himself; he was killed there this March, in front of the clothing store that had been his flagship enterprise.) Over the weekend, Nipsey's longtime partner, the actress and model Lauren London, announced on Instagram that the shopping plaza will be temporarily closed while construction begins on a tower to commemorate the late rapper and community leader.
NF's The Search Tops Chance the Rapper's The Big Day
Most rap fans would tell you that the biggest album released at the end of July was The Big Day, the "debut album" from Chance the Rapper; most rap fans would not be able to tell you who "NF" is. But the latter artist, a slight, white rapper from Detroit, topped The Big Day on the Billboard 200, with his The Search nabbing the top spot. Where Chance bakes plenty of Christian touches into his music — from the explicit gospel-music gestures on Coloring Book to the broader principles that guide his writing — NF is very unambiguously a Christian rapper, a whole genre apart from secular rap. And while it might seem like an upset on the charts for those unfamiliar, he had previously gone No. 1 in 2017 with his last album, Perception. NF is aesthetically unremarkable — an endless, grating string of Eminem fan fiction — but is further proof that there are extremely profitable avenues out of the mainstream, public eye.