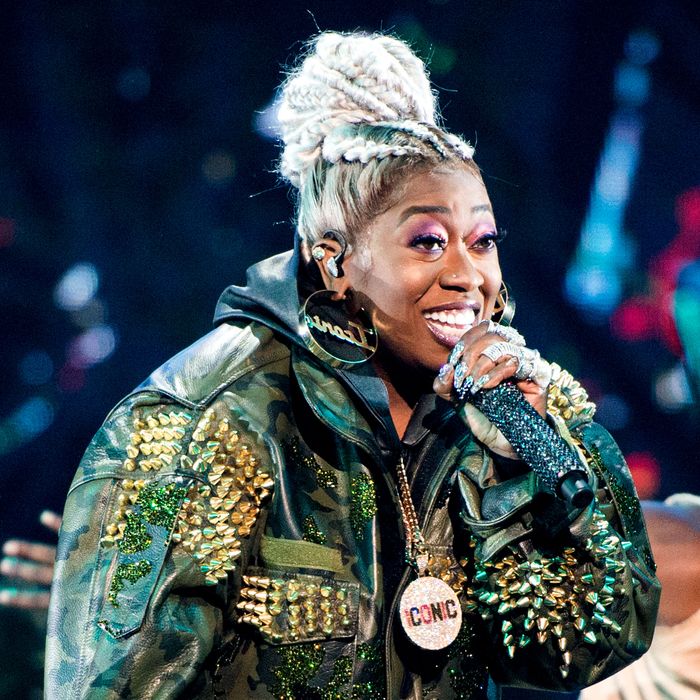 She's back with her first original project since 2005.
Photo: John Shearer/Getty Images
Every week, Vulture runs through the best, most interesting, and sometimes most confusing rap releases and other news. In this installment: the return of Missy Elliott and Little Brother; Kodak Black pleads guilty to federal weapons charges; Tee Grizzly involved in fatal shooting; Death Row Records and My Little Pony now share a home, and more.
Little Brother, May the Lord Watch
At the beginning of the 2000s, Little Brother became an unlikely nexus for a few different culture wars that had been raging inside hip-hop. For one, they became a cause célèbre for fans of a style that had been pushed further underground and deeper into college-radio dials; for another, the trio of North Carolinians were presented as a counterpoint to the allegedly less-cerebral Southern rap that had wrestled national attention away from New York. What's immediately striking in the wake of their long-awaited semi-reunion album, May the Lord Watch, is just how deep the love and nostalgia for the group runs. It's as if Little Brother was never an avatar for contentious debates, but rather a point of consensus, an old friend finally returning home.
May the Lord Watch is the fifth Little Brother album, but to those outside the group's core fan base, it might seem like their third. After 2005's The Minstrel Show, the group's producer, the then-ascendent 9th Wonder, splintered off; he contributed one beat to 2007's Getback and none to 2010's Leftback. After that came a full hiatus. But in the interceding time, the group's leader, Phonte, was revealed to have tremendous foresight: both the smooth textures of his side project, The Foreign Exchange, and the personable nature of his raps were infused in the DNA of many modern rap stars — most notably Drake, who has frequently cited him as a formative influence. Beyond that, Phonte's own solo records have been held by fans as a blueprint for how to age gracefully in rap.
So even without 9th, a new Little Brother album feels like a natural feature of the present rap landscape. May the Lord Watch is full of uncomfortably honest moments — like when, on "Everything," Big Pooh notes that he'd been driving for Uber, his passengers seldom recognizing him — and characteristically cutting skits, with Peter Rosenberg hawking tickets for a ghoulish and exploitative funeral concert. It is comfort food, but without any of the acid that comes from growing old or bitter.
Missy Elliott, Iconology
Given that her signature works still sound as if they're from many years in the future — try imagining Da Real World as the rap album of 2033, it works — it's strange that Iconology, the first collected work from Missy Elliott since 2005, opens with two replacement-level trap numbers. The Vanguard winner is, of course, a magnetic enough presence that the pair of songs never wear out their welcome, but it is disappointing to hear someone who has so often broken new creative grounds anonymize herself in such a dramatic way. Fortunately the back half is more compelling: the Sum1-assisted "DripDemeanor" flits from staccato to soulful and back again, while "Why I Still Love You" — which also appears in acoustic form — plays like one long crescendo.
Jeezy, TM 104: The Legend of the Snowman
The ad-libs at the beginning of "Look Like," the fourth song on what has at times been teased as Jeezy's retirement album, are cribbed from the opening bars of 2Pac's "Heartz of Men" — the furious, DJ Quik-produced mission statement recorded just after Pac was sprung from prison in 1995. That Jeezy is unable to recapture Pac's in-the-moment venom is, of course, forgivable; what's deflating is how often on TM 104 he tries and fails to recreate the energy of his past work. In the decade and a half since his monumental debut, Let's Get It: Thug Motivation 101, Jeezy has become a more competent, if less distinct rapper; he plugs neatly into radio-ready formats without the unmissable whisper and immutable hunger.
Elucid, Every Egg I Cracked Today Was Double Yolked
Elucid's work is marked by poise: he has, over the course of a long and prolific career, rapped over beats made difficult by tempo, tight turns, or pure cacophony, and has done so while exerting what feels like total control. Every Egg I Cracked Today Was Double Yolked, a self-produced, 20-minute dispatch that continues a run of similarly scaled projects by the New Yorker, features only a handful of fully realized verses. But what vocals do make it through suggest a coiled snake: See the calmly paced, unwavering opening bars on "Colony."
Kodak Black Pleads Guilty to Federal Gun Charges
Last Thursday, Kodak Black — who has been in federal detention since a May arrest at the Rolling Loud festival in Miami — pleaded guilty to two counts of knowingly making a false and fictitious written statement in connection with the acquisition of a firearm. While he faces a maximum of ten years in prison followed by three years of supervised release, a plea agreement obtained by TMZ says that prosecutors will not seek that maximum. Kodak is alleged to have lied on an application required to purchase firearms by saying that he was not under indictment in any criminal case that could net him more than a year in prison. He is, of course, under indictment in a sexual assault case stemming from a 2016 incident in a South Carolina hotel.
Hasbro Acquires Death Row Records Catalog
The history of Death Row Records is one of corporate bullying; the stories of Suge Knight strong-arming his way into and then through meetings with mainstream record executives are innumerable, which is to say nothing of the way he leveraged a looming parent-company merger and the moral panics of the 1990s into an exclusive deal with 2Pac. The chain of events works like this: Back in 2013, Entertainment One purchased Death Row; last week, Hasbro snatched up Entertainment One, presumably because it owns the popular children's franchises PJ Mask and Peppa Pig. (Hasbro, you may recall, is the home of Mr. Potato Head, G.I. Joe, My Little Pony, the Power Rangers, and the Transformers.) But included in Entertainment One's portfolio is a sizable music division, including a Death Row catalogue that features such unmissable titles as The Chronic, Doggystyle, and All Eyez on Me. No word yet on any Snoop Dogg–Mr. Potato Head crossover projects.
Tee Grizzley's Manager Shot and Killed
Last Tuesday night, Jobina "JB" Brown, aunt and manager to the rising star Tee Grizzley, was shot and killed in Detroit. She was 41. According to reports from the scene, an unidentified shooter approached on foot the Cadillac Escalade that Brown, Grizzley, and a driver were inside, and fired three or four shots into the backseat of the vehicle, where Brown was sitting. (Grizzley, who had been in the passenger seat but reportedly exited the vehicle as the shooter approached, was not harmed.) Grizzley has since paid tribute to Brown on Instagram, writing: "Since I was 12 We been going everywhere together how you gone go to heaven without me???? Idek what to say JB I just wanted to show the world yo smile I love you so much."
Buddie From Dem Franchise Boyz Passes Away
Gerald Tiller, better known as the rapper Buddie from Dem Franchise Boyz, has passed away. Social media comments from his friends and collaborators, as well as reports, suggest that the rapper had been battling cancer. Dem Franchise Boyz scored a series of hits in the mid-2000s, when snap music emerged from Atlanta as a woozy, weightless counterpoint to the thundering sounds of crunk; "White Tee," "I Think They Like Me," and "Lean Wit It, Rock Wit It" were all staples at radio and video stations throughout the decade.