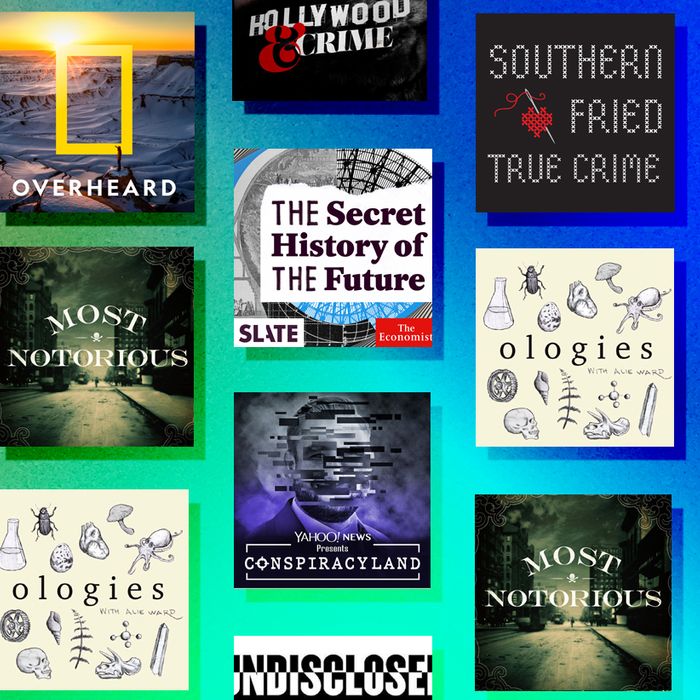 The true-crime-podcast universe is ever-expanding. We're here to make it a bit smaller and a bit more manageable. There are a lot of great shows, and each has a lot of great episodes, so we want to highlight the noteworthy and the exceptional. Each week, our crack team of podcast enthusiasts and specialists will pick their favorites.
Ologies: "Graphology (Handwriting/Forgery) with Sylvia Kessler"
Host Alie Ward's weekly science deep dive takes a turn for the criminal this week as she welcomes graphologist-graphoanalyst Sylvia Kessler as her guest. Now a quick point of order: In keeping with the podcast's theme, Ward has named the episode "Graphology," but what she and Kessler actually discuss is graphoanalysis (the former is the study of personality through handwriting, while the latter is a system of handwriting analysis used by forensic document examiners and the like). Semantics aside, Kessler is a smart, no-nonsense guest brimming with anecdotes about fraudulent wills, suspect Marilyn Monroe documents, and advice about which type of pen you should use to avoid check scams (that is, if you still write checks). It's an intriguing glimpse into a well-worn science trying to keep pace with the technology of our ever-advancing world. —Amy Wilkinson
The Secret History of the Future: "Unreliable Evidence"
The Secret History of the Future is not a true-crime podcast, says co-host Tom Standage, but this episode is their version of one. In 2012, 66-year-old Raveesh Kumra was murdered during a home invasion in California's Silicon Valley. A few weeks later, Lukis Anderson was arrested for Kumra's murder, along with two other men, after his DNA was found in the home. Because DNA is infallible, Anderson must have committed the crime, right? Even though he didn't remember it, he had an airtight alibi that involved being in the hospital at the time, and had literally never been in the victim's house. Hosts Standage and Seth Stevenson plumb the history of what both the public and the legal community have come to think of as reliable evidence — fingerprints and DNA — and how they definitely are not what we thought they were. The episode is a look at how far we have actually not come, and it may negatively impact your ability to watch CSI-related programming in the future. —Chanel Dubofsky
Hollywood & Crime: "Billionaire Boys Club: Boy Genius"
This is the first episode in a six-part series on convicted murderer Joe Hunt and his whizbang Ponzi scheme, the Billionaire Boys Club. Hunt's adult frat was part business and part pleasure, but it was definitely 100 percent shady. Fully understanding their ginned-up business plan is beyond my ken — which is probably for the best! — but suffice it to say, this story has enough references to '80s fashion, moneyed Los Angeles neighborhoods, and expensive hot spots to make Patrick Bateman turgid with envy. Once the reality of how much of other people's money he's lost in bad investments dawns on Hunt, he gets desperate and murders Ron Levin, an older man who is both an investor and an equally shady character.
I'm just going to be frank with you: I tuned in to this week's episode of Hollywood & Crime because Timothy Olyphant is one of the narrators. While I'm sort of meh on the Ayn Randian high jinks of a bunch of rich L.A. yuppies, Olyphant's dulcet tones describing the lifestyles of the rich and desperate makes this go down real smooth. —Jenni Miller
Conspiracyland: "Fox News Fallout"
In the early hours of July 10, 2016, a young staffer for the Democratic National Committee named Seth Rich was killed in what was almost surely a botched robbery attempt. Three days later, Russian intelligence planted a story on an obscure website alleging that Rich was, in fact, assassinated by associates of Hillary Clinton because he was the one who had leaked embarrassing DNC emails to WikiLeaks, not the Russians. This was bunk, of course, but it was the seed of a conspiracy theory that eventually made it to the highest levels of the conservative news industry, including Fox News. Yahoo News's Conspiracyland tells the story of how Seth Rich's death was twisted in an attempt to create a counter-narrative to allegations of Russia's interference in the 2016 presidential election. Along the way, host Michael Isikoff introduces us to bizarre characters like D.C. lobbyist and conspiracy nut Jack Burkman and self-styled political insider and Dallas-based financial adviser Ed Butowsky, along with more well-known figures like Sean Hannity and Alex Jones. Episode five, "Fox News Fallout," examines how the Seth Rich conspiracy nonsense finally made it to broadcast and how the story began to crumble almost immediately. Fox News eventually issued a rare retraction. Sean Hannity, however, did not. —Toby Ball
Undisclosed: State v. Joseph Webster: "Cain and Abel?"
Undisclosed investigates wrongful convictions, and this latest installment is the start of a three-episode arc. Joseph Webster is currently serving a life sentence for the 1998 murder of Leroy Owens after pleading not guilty to the crime, but this is the opposite of your typical claim of innocence. In court, Webster was identified as the killer by witness Tammy Nelson, who later recanted her statement. Numerous people, however, including members of Webster's own family, claim that the murder was committed by Webster's brother, Kenny Neal. Aspects of that statement made by Nelson, the only witness implicating Webster in the murder, are consistent with what it would look like if Neal and Phillip Cotton, a friend of Neal's, had murdered Owens. Where does all of this leave Joseph Webster? Still in jail, while his attorney and the Conviction Review Unit dig into the case again. It's not completely unheard of that someone would be convicted of a crime committed by their brother, but what other evidence exists to get Webster exonerated? Stay tuned to get to the bottom of it all. —Chanel Dubofsky
Overheard at National Geographic: The Harem Conspiracy
The death of King Ramesses III has baffled scholars for generations. It unfolds, literally, on an 18-foot scroll of papyrus, the Ancient Egyptian version of a court transcript, which chronicles a plot by members of the king's harem to kill him. Whether they were successful has remained a mystery until recently. Host Peter Gwin brings listeners of Overheard, produced by at National Geographic, behind the scenes of this murder conspiracy and explains how modern science and technology were used to find answers. It begins with the papyrus, found at the Egyptian antiquities' version of a garage sale in the 1800s, and only identifies the men who were involved, not the women. Yet it was a woman, Ramesses's main wife, Tiye, who is suspected of instigating the plot, bringing in others like the palace doctor and magician. His embalmers covered up how the king died for several thousand years, but modern imaging has revealed the truth: He was murdered. DNA testing of another body suggests a culprit, an ending that shows that some things never really change when it comes to murder. —Lara Bricker  
Most Notorious: "Arthur Conan Doyle Investigates the 1908 Murder of Marion Gilchrist w/Margalit Fox"
It's quite the mystery indeed as to how Sherlock Holmes creator Sir Arthur Conan Doyle's work as a real-life detective ended up a mere footnote in his lengthy biography. But in her 2018 book, Conan Doyle for the Defense: The True Story of a Sensational British Murder, a Quest for Justice, and the World's Most Famous Detective Writer, author Margalit Fox sheds light on one case that Conan Doyle helped solve: the wrongful conviction of Oscar Slater for the murder of Marion Gilchrist. Conan Doyle began looking into the case two years after Slater went to prison, and much like the exploits of a certain Baker Street resident, the investigation — and its fallout — would take a number of unexpected twists and turns. The game, as they say, is afoot. —Amy Wilkinson
Southern Fried True Crime: "Mark Barton: Family Annihilator & Spree Killer"
It's hard to know where to begin with Mark Barton, who killed himself on July 29, 1999, after a shooting spree in Atlanta at two of his former workplaces. Later, police discovered that he'd killed his second wife, Leigh Ann Vandiver Barton, and his children, Matthew and Mychelle Barton, in the days before his spree. But before that, the family annihilator was (and is) the only suspect in the gruesome deaths of Barton's first wife, Debra Spivey, and her mother, Eloise, in 1993 — after he'd already started dating Leigh Ann. It's unclear why he wasn't charged with their murder, and it's baffling that no one sounded the alarm after a clinical psychiatrist described him as "certainly capable of homicidal thought and homicidal action" during an investigation into whether or not he molested Mychelle when she was only 3. (The state dropped the molestation case due to a lack of evidence, but somehow leaving kids with a suspected murderer was … okay?) This is such a tragic story for all of Barton's victims, and I really appreciated that podcaster Erica Kelley spends time naming each person he harmed. It's also great that she warns listeners before each commercial break — more podcasts would benefit from this politesse, because there's really nothing like interrupting a story about some terrible crime or another for a quick word from a hair-color company or, you know, home security system. (Yeah, we see you, SimpliSafe.) —Jenni Miller