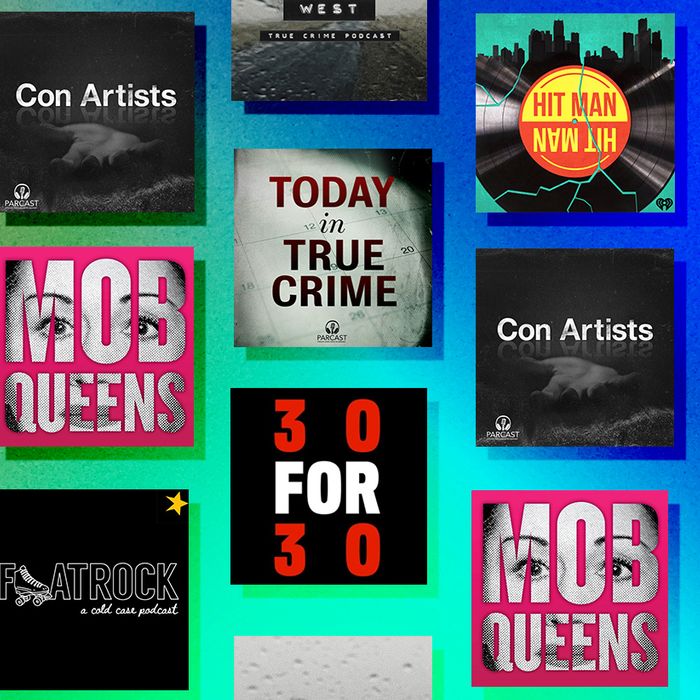 The true-crime-podcast universe is ever-expanding. We're here to make it a bit smaller and a bit more manageable. There are a lot of great shows, and each has a lot of great episodes, so we want to highlight the noteworthy and the exceptional. Each week, our crack team of podcast enthusiasts and specialists will pick their favorites.
Today in True Crime: "Mona Lisa Stolen"
"Crime never takes a day off. And neither do we." That's the log line for Today in True Crime, a new podcast from the Parcast network, best known for shows that dig deep — historically speaking — into topics ranging from serial killers to cults to unsolved murders. Today in True Crime publishes daily, with 20-ish minute episodes that delve into a story pegged to that day in history, whether it's the conclusion of a sensational trial, the arrest of a cold-case suspect, or a serial killer's birthday. And best of all, it's not all murder and mayhem, as Wednesday's episode, "Mona Lisa Stolen," demonstrates. Frankly, I'm excited this podcast exists. Not only does the concept provide a daily dose of content for an audience demanding more and more originally reported and researched stories, but it also has the potential to create a very cool archive, one that could serve as an audio encyclopedia for true-crime-ophiles. What's not to love about that? —Rebecca Lavoie
Mob Queens: "F*ck, Marry, Kill"
I'm not usually that excited about the Mafia or hit men, but I love a story behind a story, especially when it entails old New York City, illicit nightlife, and complicated women. Mob Queens has all of that and more in the mysterious life story of Anna Genovese, who married ruthless mafioso Vito Genovese in 1932 and went on, according to the show's tagline, to become "a New York drag club maven and badass mob wife." Hello, this is the real The Kitchen we needed!
A quick Google won't turn up a ton about Anna herself, but given the sort of nefarious details she divulged during her acrimonious lawsuit against Vito for financial support — they palled around with Nazi Hermann Göring and Benito Mussolini's son-in-law, among more mundane mob crimes — Mob Queens has a lot to work with. Screenwriter Jessica Bendinger (Bring It On, The Wedding Date) and TV writer-producer Michael Seligman (RuPaul's Drag Race) delve into their mutual obsession with Genovese, a hobby that has gone beyond scouring stores for out-of-print books to visiting the site of Genovese's first husband's murder in the West Village and, uh, interviewing an anonymous mobster in a cigar bar in Los Angeles. And it's only the second episode.
Longtime friends Seligman and Bendinger have a delightful camaraderie and playfulness, but they also seem ready to grapple with the reality of Anna and her life of crime beyond the sexy film noirish-ness of it all, and not only that, but what it means to be fascinated with such a figure. As Seligman quips, "It's like The Godfather — with tits!" He's not wrong, but it's also much more than that. —Jenni Miller
Flatrock: "In the Tall Grass" 
Oh, the late 1960s. The upheaval, the macabre, the Manson-ness. So much murder, and yet police investigative work was still so far away from having the resources to solve them. Flatrock, created and hosted by Olivia Lind, examines the 1969 murder of 12-year-old Kathy Jones, whose body found behind a Krispy Kreme in Nashville, Tennessee, after she had been missing for three days. Lieutenant Patrick Taylor says Kathy's case would easily have been solved today, but instead, it remains cold 50 years later. At the time, collecting evidence from the scene wasn't exactly done with precision, and autopsies weren't performed in Davidson County (this would change in 1975, after the murder of Marcia Trimble). Authorities gleaned what they could about the crime by attending the funeral, and so much of what police "knew" about Kathy's murder is suspect, including where she was killed. In this episode, Lind looks at a possible timeline of Kathy's disappearance, the evidence they found early on, as well as the (connected?) murders of Wanda June Anderson, Reba Kay Green, Glenda Marie Sirmans (who disappeared the same day as Kathy), and Betty Jean Necessary. Get ready — Flatrock is a carefully constructed and well-told narrative that dives into some serious darkness. —Chanel Dubofsky
Con Artists: "Anna Anderson Pt. 1: The False Anastasia" 
Second only to 20th Century Fox, no one has benefited more from the enduring myth surrounding Grand Duchess Anastasia of Russia's life and death than Franziska Schanzkowska, otherwise known as Anna Anderson. From the 1920s until her death in 1984, Schanzkowska posed as the youngest daughter of monarch Tsar Nicholas II, who, along with his entire immediate family, was murdered by the Bolsheviks in 1918. (For a more thorough look into the Russian royal family's life, I'd highly recommend Last Podcast's on the Left's epic four-parter on Romanov adviser Rasputin.) In "Anna Anderson Pt. 1," we learn about Schanzkowska's early years, which include several stays at mental institutions, where she first realized her resemblance to the Romanovs and began passing herself off as a surviving daughter. (She initially claimed to be Grand Duchess Tatiana, but that was disputed due to her height, so Schanzkowska quickly changed her identity to that of Anastasia.) What emerges here is a fascinating, albeit sad, story of a troubled woman who preyed upon the lingering hopes of Romanov supporters for her own personal gain. "Anna Anderson Pt. 2" promises to dive deeper into how Schanzkowska kept the scam going for so long and her eventual (posthumous) unmasking through DNA technology. —Amy Wilkinson
30 for 30: The Sterling Affairs: "Fallout"
Under Donald Sterling's ownership, the Los Angeles Clippers were synonymous with failure and dysfunction. They were widely considered America's worst professional sports team. Sterling was certainly the worst owner. An overt racist — the culture within the Clippers organization was described as a "plantation mentality" — Sterling ran into legal trouble for racial discrimination in his vast real-estate empire. Though married to the same woman for decades, he was also a promiscuous and open womanizer. His downfall, the subject of ESPN's new 30 for 30 podcast "The Sterling Affairs," was triggered by a mistress, V. Stiviano, who often accompanied Sterling to Clippers games. Stiviano would record her conversations with Sterling, and during the 2014 playoffs, she released a tape to TMZ in which Sterling expressed shockingly racist views. In episode four, "Fallout," host Ramona Shelburne details the reaction to the tape among the players, the NBA leadership, and the public. Immense pressure fell on the Clippers to make some kind of statement — perhaps even a boycott — for the next game, a crucial contest in their playoff series against the Golden State Warriors. Head Coach Doc Rivers tried to keep the team together, while the league's new commissioner wrestled with a decision unlike any in NBA history. This story, which I'd file under "true-crime adjacent," is not only about Sterling and his bizarre relationship with his team, but also about a power struggle, social justice, and a crisis within sports that spilled over into Los Angeles — and the country as a whole. —Toby Ball
Hit Man: "If Books Could Kill"
Two Mafia-related podcasts in one week is a total fluke, I swear, but Hit Man has a fascinating entry point that's all too timely in the ongoing conversation we're having about free speech and violence. Several years ago, StoryCorps' Jasmyn Belcher Morris stumbled upon a mysterious book called Hit Man, which was written by someone going by the name Rex Feral and published by the now-defunct Paladin Press. Paladin put out a variety of titles like Revenge Encyclopedia and Black Book Companion: State-of-the-Art Improvised Munitions, and to give it further context, co-founder Robert K. Brown later masterminded Soldier of Fortune magazine. So. Depending on your interpretation of the First Amendment, Hit Man is either just a regular nonfiction book that happens to be about how to whack someone, or it's a manual for murder.
Then Morris introduces the tragic triple homicide of flight attendant Millie Horn, her son Trevor, and Trevor's nurse Janice Saunders, who were brutally murdered in 1993 at the Horns' home in Maryland. And it's possible that the person responsible used Hit Man as a how-to guide. Morris interviews Millie's sister Marilyn Farmer about Millie and Trevor and their family, which was full of love and joy despite Trevor's serious health problems. Marilyn can't believe that a book like Hit Man even exists. Who could blame her?
Morris sets up the narrative mastefully. She spends the first third or so of the episode giving context to Paladin and its wares and how it fits into a bigger First Amendment argument. She also interviews lawyers Howard Siegel and Tom Kelley, who was the press lawyer for Paladin in what Morris describes as "a landmark First Amendment case" that she promises to discuss at length in future episodes. They have emphatically different opinions on the book and its publisher's culpability, and we'll soon find out why. —Jenni Miller
Going West: "Thomas Brown" 
Thomas Brown was 16 years old when he disappeared from the town of Canadian, Texas, on the day before Thanksgiving in 2016. His body was found in January 2019, close to Lake Marvin, in an area police had not yet searched. Going West's hosts Heath and Daphne bring us the details, which are, in a word, wackadoo. There are, as of this airing, no leads on who might have killed Tom, but there are approximately 1 million strange things surrounding his disappearance, which makes the lack of answers even weirder. Why did Canadian Sheriff Nathan Lewis show Tom's mother a picture of Tom at a gas station (the last place he was seen) and then deny that such a picture ever existed? Why were the authorities so quick to decide Tom's disappearance was the result of a suicide when there was zero evidence of it? How did Tom's phone end up near Lake Marvin in such pristine condition when the rest of his belongings were found in disarray? There are theories, of course, especially in the Reddit universe, as to what happened to Tom, including some having to do with Lewis, who, one year before Tom's disappearance, ordered him into his police car for reasons that are still unclear. —Chanel Dubofsky