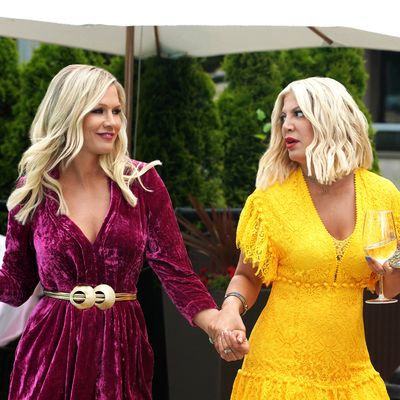 Kelly, Brenda, Brandon, and the rest of the Beverly Hills, 90210 crew is back, ready to remake the television show that made them iconic. Kind of.
The new Fox reboot, BH90210, isn't exactly a reboot. It's a scripted show that follows the original cast, playing themselves, as they try to create the reboot. Instead of just picking up 30 years in the future — and dealing with everything that happened in 90210, the CW remake that aired from 2008 through 2013 — the gang is instead going meta as they fall back into their former lives. Does any of this make sense? It's a show within a show, except the show hasn't begun yet. Let's unpack it together.
Who's returning to BH90210?
Shannen Doherty, Jason Priestley, Jennie Garth, Tori Spelling, Brian Austin Green, Ian Ziering, and Gabrielle Carteris are all returning to make the reboot. Or, as Shannen Doherty calls it "a revival set in a reboot." Instead of playing Brenda, Brandon, Kelly, and so forth, the actors will be playing dramatized versions of themselves. Brian Austin Green and Jason Priestly even have fictional wives played by La La Anthony and Vanessa Lachey, respectively. It's like the Kardashians of the Keeping Up with the Kardashians Christmas episode versus the regular Keeping Up with the Kardashians Kardashians. Stop me if this isn't making sense. It's a reality show, except entirely scripted.
Is Luke Perry on BH90210?
No. Perry, who played Dylan McKay for eight seasons and more recently starred in Riverdale, didn't sign on for the new reboot and died from a stroke in March at age 52. But Shannen Doherty, who originally wasn't going to be part of the reboot, changed her mind after Perry's death, telling TV Line she did it "to honor Luke." Doherty will also guest star on Riverdale's tribute episode airing October 19. BH90210 will pay tribute to Perry in other ways, too. "We have honored him and dealt with it in really respectful ways," Jennie Garth told TVLine. "He's with us in our hearts all the time, so it's kind of like he's here."
What is the BH90120 plot?
Think of it as a high school reunion: A bunch of people who hung out together when they were young are hanging out again. But this time, instead of the common goal of "blowing off school" — or in Beverly Hills, 90210's case, "becoming teen heartthrobs" — they're hanging out so they can try making a TV show together. Specifically, they're gonna make a reboot of Beverly Hills, 90210. Maybe? It's Tori Spelling's job to convince the rest of the cast to do a reboot. And if they do decide to do a reboot (okay, Shannen Doherty can't keep a secret and revealed on Good Morning America that they do), the show will follow that process, too.
So, is there going to be an actual reboot?
Um, it doesn't seem like it. In its six episodes, BH90210 will only offer short looks at the cast as the original characters.
What does this mean for 90210, the 2008 show?
Since we barely catch glimpses of the remake they're making in BH90210, it's safe to say 90210 is still canon.
When is the BH90210 premiere date?
BH90210 premieres on August 7 at 9 p.m. Eastern on Fox.
Watch the BH90210 trailer below.
Hopefully, it provides a little more clarity.