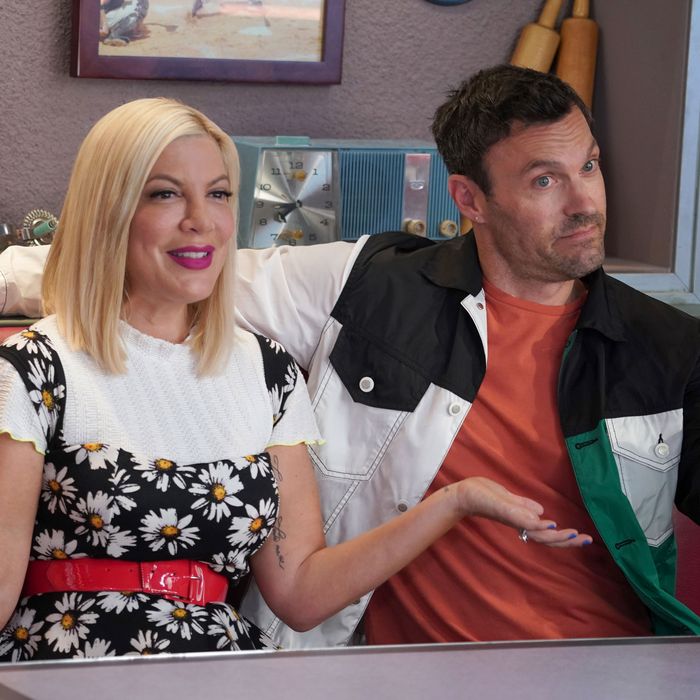 Beverly Hills, 90210 is back, sorta, but this time it's simply BH90210. Our favorite teen serial has reemerged among the ashes of the many '90s Must-See TV reboots littering the current landscape. This time, though, the nighttime soap about the inner workings of a wealthy and white group of high-school turned college students is a bit different in both style and tone. We, Damian and Anne, wee gay ones turned BFFs, both grew up with older siblings who turned us on to this cultural phenomenon of a show, and to be perfectly frank, we are now turned on by the notion of steering this convertible for you all season long, so strap in or on, and grab your Joe E. Tatas.
Let's not call this a Beverly Hills, 90210 revival because, Hi, there was already one of those that aired for — count 'em — FIVE seasons on the CW, from 2008-2013, and was aptly titled (just) 90210, with new characters named things like "Silver" (Kelly Taylor's half-sister, but really it didn't matter because we went hard for AnnaLynne McCord). BH90210 is more early-aughts parody: Think Kirstie Alley's Fat Actress and HBO's The Comeback mixed with that Women of SNL sketch where Andy Cohen played himself and the A-list female alums of Saturday Night Live (Justice for Melanie Hutsell!) played themselves as Real Housewives archetypes.
BH90210 starts with the things dream sequences are made of, starring Brandon and Kelly as the new owners of their old pastel haunt, the Peach Pit; David and Donna as a married couple that still plays tonsil hockey to the smooth falsetto of Color Me Badd; Steve Sanders as the corniest cool guy you know; and Andrea Zuckerman as the kind of person who would send a hard-boiled egg back at a restaurant. The number of in-jokes packed into this first ten minutes was aggressive, even for us, but for a few short moments, we forgot the reality-ish premise and delighted in the extended fan-fiction. Alas, it's all a dream, interrupted by the arrival of Brenda Walsh and a fog machine. Surprise! The real world is a new Angeleno nightmare in which everyone is a heightened version of themselves: Tori Spelling and Jennie Garth (the duo that's survived all these years) suffer in coach while flying to the 30-year reunion of their hit teen series, Beverly Hills, 90210, and we're off to the (dead horse) races.
What follows is a knowing, self-deprecating reality mash-up where all the actors from the series live in a present-day alternate universe. Tori Spelling is a reality-TV whore with six children whose latest docuseries "Tori & Nate: Spelling the Beans" is canceled because "there's no more sTori." How dare they? Bizarro Brian Austin Green is flying on a private jet to the reunion while his much more famous Rihanna-level pop-star wife (played by La La Anthony) takes care of their brood at home. Ian Ziering plays a brand-focused fitness celeb whose wife is auditioning for The Real Housewives of Beverly Hills. Real-life SAG-AFTRA president Gabrielle Carteris portrays the fictional president of SAG who is a new grandmother … riding the bus in Los Angeles? (Which Damian, a person who lived in L.A. for six months and rode the bus, can attest that no SAG president has ever done.) Jason Priestley plays the seemingly least-like-himself character, a fledgling director stuck in the world of mediocre TV (hat tip to the costume designer who saw this in the script and gave Priestley a cream-colored "director scarf" for gravitas), whose latest on-set incident lands him on TMZ. Last but not least, Jennie Garth's Jennie Garth is a woman privately going through her third divorce and embarrassed to share the news. (Again, not dissimilar to Garth's real life: two divorces and a third divorce filing that was quietly dismissed.) It's like real life, but not, ya dig?
The gang reunites at a Vulture Fest-lite panel where fans ask questions that 90210 fans would never ask. They ask about Brian Austin Green's more famous wife. (Questions we would ask: Did you, too, think U4EA was a real drug? Did you think Shannen Doherty's accent was good when Brenda pretended to be French for a Dean Cain character? What the hell happened that made real-life BFFs Jennie Garth and Tiffani Amber Thiessen stop speaking?) Honestly, it takes ages to get to the real meaty goodness, which is, of course, Shannen Doherty. When the topic is finally broached, Shannen is piped in talking about wild cats, looking like she's going to a Halloween party as the city of Taos. The audience is charmed by Shannen and her animal advocacy while the cast collectively rolls their eyes.
The full Doherty is obviously being saved for episode two, because the panel acts as a Shannen-with-an-E-shaped tease. Instead, we get to watch the cast disperse and cut loose–commiserate over the perils of being crazy famous in your 20s. Tori and Brian Austin Green (Can we call him BAG? Is just Brian sufficient?) take shots at the hotel bar where Tori laments seeing all the 90210 memorabilia that never made her any green.
Jason and Jennie share a sad marriage moment at the bar before quickly jumping into bed. We will say we think they boned too early, but we are hoping for some Christine Elise ("Emily Valentine") float-burning energy to further complicate things for Jason. Most important, Andrea gets her lesbian Sweeps moment that heretofore had gone to Kelly Taylor in the "things we lost in the fire" sorority episode. We watched a blonde, septum-ringed, pink-tie-wearing 2007-era bartender put the moves on Gabrielle Carteris, president of SAG-AFTRA, and collectively climaxed in our sweats.
Tori gets drunk enough to steal the red Donna Martin gown that's on display at the convention, claiming, "THAT'S MY DRESS," before being spirited away on BAG's wife's private jet with the entire gang. HIGH JINKS! On said private plane, Tori delivers a Champagne toast, clad in the dress, that ends with a small, silent, head-bowed moment for our beloved Luke Perry ("Dylan McKay"), whom we tragically lost earlier this year. (BH90210 had been announced prior to his death, but Perry had yet to sign on.) The moment is quickly glossed over when they accidentally find out that Ian's "perfect marriage" might not be so perfect (thanks, FaceTime), and then they all go for the jugular.
Oh, and the fallout from their shenanigans lands the gang in the clink. Post-prison, BAG goes viral as a hot daddy (though we'd argue he's operating much more in Zaddy territory); Gabby lies to her … husband? Lover? Live-in uncle? — not about prison but about her gay encounter; Jason has to face his indiscretion and his wife's pregnancy; and Ian starts living a lie. Meanwhile, Jennie G shows up to Tori's romper room to apologize for throwing her best friend under the bus while the insults were flying on the plane. Tori accepts Jennie G's apology but is really too distracted by her kids watching reruns of the OG 90210 on the television. Tori needs a check so badly that she has her "aha" moment while staring at the beautiful baby faces of Jason Priestley and Luke Perry on alt-SOAPnet (RIP). Tori decides she needs to revive Beverly Hills, 90210 to keep the goddamn lights on. Hate it? Love it? Well, we just Joe. E. Tata'd again.
Peaches and Pits
• We are HERE for Gabby getting turned out.
• Spanx jokes :(
• Everyone is credited as a co-producer, so good on them for taking shots at themselves.
• Expecting Barenaked Ladies jokes in the coming weeks.
• We are waiting on THE MOMS: Jackie Taylor, Samantha Sanders, Cindy Fucking Walsh, et al.
• Where is Tiffani Amber Thiessen?