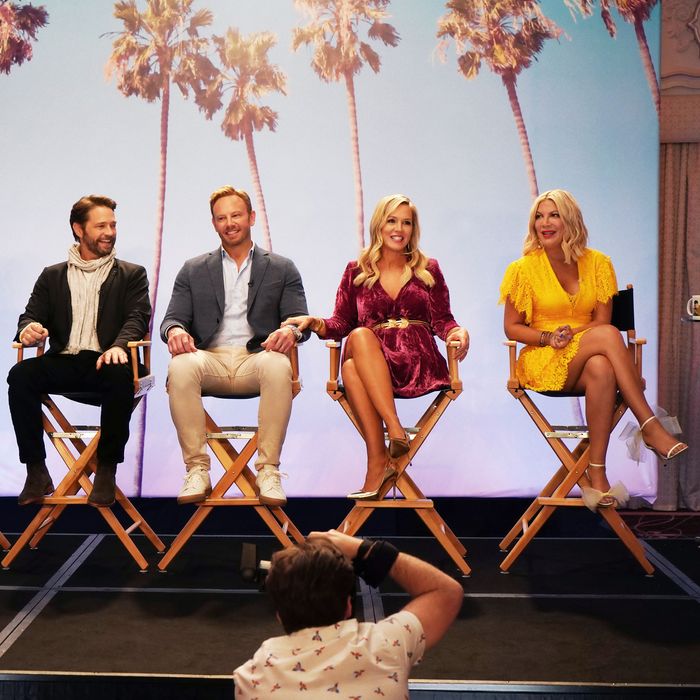 Reunited: Brian Austin Green, Gabrielle Carteris, Jason Priestley, Ian Ziering, Jennie Garth, and Tori Spelling in
BH90210
.
Photo: Shane Harvey/FOX
If you were alive in the early 1990s, and, especially, under the age of 30, you probably watched Beverly Hills, 90210. If you were a discerning viewer at that time, you probably realized that 90210 was not a good show, but nevertheless, you loved it anyway. You enjoyed gathering in dorm rooms or living rooms with your friends and making fun of the goofier plot turns and dialogue. In the process, you managed to develop genuine affection for Brenda, Brandon, Dylan, Kelly, Donna, David, Andrea, and, sure, even Steve Sanders.
BH90210, the new reboot of Beverly Hills, 90210 that follows alter ego versions of the show's stars as they regroup for a reboot of Beverly Hills, 90210, knows all that, then takes that knowledge and uses it to both earnestly and cynically take aim at your nostalgia pleasure centers. Unlike the Aaron Spelling original, BH90210 is meta, knowing, and interested in what fame, or post-fame, looks like at middle age. But it's also the same in that it's soapy and silly and you can't stop watching it even though your brain keeps firing neurons screaming that you should know better. Fox provided only two episodes in advance, but if I had access to all six, I easily would have binged them in one sitting while drinking several bottles of Snapple, a combination of behaviors that, in case you didn't know, actually opens up a portal to 1992.
There is also a tinge of melancholy hanging over this enterprise, particularly the first episode, because of a sad fact: Luke Perry, who played sensitive bad boy Dylan McKay, died of a stroke earlier this year and can't be there alongside his former cast members. He is acknowledged in the premiere, which airs Wednesday night, and honored with a toast and a closing shot of Dylan McKay in his prime. His absence is the starkest of the many reminders that time marches on for everyone, even the alumni of West Beverly High.
If you're wondering how the first 90210 reboot — the CW series 90210 that ran for five seasons and featured cameo appearances from OG 90210ers like Jennie Garth, Tori Spelling, and Shannen Doherty — factors into this show, the answer is, it doesn't. In BH90210 world, that series does not exist. The new Fox take begins with all of the cast — minus Perry and, initially, minus Doherty — gathering in Las Vegas for a 90210 fan reunion panel. That launching point allows us to get acquainted with the BH versions of the actors, whose experiences are based on the experience of the actual actors, and to watch them reacclimate to being around each other.
This can get awkward. BH Jason Priestley and BH Jennie Garth, who played romantic partners Brandon Walsh and Kelly Taylor, don't get along at all … until they really get along. (Wink, wink). BH Tori Spelling — who, like actual Tori Spelling, played Donna Martin, is now the mother of multiple young children, and has milked the reality-TV circuit for all its worth — is nervous about seeing BH David Austin Green, who played the David to her Donna on 90210 and is married to a famous woman. (In the BH-verse, it's a Beyoncé-esque pop star named Shay, played by La La Anthony. In the real world, it's Megan Fox.) Everyone is thrilled that BH Shannen Doherty, who was famously not on great terms with her castmates, won't be there for the fictionalized reunion … that is, until she makes a surprise appearance via Skype while she's in the midst of an animal-rescue effort, a cause in which the actual Doherty is involved. Doherty shows up twice in the first two episodes, and is never in the same physical space as her fellow actors. Hopefully that ridiculous contrivance will go away in the forthcoming episodes. The line between reality and fiction is constantly, intentionally blurred in BH90210, in ways that can be clever and may also have you running to Google to figure out what's genuine and what's been concocted for TV purposes. (In case you were wondering, even in the BH90210 realm, Ian Ziering starred in the movie Sharknado. This proves, once and for all, that in any parallel or alternate universe, Sharknado exists because it transcends the boundaries of space, time, and human logic.)
The reunion gives Spelling and Garth — actual executive producers of BH90210 — the idea to pitch a 90210 reboot to Fox. Executives love the idea, as long as all the cast members are onboard. So begins Spelling's attempt to persuade all of her former castmates to assume the '90s personas they've been trying to shake ever since, well, the '90s. "Did you ever wonder what our lives would be like if we hadn't done that show?" Garth asks Priestley over a cocktail in the premiere. "Every single day," he says wistfully.
If this were, say, the HBO version of BH90210, the series would probably lean extra-hard into the sense of ennui that hangs over these characters, who have moved on but also can't quite. You could say that they're stuck in Purgatory 90210. But this is still Fox, so in addition to the Seinfeldian show-within-a-show at the drama's core, there are a whole bunch of other story lines added to the mix, including an act of adultery that leads one 90210 alum to pursue a divorce, an unexpected pregnancy for the wife of another alum, and one cast member who finds herself questioning where she sits on the sexual spectrum. On top of all that, episode two introduces the specter of a stalker with an obvious fixation on the 90210 cast. The stalker reveal was the moment where I simultaneously thought to myself, "Good God, this is already getting too weird" and also, "Dammit, why isn't there another episode available to watch right now?"
While all of this is going on, BH90210 makes sure to keep ticking off items on the 90210 nostalgia checklist. In the first two episodes, there are multiple shots of the gang's gathering spot, the Peach Pit; a story line centered on Donna's prom dress; and references to Kelly's problem with diet pills, Emily Valentine (Christine Elise McCarthy makes an appearance in a recurring role), and the rallying cry of a generation, "Donna Martin graduates."
All of which is to say, BH90210 isn't profound television. It never was. But this 2019 iteration does something that a lot of reboots don't, which is quench your throwback thirst while acknowledging, on some level, that there's something sad, a little pathetic, and deeply meaningful about the need to revisit our youth. It also throws in some wacky-ass soap opera stuff to make sure your interest stays piqued. Granted, that makes it sort of a mess tonally, but at least it's a relatively fun mess.
"Maybe going back is just what we need to move forward," says BH Tori Spelling while having an epiphany in the premiere. It's a line that's supposed to sound profound, but is actually cheesy — in other words, it's exactly like a lot of the lines that were spoken on Beverly Hills, 90210. It sounds just as laughable now as it would have then. It's so cliché that it's oddly comforting.