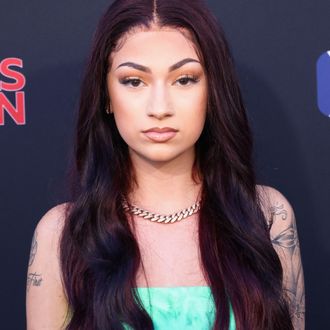 Danielle Bregoli, a.k.a. Bhad Bhabie.
Photo: Paul_Archuleta/FilmMagic
Danielle Bregoli, who you probably know as the teen whose Dr. Phil segment, "I Want to Give Up My Car-Stealing, Knife-Wielding, Twerking 13-Year-Old Daughter Who Tried to Frame Me for a Crime," launched her to viral fame and a music career, would like you to download her new mobile game. More specifically, she'd like you to "pick up yo damn phone and download this, it's free!"
The "cash me outside howbowdah" originator, known also by her stage name Bhad Bhabie, is right. The game, Ride or Die, is free. Technically. But, as with most free phone games, this just translates to a barrage of ads. Ads where an errant tap will pull you from the game you're playing to a screen where you'll be prompted to download something else. At one point I tapped the word "skip." I did not get to skip the ad I was watching. The App Store opened automatically instead. There are also the usual in-app purchase options, like buying your way out of watching ads or buying extra lives or different outfits.
You play as a tiny, animated Bregoli, complete with dyed-red ponytail and acrylics, jumping from car to car, collecting cash and avoiding obstacles while the cops chase you. It's reminiscent of the iPhone game Subway Surfers, a personal favorite of mine, in that the road ahead of you is divided into lanes. The comparison ends there, though. The controls for Bregoli's game are hard to maneuver, and not in a way that becomes more fun once you figure things out and get a feel for it. If you die, an ad, or two, awaits you. I think the idea is to rack up enough cash to eventually upgrade your stolen vehicle. I maxed out at a boring sedan, before an overlong ad caused my eyes to wander over to Twitter and forget about the game entirely.
I'm all for diversifying revenue streams, but this just ain't it. Bregoli's music career was a pleasant surprise. ("Hi Bich" is a bop. Don't @ me.) This game was not. Cash me outside … deleting it from my phone.