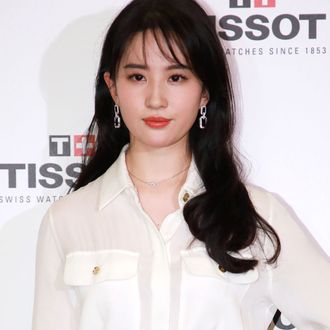 Liu Yifei.
Photo: VCG/VCG via Getty Images
Disney's new live-action Mulan movie can't escape controversy. First the script leaked in 2016, then there was confusion over the trailer, and now many are calling for a boycott of the movie. The actress who plays Mulan, Liu Yifei, shared her support for the Hong Kong police, who have been criticized for their brutality against protesters. She posted a photo quoting Fu Guahao, a reporter for a state-run paper who said this while being tied up by protesters on Tuesday. "I support the police. You can all attack me now," read the photo posted on Weibo, a social media platform similar to Twitter. Liu added, "I support the Hong Kong police, too."
Anti-government demonstrators occupied Hong Kong International Airport earlier this week, suspending the airport for three days and as a symbol of cutting off Hong Kong's commerce from China. Protests in Hong Kong have been ongoing after the June introduction of an extradition bill that would allow local authorities to detain and extradite those who are wanted in places that Hong Kong does not have an agreement with, such as Taiwan and China. Protesters' tactics became increasingly violent this week, as the police "routinely used batons, pepper spray, rubber bullets and tear gas" in the months of protests, according to the Times. This has prompted widespread criticism of the police force and their conduct.
The upcoming Mulan film is a remake of the animated version and stars Liu Yifei, Donnie Yen, and Jet Li. Yifei is Chinese-American, although she has spent the majority of her time living in China, where she rose to prominence. Many Chinese entertainers have been blacklisted in the past for speaking out politically, including those who are in favor of Hong Kong's democracy. We'll see whether or not this controversy affects Mulan when it comes out in 2020.