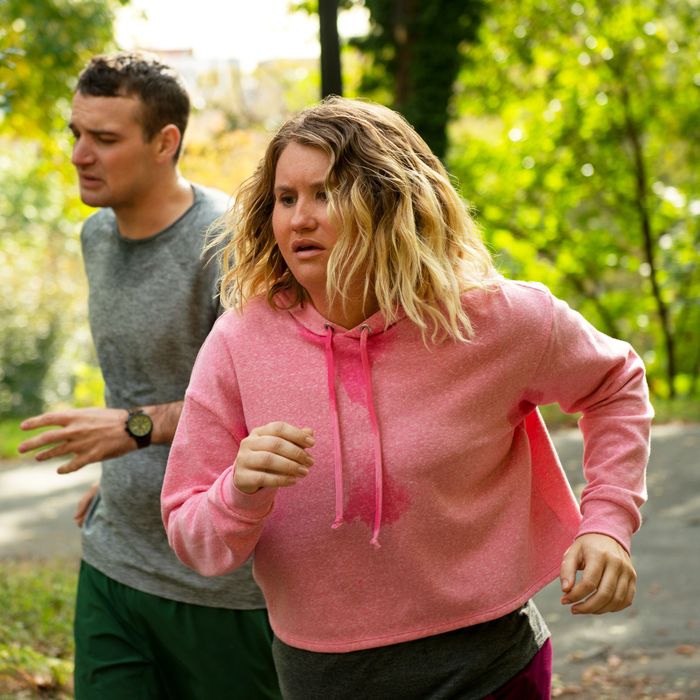 The story of a 28-year-old woman whose doctor tells her to lose 50 pounds, and who takes up running and decides to train for the New York Marathon in response, Brittany Runs a Marathon is one of the most conflicted go-for-it movies ever made. On the one hand, it depicts an empowering transformation and is suitably celebratory. On the other, a premise that used to be fairly hackneyed in film is now studded with land mines, and you can feel the writer-director, Paul Downs Collaizo, stepping gingerly around them. The kind of fat-shaming built into makeover movies is no longer acceptable, and fat-joking, at least according to the (anti-)comedian Hannah Gadsby in last year's landmark one-woman show Nanette, can be akin to fat-shaming if the fat person is making herself the butt of the jokes as Gadsby says she once did.
There's more than a bit of Gadsby in Brittany (Jillian Bell). In the beginning, she's an expansive character, the sort of exhibitionist you meet in theater camps or performing-arts schools who's always singing or doing funny shtick or launching into foreign accents. Yes, they can be insufferable (with the accents especially), but Bell is a former LA Groundlings member who has written for Saturday Night Live — her one-liners are hilarious and her timing is over the moon. Here's where it gets tricky to pass judgment on the movie, because some of the air goes out of it when Brittany eases into her transformation. Brittany was a great clown. But if that clowning was rooted even partly in self-hatred, we want her to be less funny, right?
On balance, I admire the hell out of Collaizo for choosing to tell a more emotionally convoluted story, even if it sometimes kills the momentum. Marathons, after all, aren't really about momentum. For all but a select few, they end with limping, panting, staggering, and pain. Puking, sometimes. Why shouldn't the Rocky Balboa of our era make it to the top of the Philadelphia Museum of Art steps and then barf? Brittany's psyche, meanwhile, is rarely in synch with the changes in her body. She does have more energy. She feels good when she looks at herself in the mirror. But habits are hard to break, and not everyone likes the "new" her — especially her fashionable and fashionably judgmental apartment-mate, Gretchen (Alice Lee), to whom she always played the hard-drinking, drug-snorting sidekick. Brittany is too well defended to open up to cute guys she meets on dating and hookup sites. She's wary (and should be!) of her attraction to 30-ish Jern (Utkarsh Ambudkar), a ne'er-do-well with whom she shares townhouse-and-dog-sitting responsibilities for a rich Manhattan couple. Jern has essentially moved into the townhouse (illicitly), and soon Brittany does, too, but they're tense with each other. Ambudkar has a good comic presence — his Jern has no shame — but the vibe between the characters is weirder than in conventional rom-coms. Too much is at stake to laugh.
The running scenes aren't exhilarating, but Brittany and her running partners/friends Catherine (Michaela Watkins) and Seth (Micah Stock) have a rapport that carries you along. Catherine is a high-strung artist fighting for custody of her children in the midst of an ugly divorce, and Watkins illuminates her desperate, haggard need to pour her grief into something as relatively uncomplicated as running. Seth, who's gay, is the only character in a stable relationship, raising kids with his husband. He brought back memories of one of the first plays I saw on Broadway, My Fat Friend, in which the heroine's (Lynn Redgrave) pal (George Rose) was a source of both support and mirth. His eulogy for her soon-to-be-discarded "fat dress" was iambically precise: "Alas, poor fat dress. I knew her, Horatio, a garment of infinite stretch."
As someone who once ran four miles a day, hurt his knee, stopped running, and gained more than a bit of weight, I was particularly interested in Brittany's training and particularly troubled when she didn't do much in the way of stretching. My concern was not misplaced. Can you spell "stress fracture," kiddies? (Brittany is based on a close friend of Collaizo's who had similar problems.) So, Brittany Runs a Marathon has an unusually protracted third-act-doldrums section. The scene that separates it from lighter films of its ilk comes late, when Brittany moves in for a bit with her sister (Kate Arrington) and paternal brother-in-law (Lil Rel Howery) and meets an overweight woman who's married to a lower-weight man. Brittany gets drunk and projects — appallingly — all her self-hatred on this kind, unassuming woman. Suddenly, we don't know if Brittany will make it, and neither does Brittany. Her shape and her sense of self-worth have become inextricable, and separating them will take a hell of a lot longer than it does to run 26 miles. Collaizo makes you understand the journey to create herself anew will be the true marathon.