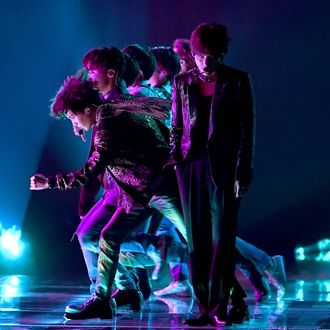 Photo: Kevin Winter/Getty Images
After conquering the world music scene, winning over the hearts of America, dominating the Billboard Music Awards and dropping a massive album, BTS is taking the natural next step on the road to international pop stardom: taking a
big ol' fat vacation. According to Billboard, Big Hit Entertainment, the company behind the massively popular K-Pop boy band, posted an announcement to Twitter saying BTS would take an "official and extended period of rest and relaxation" following Sunday's Lotte Duty Free Family Concert in South Korea.
"This period of rest will be an opportunity for the members of BTS, who have relentlessly driven themselves towards their goal since their debut, to recharge and prepare to present themselves anew as musicians and creators," the announcement reportedly says in part. "This will also provide them with a chance to enjoy the ordinary lives of young people in their 20s, albeit briefly." As Billboard notes, this is the first time the group has gone on hiatus since BTS was formed in 2013. Hopefully their vacation will give the guys a chance to recharge and provide their fans some much needed time to let their vocal cords finally heal.