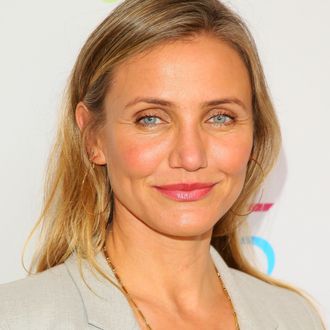 Cameron Diaz.
Photo: JB Lacroix/WireImage
It's sometimes hard to believe that Cameron Diaz, noted blonde human goddess (ahem, angel), hasn't appeared in a film since 2014's Annie. We've crunched the numbers — that's five years, all of her cinematic misfires be damned! Still, though, Diaz seems to have thrived far away from all of those mandated press junkets and pesky social media pages, telling InStyle in a rare interview that eschewing Hollywood was the best decision she ever made. "The way I look at it is that I've given more than half of my life to the public. I feel it's okay for me to take time for myself now to reorganize and choose how I want to come back into the world," she explained. "If I decide to. I don't miss performing. Right now I'm looking at the landscape of wellness and all that."
During this acting hiatus, Diaz says she's been enjoying a very private, very creative life at home with her husband, musician Benji Madden. As for her future, she's primarily looking at her sister-in-law Nicole Richie's fashion line, House of Harlow, and her close friend Gwenyth Paltrow's divisive wellness conglomerate, Goop, for inspiration. "I like creating, so I'm just looking for the project that makes the most sense for me now," Diaz added. "I have some things brewing, but it's a little too early to talk about them." Just try to learn from Blake Lively's mistakes, girl! We love you too much!