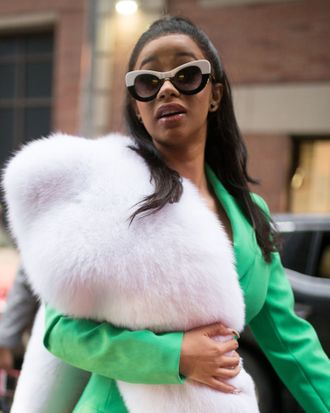 Photo: Matthew Sperzel/Getty Images
Cardi B is a Buttercup. She is not a Bubbles and she is definitely not a Blossom. In a transcript from an April court deposition that has been made public, Cardi B said she considers herself a gangster and explained which Powerpuff Girl she feels the most kinship with in response to a question about her "personality as an entertainer."
Here is the full quote from the deposition transcript:
I'm not a pretty girl, or I am a pretty girl, but I'm not like this, this pink girly girl. I'm, like, the Buttercup, you know? There's three powerful girls. There's Blossom, and there's Bubbles and there's Buttercup, the green one. That's me. That's who I am.
The deposition is from an ongoing federal lawsuit, in which Kevin Brophy Jr. is suing the rap artist over her use of his image as the cover art on her 2016 mixtape Gangsta Bitch Music Vol. 1. He claims that the tattoo on the back of the man performing an oral sex act on Cardi B on the cover is his tattoo. (It is a distinctive and large piece of ink featuring a tiger and a snake.) Brophy says he and Cardi have never met and he is seeking $5 million in damages. Brophy's complaint also claims that the mixtape "explicitly misrepresents plaintiff having sex with Cardi B." It calls Brophy a "sex toy." You go, Buttercup.