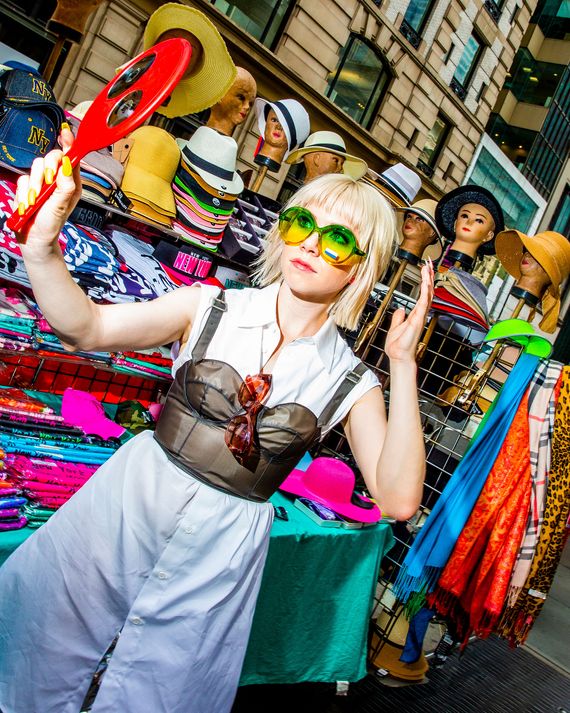 Carly Rae Jepsen.
Photo: David Williams
According to our kindly painting instructor, Sabrina, Carly Rae Jepsen has chosen an unusual piece for us to replicate at our midafternoon BYOB paint-and-sip. We're at the Painting Lounge on West 38th Street, hidden away on a second floor and highly air-conditioned in the midst of a heat wave, listening to the Big Little Lies soundtrack, which was Sabrina's choice, and trying to re-create Pablo Picasso's 1932 portrait of a woman asleep and dreaming, Le Rêve, which was Jepsen's. Sabrina has us working off stencils, so we don't have to match the distorted outlines of Picasso's woman on our own, but it's still, in its relative way, ambitious. The Painting Lounge's other templates tend toward the less pedigreed and more banal — sailboats and sunsets and city parks with bare trees — but Jepsen's choice is arguably telling. She's a pop star unafraid to work a little harder and wander in a direction you might not expect. Jepsen is surprised that people don't choose this painting more often: "Who doesn't want to pretend they're Picasso for a second?"
Jepsen is stopping in for our painting class midway through the tour for her album Dedicated, which dropped in May. She's playing the Hammerstein Ballroom that night — one of two shows she had in New York — which means we're sipping Martinelli's cider instead of wine, and she brings along an entourage that includes her glam squad, and her mother, Alexandra Lanzarotta, a jewelry designer who has flown in from British Columbia. (Jepsen, whose parents are divorced, checked in with her dad's side of the family at a previous tour stop in Boston.) As it happens, Jepsen's tour kicked off with a few shows in European cities, including Barcelona, where she went to the local Picasso museum. The visit made her think about how the artist was always on the way to becoming someone else. You walk into one room and you see him slowly invent and master a style; you walk into the next and he's heading in another direction entirely. "And it wasn't good yet!" Jepsen says. "It was inspiring for creativity in general."
If you were to build a Museum of Carly (and someone almost certainly will one day), "Call Me Maybe," the cheeky pop single that launched her to stardom, would be in the place of Les Demoiselles d'Avignon. It's the song that made her famous and wrote her checks; the one that became so unavoidably popular it'll probably be used to establish that future period movies are set in 2012. Kiss, the album that followed "Call Me Maybe," failed to connect, but her 2015 '80s-throwback album, Emotion, did — which set fan expectations high for Dedicated, an effervescent yet deep pseudo-breakup album. Think of that as her blue period, with sparkles.
Jepsen works constantly. She's writing, "journal-entry style," on the road, and she likes to accumulate as many ideas as she can before she will edit them down. Or, as her mother — who sits on the other side of me and has gray-blonde bangs and a round face that resembles Jepsen's and is frankly the best painter of all of us — interjects, "bury the whole album in my backyard and start again."
Has that happened before? Jepsen laughs and admits, "I have a lot of material." Emotion got a follow-up EP called Emotion: Side B, with eight new tracks that had been cut from the album.
She has said she wrote around 200 songs for Dedicated (and hopes to release another "Side B" follow-up). When she was deciding which songs to put on the album, she gathered her friends for listening parties and had them vote on their favorites, then went with her own choices anyway.
Her songs address the usual subjects for pop — the joy of falling in love, the pain of a breakup — but aren't afraid to take it to a thrilling, heartbreaking, Earth-shattering extreme. Which, after all, is how these things actually feel when you're going through them, especially when you're a teenager. Dedicated kicks off with "Julien," about a guy she dated with a name she liked, whom she paradoxically doesn't have "eternal love feelings for anymore." Later, there's "Real Love," in which she admits she doesn't know a thing about the subject but knows she wants it anyway. As is so often the case in her music, the basic things are the hardest and most glorious. "It started off as 'Should it be new love or bad love?,'" Jepsen remembers. "Let's be honest, it should be real love. That's what we really want here."
Many of her fans are pretty young (and, based on my observations, when they aren't quite as young, they often are also queer) and so tend to be extremely fluent in the language of memes. They've pasted the saxophone blare that kicks off "Run Away With Me" over numerous videos, and at concerts they give her inflatable swords in reference to a viral Tumblr petition to give her a sword, which read simply, "I like her and think she should have one."
Jepsen thinks of the online enthusiasm as "silliness" and also "connection." This is what it means to mean something to people today. She's particularly fond of jokes that reference her song "Store," which imagines a breakup in which someone leaves with "I'm just going to the store." It's inspired by her own difficulty with breakup talk — she once broke up with a guy on top of a mountain, then had to hike down with him — and has a particularly Carly absurdity, both ridiculous and deeply felt. It didn't make the cut for the album but did, at her insistence, for Emotion: Side B. The choice is emblematic of her approach to music. "Some people will get it!" she says. "It's a way to be like, 'I'm taking you to find your people.' "
In interviews around the release of Dedicated, Jepsen described wanting to write an album that you could clean your apartment to, chilled-down from the exuberance she put out in Emotion. On tour, she has been surprised to discover "it's a party," though anything involving Jepsen ends up feeling a bit like a party — if not fully a club rager, then at least the best sleepover you can imagine. Jepsen has shown up onstage in bodysuits and spangled jackets and one outfit she described as a "princess superhero" look. "It feels ridiculous backstage, but as soon as you go onstage, that's the theater," she says. It's the way a person who's naturally shy transforms into a performer or just reveals that part that was there all along.
Jepsen was always a theater kid. Back in high school in British Columbia, she starred in Annie (as Annie) and as Dorothy (diversity-casting ironies aside) in The Wiz. As a grown-up, she has appeared as Frenchie in Grease Live!, and in 2014 she did a stint in Broadway's Cinderella. While she says she'd be excited at the prospect of writing a pop musical, she's not looking to get into the grind of an eight-show-a-week schedule again right now. On tour, at least, she has the freedom to reinvent her act as she goes, bring in special guests (one night in New York it's Mark Kanemura, a dancer who made wig-soaked videos of himself dancing to her songs), and respond directly to the feeling of a crowd. In Cinderella, she most enjoyed the moments when something would go a little wrong and she'd have to adapt.
As we progress through our paintings, Jepsen, following the lead of her mother, starts to take liberties with her own, too, giving the woman deep-red hair ("It's definitely from a box"), detailed wallpaper, and "a purple nip" (as in nipple). "I've strayed from the lesson," she says, "following my heart."
But before she has a chance to finish the painting, she has to go — after all, she has a show that night.
It's the kind of incomplete moment a Carly Rae Jepsen song lives in, where everything is potentially amazing, or potentially disastrous, but most important it's … just plain potential. She undoes her apron and packs up her stuff, leaving me with an earnest and true Carly-ism: "I just want you to know that this would have been amazing," she says, laughing. "It's just 'am —' right now!"
By the time Jepsen arrives onstage that night at Hammerstein Ballroom in front of a sweaty crowd, many of whom arrived pre-drenched from a summer thunderstorm, she has made the transformation into her stage persona. She's wearing a top made to look like caution tape and leather pants, her anime-blonde hair bobbing along to her music's skittering percussion. This isn't a complete transformation: Her choreography is goofy in a way that's honest, and between songs she tells anecdotes — about the guy named Julien, about the breakup on a mountain — that don't quite register over the noise of the audience.
A few vodka-sodas in, I realize the incompleteness is the hook. Jepsen gets everyone to lean in, sing along, playact her pop sensation with her. There's a crowd of people singing, caught in the wonder of being "Too Much," channeling the upbeat heartbreak of "Boy Problems," shouting about ditching a guy for the store. It's like a group-therapy session where everyone showed up in a tank top, an immersive theater for the young, drunk, and emotionally overwhelmed. Leading it all, there's Carly, though leading seems like the wrong word. She's at the center of it, sure, but whatever she's summoning is bigger and participatory. She's just here with the rest of us, noodling around, feeling it out.
*This article appears in the August 5, 2019, issue of New York Magazine. Subscribe Now!
Hair and Makeup by Aga Dondzik.