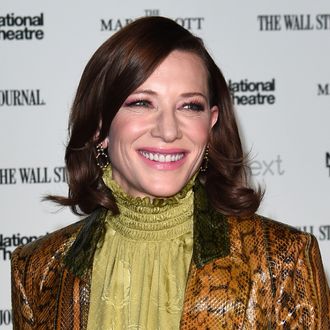 Photo: Eamonn M. McCormack/Getty Images
You didn't think Guillermo del Toro would scale down from an erotic fish-man fairy tale, now did you? According to The Hollywood Reporter, Cate Blanchett is reportedly in talks to join Bradley Cooper in the director's forthcoming adaptation of author William Lindsay Gresham's 1946 noir novel, Nightmare Alley, also the inspiration for the 1947 Edmund Goulding film of the same title starring Tyrone Power and Joan Blondell.
While its not immediately clear who either Cooper nor Blanchett will play, the book largely follows the escapades of a carnival flimflam man who seeks to escape the geek-show circuit by partnering with a very unethical psychologist to pull off a scam. The grift? To convince her rich clients he has the power to communicate with the dead. If you can believe it, this scheme somehow backfires and, while we don't want to spoil the novel's ending, at least one A-list star is going to end up on that Oscars stage for pretending to bite the head off a live chicken, or else this isn't a Guillermo del Toro picture.